Page 1
Ninth Circuit:
Conditions at ICE Detainee Center Breached Due Process
By Sandra Hong, Staff Writer
A federal immigration detention center in San Bernardino County, plagued by a COVID-19 outbreak, violated the due process rights of more than 1,300 detainees to reasonable safety, the Ninth U.S. Circuit Court of Appeals said yesterday, holding that a District Court judge acted within his discretion in issuing a preliminary injunction in response to conditions at the facility.
In a per curiam opinion, Circuit Judges Paul J. Watford, Michelle T. Friedland, and Eric D. Miller affirmed portions of a preliminary injunction issued by District Court Judge Terry J. Hatter of the Central District of California.
Hatter's order on April 23 mandated a reduction in the population of detainees and specific sanitation measures at Adelanto Immigration and Customs Enforcement Processing Center, where five months later a COVID-19 outbreak had infected 58 detainees and eight staff members. Nine detainees had been hospitalized.
Detainees at Adelanto, many of whom have no criminal record, are awaiting various immigration proceedings. They allege their due process rights under the Fifth Amendment are being violated by a lack of protective health and safety measures at Adelanto, exposing them to an increased risk of contracting the virus.
'Broad Equitable Relief'
"[T]he district court had the authority both to entertain Plaintiffs' constitutional challenges and to grant injunctive relief in response to them," the Ninth Circuit panel wrote, noting the broad scope of this authority in situations of an ongoing constitutional violation.
"In time-sensitive circumstances, the district court's authority to issue broad equitable relief encompassed the authority to grant provisional relief 'to bring an ongoing violation to an immediate halt,' " the panel declared.
Detainees allege that the facility in Adelanto is overcrowded, social distancing and 14-day quarantining measures are not enforced, and the staff members don't wear masks or gloves. Detainees have said they are forced to clean toilets and common areas with dirty towels, shampoo, and buckets of dirty water.
They also said cleaning supplies, hand sanitizer, and soap are scarce. There are only three functioning showers for 118 women.
None of these allegations, the panel observed, is challenged by the Department of Homeland Security or Immigration and Customs Enforcement.
"In light of these factual findings, which the Government has not shown to be clearly erroneous, we agree with the district court that the conditions at Adelanto in April violated detainees' due process right to reasonable safety," the panel said.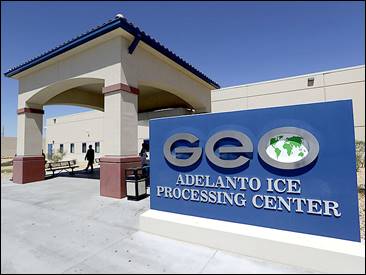 In this April 24 file photo, the entrance to the Adelanto ICE Processing Center is seen.  —AP
"The Government was aware of the risks these conditions posed, especially in light of high-profile outbreaks at other carceral facilities that had already occurred at the time, and yet had not remedied the conditions. Its inadequate response reflected a reckless disregard for detainee safety."
Shifting Circumstances
The government filed an emergency motion for a stay pending appeal, which was granted by the Ninth Circuit.
While the panel upheld certain provisions of Hatter's preliminary injunction order, it vacated others in response to "dramatically" shifting circumstances since Hatter issued the orders in mid-April.
Hatter's order required specific reductions in the population and changes at the facility, including the use of "professionally trained cleaning staff" and sanitation measures in compliance with guidelines issued by the Centers for Disease Control that the panel said "do not provide a workable standard for a preliminary injunction."
Since Hatter issued his order in mid-April, detainee population has dropped from 1,370 to 748, yet the facility "is experiencing a COVID-19 outbreak, which was not the case when the preliminary injunction issued," the panel noted, remarking:
 "The conditions at Adelanto appear to be evolving rapidly.…We therefore decline to speculate about which provisions of the preliminary injunction should still apply."
The panel directed District Court to consider, on remand, the latest facts and circumstances in determining a remedy, while avoiding provisions that "micromanage" Adelanto staff or "lack specificity."
Instead, the panel said, new provisions "should stem from medical evidence properly before the court" and that the injunction should "reflect the scientific evidence about COVID-19 presented to the district court."
Concurring Opinion
In a concurring opinion, Miller said the government's conduct in failing to provide "reasonably safe conditions" must be held to a stricter standard than negligence and closer to a standard of "reckless disregard" as a reflection of correctional facilities being outside the purview of judicial authority.
"The situation at Adelanto has changed considerably since April, and our decision to remand will allow the district court to determine, based on a new record, whether the government's response has fallen short of constitutional standards," he wrote.
The case is Roman v. Wolf, 20-55436.
Copyright 2020, Metropolitan News Company