Thursday, January 30, 2020
Page 1
Court of Appeal:
Judge Properly Granted Lacey's Petition to Oust Mayor From Board
Opinion Says Alfred Robles Did Have a Conflict of Interest; District Attorney Was Proper Party
By a MetNews Staff Writer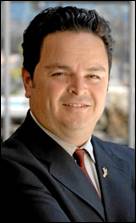 ALBERT ROBLES
Carson Mayor
The Court of Appeal for this district yesterday affirmed a 2018 decision granting the quo warranto petition of Los Angeles County District Attorney Jackie Lacey to have Carson Mayor Albert Robles yanked from the Water Replenishment District of Southern California based on duties of the two offices being incompatible.
The opinion by Justice Lamar Baker of Div. Seven affirms a decision by Los Angeles Superior Court Judge James Chalfant.
Robles, who remains mayor, was elected to the board of the Water Replenishment District ("WRD") in 1992, at the age of 23, and was reelected seven times, most recently in 2016. He was elected to the Carson City Council in 2013; was appointed mayor by the Council in 2015, to fill a vacancy; and was elected mayor in 2016.
Lacey in 2015 sought the required permission of the Office of Attorney General to bring an action in quo warranto to challenge the permissibility of Robles's dual role. That office responded in an opinion by Deputy Attorney General Lawrence M. Daniels:
"We conclude that Relator has raised substantial questions of fact and law as to whether the public offices of WRD director and Carson city council member/mayor are legally incompatible. In addition, we believe that the proposed quo warranto action would serve the public interest. As a result, we grant Relator's application for leave to sue."
Baker's Opinion
In his opinion affirming Chalfant's granting of Lacey's petition, Baker said:
"As a WRD director, Robles must set the replenishment assessment levies each year that will ultimately be paid by his constituents in Carson, among others (and the city itself, as government buildings and agencies are concerned)….[I] t is obvious this may give rise to conflicts: as mayor and a councilmember, Robles faces at least a short-term electoral incentive—if not an office-holding duty—to minimize the amount of the replenishment assessment those in Carson must pay. As a WRD director, on the other hand, Robles's duties and loyalties point largely in the opposite direction and require his chief concern in setting the amount of the replenishment assessment to be ensuring the adequacy of the groundwater supply, not the financial impact of the assessment on the cities and residents that must pay it."
The jurist commented:
"We think it obvious that a shopkeeper who sets the prices that customers must pay would face a real possibility of divided loyalties if simultaneously selected to be a consumer advocate for the customers who patronize the store. On our facts, Robles is the shopkeeper—setting water replenishment assessments his Carson constituents must ultimately pay (or legally protest). Section 1099 forbids this sort of conflicted arrangement by making it unlawful to hold multiple public offices where there is a "possibility of a significant clash of duties or loyalties" between them.
Improper Party
Robles contended that Lacey was an improper party. He pointed to Code of Civil Procedure §803 which provides:
"An action may be brought by the attorney-general, in the name of the people of this state, upon his own information, or upon a complaint of a private party, against any person who usurps, intrudes into, or unlawfully holds or exercises any public office, civil or military, or any franchise, or against any corporation, either de jure or de facto, which usurps, intrudes into, or unlawfully holds or exercises any franchise, within this state."
Lacey, as district attorney, is not a "private party," Robles asserted. Baker responded:
"But Section 803's use of the term 'private party' does not preclude public officers like the District Attorney from suing in quo warranto where the Attorney General has given her permission—as former Attorney General [Kamala] Harris did here; the reference to 'private' only serves to distinguish other parties from the Attorney General, who may herself prosecute a quo warranto action."
Express Authorization
Robles argued that Government Code §1099 permits the holding of two offices when "expressly authorized by law." Both the WRD and the Carson City Council expressly authorized his holding of the two posts, he pointed out
"But that statutory reference to 'law,' Baker said, "should be read as a reference to state law, of which there is none exempting Robles, and regardless, the WRD passed only a resolution approving Robles's dual offices—and a resolution is not 'law.' "
The case is People ex rel. Lacey v. Robles, B290697.
Robles represented himself and Deputy District Attorneys Phyllis Asayama and Kenneth Von Helmolt acted for Lacey.
In 2008, Robles ran against then-District Attorney Steve Cooley, whose office was prosecuting him for alleged election law violations. He garnered only 20 percent of the vote, but was acquitted of the charges. The politician in 2016 agreed to pay $12,000 in fines over state campaign finance transgressions.
Copyright 2020, Metropolitan News Company