Tuesday, February 4, 2020
Page 1
Person of the Year Dinner:
Philibosian Urges Reelection of Lacey; Brazile Thanks Baca
Individuals Other Than Honorees Draw Plaudits
By a MetNews Staff Writer
Metropolitan News-Enterprise Co-Publisher Jo-Ann W. Grace, left, presents Los Angeles Superior Court Presiding Judge Kevin Brazile with a "Person of the Year" Award.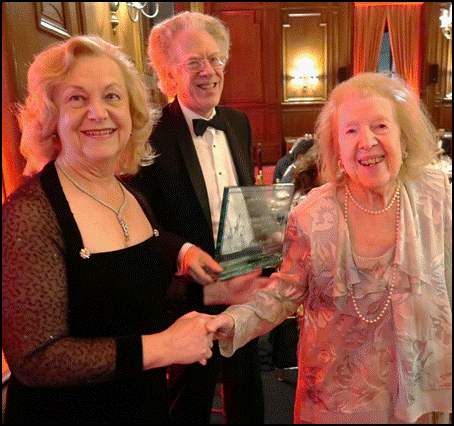 Jo-Ann Grace congratulates attorney/composer Selma Moidel Smith, right, while Smith's son Mark Smith, center, holds the "Person of the Year" Award. Smith, admitted to the State Bar in 1943, is 100 years old.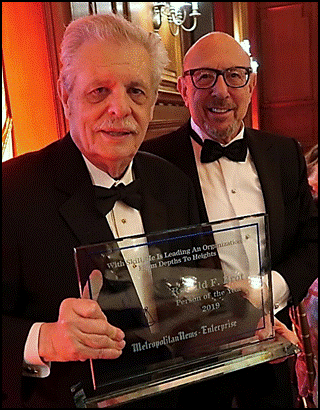 Metropolitan News-Enterprise Editor/ Co-Publisher Roger M. Grace, left, presents award to Los Angeles County Bar Association President Ronald F. Brot.
The "Persons of the Year" dinner on Friday was marked by accolades not only for the honorees, but for others, with former District Attorney Robert Philibosian departing from the customary nonpartisan nature of the event by calling for the reelection of Jackie Lacey as chief prosecutor, and Superior Court Presiding Judge Kevin Brazile hailing Lee Baca, as the former sheriff readied to report to a federal prison.
Philibosian—who was district attorney from 1981-84 and is now of counsel to Sheppard Mullin Richter & Hampton—was serving as emcee for the twenty-fifth time at the Metropolitan News-Enterprise's annual event.
"I'm going to go off-script," he said, in introducing Lacey, who was one of those presenting commendations to the "Persons of the Year," Brazile, Los Angeles County Bar Association President Ronald Brot, and 100-year-old attorney and composer Selma Moidel Smith. Philibosian proceeded to present unscheduled and extemporaneous remarks.
"It's not a political event," he recited, but said, "we're among friends here."
Blasts Incumbent's Challengers
He proceeded to lambaste Lacey's two rivals in the March 3 primary, former San Francisco District Attorney George Gascón and former federal Assistant Public Defender Rachel Rossi, asserting they are not even qualified to "sharpen pencils" at the DA's Office. (His remarks appear below.)
Philibosian's spirited oratory sparked loud applause from many who were present at the black-tie event, attended by more than 200 persons, although some hands remained motionless.
When Lacey came to the microphone to make her presentations, she made note "for the record" that she did not embrace Philibosian's remarks about her opponents, explaining:
"It's not my style."
Brot, in offering remarks later, made reference to "our current and next district attorney, Jackie Lacey."
Brazile's Remarks
Brazile, in addressing the audience after being handed his "Person of the Year" award, did not hesitate to praise Baca, who left two days later by van to report to a minimum security prison near El Paso, Texas. The U.S. Supreme Court on Jan. 13 denied a petition for a writ of certiorari, leaving in place Baca's conviction in the U.S. District Court for the Central District of California for obstruction of justice in connection with an FBI probe—which Baca asserted entailed unlawful actions—of jail conditions in Los Angeles County.
At Friday night's dinner, the presiding judge, who had been a deputy in the County Counsel's Office from 1984 until his appointment to the bench in 2002, said that some "of the best times" in his life were those he experienced while acting as a legal advisor to the Sheriff's Department. It was then that he had contact with Baca.
He recounted:
"We talked about many things. We talked about leadership, we talked about friendship.
"We talked about being a man, being a person."
Brazile told the former sheriff, who was seated at a table sponsored by attorney John Moriarity:
"You've always been a friend, you've always been a supporter. I can't thank you enough.
"God bless you, my friend."
(It was Brazile's cousin, federal Judge Percy Anderson, who sentenced Baca.)
Praise for Others
Brazile had words of praise, also, for former County Counsel Lloyd "Bill" Pellman and his wife, Kathleen Formanack, terming them "probably the most important mentors and friends in my life."
He said of Pellman, now a partner in Nossaman LLP:
"I've known Bill for over 35 years. He's always been there to give me advice, encouragement, support."
Of Assistant Presiding Judge Eric Taylor, Brazile said:
"His dedication, hard work and talents make it possible for me to do the job of presiding judge. He's clearly the best assistant presiding judge any presiding judge, such as myself, could ever have."
Brazile also paid tribute to two of the presenters.
"The Los Angeles Superior Court appreciates the extraordinary job that you do as a member of the Board of Supervisors," he told Kathryn Barger, who chairs the board.
He related that Lacey has "been a role model" for him.
Accolades for Brazile
Barger said of Brazile:
"He's known for his warmth, his compassion, and truly his dedication to his job. Judge Brazile is a strong leader…."
Los Angeles Police Chief Michel Moore termed him "a quiet giant" whose quest is fairness.
Lacey said Brazile is "a friend and a partner in the justice system."
Brot lauded the presiding judge as "an exemplary leader of our court system," a "champion of the mission of diversity," and someone who is "open, honest, and caring about our system."
METNEWS Co-Publisher Jo-Ann W. Grace, in presenting an award to Brazile as the 66th "Person of the Year," recalled the jingle for a product line of baked goods, "Nobody doesn't like Sara Lee." She expressed confidence that "Nobody doesn't like Kevin Brazile."
Grace remarked:
"He is a warm individual, sincere—a non-phony. As a judge, he drew plaudits from the bar. Now, as an administrator, his colleagues heap praise on him."
Brot Commended
Brot is the third president since a contested election in 2016—-the first in 25 years—which resulted in reform-minded members taking over the leadership of LACBA, which appeared headed for bankruptcy. Barger—whose perspective of the legal community is enhanced by virtue of her brother, John M. Barger being an attorney, as was her late father, Richards Dale Barger—said of Brot:
"In his role in the Los Angeles County Bar Association, he was a staunch advocate for change. He was unafraid to call out unfairness and spoke up for unity among members in the face of a culture that has been traditionally alienated.
"Brot is a reformer and a voice of reason—and gosh, can we use that now.
"His conviction has made way for the bar association to prioritize fiscal responsibility and bring new dedication to its members."
In presenting the "Person of the Year" award to Brot, METNEWS Editor/Co-Publisher Roger M. Grace said the honoree is leading LACBA "back to solvency and respectability," commenting:
"He is doing so with determination, but also with tact and a gentle touch. Ron is both a warrior and a peacemaker."
Brot reflected:
"We have sought to reshape the bar—and we have. The resurgent energy and enthusiasm for LACBA is remarkable."
Smith's Feats Acclaimed
Barger told Smith, who is age 100:
"We want to thank you, Ms. Smith, for your rich legacy in Los Angeles County, both in law and in music."
Brot declared that she "is no ordinary lawyer," calling her "the embodiment of a true Renaissance woman."
Lacey observed that Smith is described by the word "trailblazer."
Jo-Ann Grace said that Smith "is a lawyer, a composer, a writer, a speaker, a musician, a dancer and a diplomat," adding:
"Her accomplishments and honors are legion—yet she's approachable and unpretentious."
Smith told the well-wishers:
"I thank you one and all for an occasion I will remember for all of the years of my life to come."
Past "persons of the year" in attendance were Philibosian, Lacey, and Baca, along with former District Attorney Steve Cooley, former Court of Appeal Presiding Justice Norman Epstein, "teddy bear attorney" Ernestine Fields, Lawyers Philharmonic founder/conductor Gary S. Greene, LACBA Past President Brian Kabateck, former State Bar President Patrick M. Kelly, former LACBA President Michael E. Meyer, attorney/bar leader Alice A. Salvo, and former Beverly Hills Bar Association Chief Executive Officer Mark Staenberg.
____________________________________________________
Philibosian Delivers Tribute to District Attorney Lacey
Below is the text of impromptu remarks Friday night delivered by former Los Angeles County District Attorney Robert H. Philibosian in introducing the current district attorney, Jackie Lacey, who is seeking reelection.
'M GOING TO GO OFF-SCRIPT. It's not a political event but we're all friends here.
Let's not be coy about it. Jackie is in a very tough race. She's running against opponents who literally aren't qualified to prosecute a speeding ticket, much less run a DA's Office. These are people who wouldn't get hired to sharpen pencils at the DA's Office.
But they're putting on a strong campaign. If you read the Los Angeles Times California section this morning, you saw a report—and from what Jackie says it was largely factual—about a debate that was held [Wednesday] night on public television. Supposed to be a nice, neutral forum. There were people in the audience, probably planted there, who tried to shout Jackie down. They were making so much noise, she couldn't speak. Some of them had to be removed. At one point, one of the people, one of the men, charged the stage. He was detained.
Throughout all of that, Jackie showed her courage and her leadership—and responded to the questions directly, with respect, but at the same time showing that leadership, that tough prosecutorial mettle that we have seen in her and know her for from the time she was a deputy DA all the way up through her last two terms as district attorney.
At one point, the question was raised about the death penalty—and she was asked why she, as the DA, was pursuing death penalty cases when Governor Newsom had declared a moratorium, on the death penalty in the state. Jackie's answer was typically Jackie. She said, "I'm a constitutional officer, I'm here to enforce the law. Doesn't matter what the governor says."
And actually, what she was saying in her own polite way was, "Look, I work for the People. I don't work for the governor."
So, for the good of all the people of Los Angeles County, we need to reelect Jackie Lacey as the district attorney.
Copyright 2020, Metropolitan News Company