Monday, February 10, 2020
Page 1
Court of Appeal:
Owner of Rights to 'Piranha' Films Didn't Cheat Former Lawyer Promised Producer Role
By a MetNews Staff Writer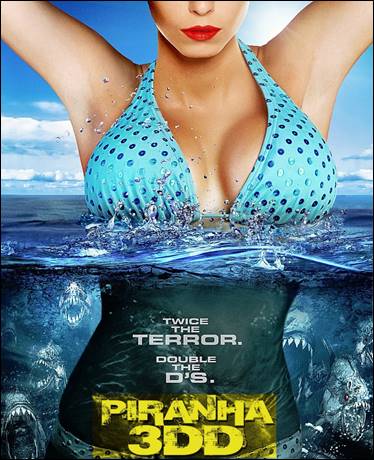 Above is a portion of a poster for the movie, "Piranha 3DD." The Court of Appeal has held that an attorney-turned-producer was not cheated by the owner of the rights to the "Piranha" films.
A man who left his practice as an entertainment lawyer to become a movie producer has lost his bid in the Court of Appeal for reversal of a decision by a Los Angeles Superior Court judge, following a court trial, that a contract promising he would be a credited producer on a film, if it were made, was not breached, even though the project did come to fruition and he was excluded from it.
That promise, Judge Craig D. Karlan found, must be construed, under the circumstances, as having been subject to a condition that was not met. Div. One of this district's appeals court on Thursday agreed.
Los Angeles Superior Court Judge Gregory J. Weingart, serving on assignment, wrote the opinion, which was not certified for publication.
The plaintiff Arthur Leeds, a former Century City attorney who handled high profile cases, including representation of actress Terry Moore against the estate of Howard Hughes. She contended that she and the billionaire were secretly wed in 1949 and never divorced, obtaining a settlement in her favor.
A member of Leeds's boutique firm, before she became a prosecutor, was Jackie Lacey, now Los Angeles County district attorney.
Producer of 'Piranha'
One of Leeds's clients was Chako van Leeuwen, a producer of the 1978 horror/comedy movie, "Piranha"—described by Weingart as "very successful"—which was a parody of the 1975 hit film, "Jaws." Leeds was not only her lawyer in 1978, but helped secure financing for the film from his friend Mike Medavoy, then the head of United Artists film studio.
The appeal decided Thursday came in a case in which Leeds sued Van Leeuwen for allegedly breaching a Dec. 2, 2004 contract in connection with further Piranha productions—of which there were two: "Piranha 3D" in 2010 and "Piranha 3DD" in 2012.
At the time the contract was signed, Leeds had long since ceased to be van Leeuwen's attorney; a sequel to "Piranha" had been shown in theaters and a remake was aired on the cable network Showtime; and van Leeuwen had acquired rights to the franchise. She once again had contact with Leeds because, in approaching Medavoy about developing a new Piranha film, he told her to talk with his lawyer, who was Leeds.
Wording of Agreement
An agreement with van Leeuwen which Leeds prepared recites:
"In connection with Piranha, Arthur Leeds shall serve as a producer/advisor to Chako for the purposes of helping to secure financing, distribution, and talent. If Piranha is actually made, Arthur Leeds shall serve as one of the Producers and shall receive a shared credit, both on and off screen, as 'Producer.' Such credit shall be no less in any way than that of any of the other Producers."
It was undisputed that he signed that Dec. 2, 2004 agreement. Van Leeuwen testified that she didn't, declaring her signature had been forged; an expert testified that it was authentic; Karlan determined that Van Leeuwen lied.
Karlan nonetheless believed her testimony that she had intended to accord him credit as a producer only if he brought in financing.
Weingart interpreted the promise that Leeds would be hired as a producer if the film were made in light of ¶7 of the agreement, which says:
"It is understood and agreed that Chako will not enter into any transaction with respect to Piranha that she does not choose so to do."
Ambiguity Found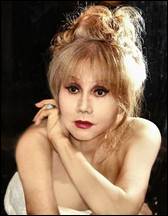 Depicted above is producer/actress Chako van Leeuwen, now 82, in an undated photo taken several years ago.
The visiting justice wrote:
"Here, the term 'any' in paragraph 7 is ambiguous. It could mean van Leeuwen had no obligation to enter into any transaction with respect to the Piranha property, including any transaction involving Leeds or giving him credit as a producer. Or 'any' could mean van Leeuwen had authority not to enter into any particular transaction with regard to Piranha, but that if she did, Leeds got a producer credit if the film was made regardless of whether he was involved or provided any services."
An ambiguity, he said, is resolved against the party who drafted a document, citing the "doctrine of contra proferentem" and Civil Code §1654.
     Van Leeuwen's Testimony
He pointed out that Van Leeuwen's "testimony regarding her intent and understanding was clear: she only intended for Leeds to receive credit as a producer if he obtained financing for the film."
Weingart noted:
"Leeds never did. The trial court was entitled to credit van Leeuwen's understanding over that of Leeds…."
He said Karlan was at liberty to determine, as he did, that in light of Paragraph 7, Van Leeuwen was entitled to enter into a financing agreement with another party, and leave Leeds out.
      Almost Botched Deal
Leeds put forth various causes of action, including one for a breach of the covenant of good faith and fair dealing. Weingart observed:
"The evidence showed van Leeuwen initially tried to work through Leeds, but Leeds then proceeded to get into a heated argument with the primary source of financing…that threatened the picture's future prospects….Given Leeds conduct, it was not a breach of the covenant of good faith and fair dealing for van Leeuwen to decide she no longer wanted to work with Leeds."
Karlan found that Leeds failed to show any damages.
"Leeds provides no basis for challenging that finding other than citing to his own testimony, which the court rejected as unpersuasive," Weingart wrote. "Such credibility assessments are for the trial court, and we defer to its determinations."
The case is Leeds v. Leeuwen, B291409.
Newport Beach attorney Robert Petrokofsky represented Leeds. Van Leeuwen did not appear.
Copyright 2020, Metropolitan News Company