Friday, March 20, 2020
Page 1
Retired L.A. Superior Court Judge Burt Pines, Wife, Karen Pines, Stranded in Morocco
By a MetNews Staff Writer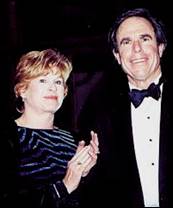 Above is a 2001 photograph of Karen and Burt Pines, now stranded in Morocco.
Retired Los Angeles Superior Court Judge Burt Pines and his wife are stranded in Morocco where inbound and outbound flights have been banned in light of the coronavirus pandemic, CNN reported yesterday.
Its online article relates:
"Pines and his fellow travelers are in their 70s or 80s. Some, like his wife, have medical conditions and a limited amount of medication with them. As they wait for help or a response from State, they're rattling around their empty hotel, which has remained open for the 10 of them, since all other guests are gone. Pines says they're concerned conditions could get worse and possibly dangerous."
Pines, who served as Los Angeles city attorney from 1973–1981, and was a judge from 2003 to 2011, is 80. His wife, Karen Pines, is 79.
Attempts to Leave
"I just saw a report that the state department has issued a level 4 travel advisory urging Americans 'in countries where commercial departure options remain available' to 'arrange for immediate return to the United States," Pines said in an email to the METNEWS, in response to an inquiry. "We have been attempting since last Sunday to arrange such a flight.
"Unfortunately, due to the Moroccan government's unexpected shutdown of the airports, without advance notice, all of the departing flights have either been canceled or fully booked.
"I have been advised that the British, French, German and Spanish governments all sent planes to rescue their citizens from Morocco. I also understand that the U.S. government sent planes to evacuate Peace Corps personnel, but not other U.S. citizens."
Willing to Pay
Pines added:
"As I mentioned to the CNN reporter, we are not suggesting that the administration provide a chartered plane to rescue American citizen stranded in Morocco at U.S. taxpayer expense. My wife and I are perfectly willing to pay for a seat on the plane."
Burt and Karen Pines arrived in Morocco on March 11, the day the U.S. State Department issued its advisory discouraging travel and the day the World Health Organization declared the existence of a pandemic.
Pines, who served as judicial appointments secretary under Gov. Gray Davis, is in the Retired Judges Program and has served on assignment in counties throughout the state.
Copyright 2020, Metropolitan News Company