Thursday, May 7, 2020
Page 1
Ninth Circuit:
No Liability for Fatal Police ShootingWhere Vape Device Looked Like Gun
Memorandum Opinion Says 'Deliberate Indifference' Standard Did Not Apply Where Officer Made Spur-of-the-Moment Decision to Shoot or Be Shot
By a MetNews Staff Writer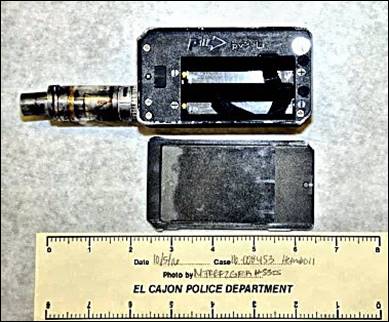 Above is the El Cajon Police Department photo of the vape device Alfred Okwera Olango pulled from his pocket, causing Police Officer Richard Gonsalves to fire four shots, killing him. The Ninth U.S. Circuit Court of Appeals yesterday affirmed summary judgment in favor of the city and the officer.
The Ninth U.S. Circuit Court of Appeals yesterday affirmed summary judgment in favor of the City of El Cajon and one of its police officers in an action brought by the father of a man who was acting strangely and, when confronted by police, refused to take his hand out of his pocket, then suddenly pulled out a vape device resembling a gun, assuming a shooting stance, and was fatally shot.
Police were telephoned on Sept. 27, 2016, by the sister of Alfred Okwera Olango, concerned that her brother, whom she described as "mentally unstable," was walking in traffic. Two officers responded.
District Court Judge Cynthia A. Bashant of the Southern District of California, in a March 7, 2019 ruling, expressed "grave concerns about how the officers handled this situation in its totality," noting that they did not formulate a strategy to de-escalate the situation by calling the Psychiatric Emergency Response Team ("PERT"). She noted that the officer who shot Olango, Richard Gonzales, did not take from his car "nonlethal weapons such as a Taser or beanbag shotgun" when he left it to talk with Olango, and in ordering him repeatedly to take his hand from his pocket, did not warn of the prospect of deadly force being used.
She also questioned the necessity of firing four shots at him.
Bashant's Rulings
Bashant nonetheless held that Gonzales was entitled to qualified immunity on the claim, set forth in two civil rights lawsuits—one brought by the decedent's father, Richard Olango Abuka—that he used excessive force, in violation of the Fourth Amendment rights of Olango.
The judge also held that a claim by Abuka of interference with familial association, under the Fourteenth Amendment, fails because there was no showing that the officer had a "purpose to harm."
In connection with Abuka's Fourteenth Amendment claim, she quoted the Ninth Circuit as saying in its 2013 opinion in Hayes v. County of San Diego:
"Where actual deliberation is practical, then an officer's 'deliberate indifference' may suffice to shock the conscience. On the other hand, where a law enforcement officer makes a snap judgment because of an escalating situation, his conduct may be found to shock the conscience only if he acts with a purpose to harm unrelated to legitimate law enforcement objectives."
Judge's Explanation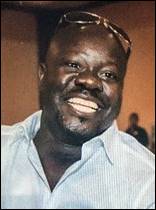 ALFRED OLANGO
Decedent
The judge wrote:
"Here, it is clear that Officer Gonsalves was in an escalating situation. Olango pulled his hand out of his pocket and moved into a shooting stance very quickly, and Gonsalves did not have time to deliberate or consider the use of force in this moment. And Plaintiff cannot point to any evidence that in this quick judgment, Gonsalves acted with the purpose to harm Olango unrelated to legitimate law enforcement objectives."
She continued:
"Feeling threatened by Olango, Gonsalves quickly acted in self-defense with the belief that Olango had a gun. Gonsalves had never met or heard of Olango before the encounter, and there is no evidence Gonsalves had any objective to hint or harm him as revenge or for any personal reason. The evidence only shows the shooting was done due to a belief of necessary self-defense, a legitimate law enforcement objective."
Abuka appealed from summary judgment against him on the Fourteenth Amendment claim. Yesterday's Ninth Circuit memorandum opinion, by a three-judge panel, says:
"Here, the district court applied the purpose-to-harm standard because it concluded that Gonsalves made a snap decision in an escalating situation. Abuka does not directly challenge the court's conclusion that Gonsalves was in an escalating situation, but instead argues that the court failed to account for Gonsalves's role in creating that situation. Abuka contends that the court should have applied the deliberate-indifference standard because Gonsalves's conduct 'unreasonably created the need to use...force.' But we have previously applied the purpose-to-harm standard even where the officer helped create the confrontation or committed tactical mistakes."
The panel added:
"Abuka points to cases that suggest those facts might be relevant to the Fourth Amendment excessive force analysis…, and we have also said those facts might show that an officer acted with a purpose to harm in the Fourteenth Amendment context…, but those cases do not establish that the Fourteenth Amendment standard changes to deliberate indifference if the officer helped create the escalating situation. We conclude that the district court did not err by applying the purpose-to-harm standard."
Participating in the decision were Circuit Judges Morgan Christen and Ronald M. Gould, joined by District Court Judge Sidney H. Stein of the Southern District of New York, sitting by designation.
The case is Abuka v. City of El Cajon, 19-55335.
Judgment was entered on Aug. 14, 2019 in San Diego Superior Court in favor of the City of El Cajon and Gonsalves in a wrongful death actions brought by Olango's widow and sister, who have appealed to Div. One of the Fourth District Court.
Copyright 2020, Metropolitan News Company