Tuesday, May 26, 2020
Page 1
Court of Appeal Orders Dismissal of Charges Against Ex-Assessor Noguez
By a MetNews Staff Writer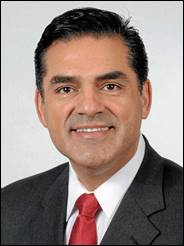 —AP
JOHN NOGUEZ
Former Los Angeles County Assessor
Charges lingering for nearly eight years against former Los Angeles County Assessor John Noguez were torpedoed late Friday by the Court of Appeal for this district.
Div. Eight, in an opinion by Presiding Justice Tricia Bigelow, granted a petition for a writ of mandate ordering that charges against the former office-holder be dropped based on an information not having been fled within 15 days of the Superior Court's holding order, as required by two Penal Code sections. Two others persons—tax consultant Ramin Salari (from whom Noguez is alleged to have taken bribes) and former Assessor's Office Executive Director Mark McNeil—obtained like orders.
However, the opinion notes:
"We conclude petitioners are entitled to the dismissal they seek, which, we note, is not a bar to another prosecution for the same felony offenses."
2012 Arrest
Noguez was arrested on Oct. 17, 2012, on 44 counts of conspiracy, bribery and corruption, in connection with property tax rates being lower for contributors to his 2010 election campaign. Steve Cooley was then district attorney, and reportedly believed the case against Noguez and others was strong.
Jackie Lacey became the county's top prosecutor on Dec. 3, 2012, and did not regard the case in the same light. Noguez was not brought to trial.
A holding order was issued on July 20, 2018, and an information was filed on Aug. 14 of that year. Noguez and his alleged coconspirators were charged with conspiracy, grand theft, bribery, and embezzlement, and other crimes.
Bigelow's Opinion
Bigelow wrote:
"Here, the statutory texts are unambiguous and in harmony with the related statutes and rules. Section 739 requires, 'When a defendant has been examined and committed, ...it shall be the duty of the district attorney...to file in the superior court...within 15 days after the commitment, an information against the defendant....'…Section 1382, subdivision (a)(1), further specifies, 'The court, unless good cause to the contrary is shown, shall order the action to be dismissed...[w]hen a person has been held to answer for a public offense and an information is not filed against that person within 15 days.' "
She continued:
"Here, the information was filed on August 14, 2018, 25 days after the July 20, 2018 holding order. This was 10 days too late. The People concede they failed to file the information within the time frame required by section 1382, and they do not assert they had good cause to file the information late. As a result, section 1382, subdivision (a)(1), requires dismissal."
People's Contention
The presiding justice added:
"To avoid this conclusion, the People argue petitioners impliedly waived the 15-day deadline by agreeing to a later arraignment date. We are not aware of any authority, and the People present us with none, that holds a party impliedly waives the right to the timely filing of an information by agreeing to a later arraignment."
The case is Salari v. Superior Court, B295511.
Copyright 2020, Metropolitan News Company