Tuesday, May 26, 2020
Page 1
Ninth Circuit:
Japanese Law Properly Applied in Action in U.S. Court for Central District of California
Under Foreign Statute, Opinion Says, GE Cannot Be Liable to U.S. Sailors For Injuries From Radiation Stemming From Nuclear Plant Meltdown
By a MetNews Staff Writer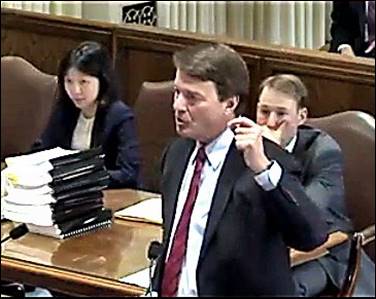 Former U.S. Sen. John Edwards of North Carolina is seen arguing on March 10 before the Ninth U.S. Circuit Court of Appeals on behalf of sailors suing General Electric for injuries from radiation which was emitted when a nuclear power plant meltdown occurred in Japan in 2011. The plaintiffs blame defective reactors manufactured by GE. The Ninth Circuit on Friday affirmed dismissal of the claim against GE, with prejudice.
The Ninth U.S. Circuit Court of Appeals held Friday that strict products liability, under California law, does not apply to an action by service members and their families against General Electric Company, manufacturer of boiling water reactors installed at a nuclear power plant in Japan which, hit by a tsunami in 2011, exploded, creating massive exposure to radiation.
In an action in which damages of $1 billion were sought, hundreds of service members claimed injuries as the result of their participation in a humanitarian effort by the U.S. to assist in the aftermath of a 9.1-magnitude earthquake which unleashed waves reaching heights of 130 feet, causing widespread destruction and about 15,000 deaths, and resulting in the nuclear meltdown. Crews of the USS Ronald Reagan aircraft carrier and 15 other vessels took part in the operation.
Friday's opinion, by Circuit Judge Jay Bybee, affirms the dismissal with prejudice of the claim against GE. District Court Judge Janis L. Sammartino of the Southern District of California correctly found that Japanese law applies, and under that law, only the operator of the plant—here, Tokyo Electric Power Co. ("TEPCO")—can be held liable, Bybee wrote.
The limitation on liability is contained in Japan's Act on Compensation for Nuclear Damage, enacted in 1961.
First Circuit Opinion
Bybee's opinion mirrors that of the First Circuit which, on April 24, affirmed the dismissal of an action against GE brought in the U.S. District Court for the District of Massachusetts by 150,000 Japanese individuals and businesses.
In the suits filed both in district courts in the California and Massachusetts, TEPCO was a defendant. The circuit courts held that litigation against that Japanese entity should take place in Japan.
Bybee, in Friday's opinion, said that as to the claim against GE, a true conflict of laws does exist; that that there is a stronger reason to apply the law of Japan; and that under the Compensation Act, GE cannot be held liable.
"California has an interest in holding manufacturers of defective products liable in tort to ensure compensation for its residents," Bybee said, in weighing the competing interests. "Japan, on the other hand, has an interest in consistent application of its liability-limiting statute to businesses participating in its nuclear industry."
Japanese Law Prevails
He went on to say:
"We have little difficulty concluding that failure to apply Japanese law in these circumstances would significantly impair Japan's interests. Japan's Compensation Act is directed specifically at accidents at a nuclear facility; California's products liability rules are general in nature and presumably cover everything from toasters to airplanes."
The jurist commented:
"Even if application of the Compensation Act would bar any relief for these plaintiffs, we would still be required to apply Japanese law.…But application of Japanese law does not entirely foreclose recovery for the plaintiffs here. Japanese law allows for compensation for the plaintiffs' injuries—just not from GE."
Former Senator Argues
Oral argument in the case took place on March 10 in Pasadena. Representing the sailors and their families was former U.S. Sen. John Edwards, the 2004 Democratic vice presidential nominee. His North Carolina firm, Edwards Kirby LLP, is also representing former U.S. sailors in an action in the District of Columbia. California's law of strict products liability should be applied, he asserted.
"[Y]ou have Americans with a case—American sailors—against an American company about a product that was designed and created in the United States, in California," he told the panel," comprised of Bybee, Senior Circuit Judge A. Wallace Tashima and Circuit Judge Kim McLane Wardlaw.
Edwards maintained:
"The bad behavior didn't happen in Japan. That's where the tsunami happened."
GE's conduct, he contended, occurred in California.
"The injury didn't happen in Japan," he continued. "The injury happened on American ships."
Those ships, he said, were in international waters and, under international law, those aboard the vessels were on "American soil."
David J. Weiner of the District of Columbia office of Arnold & Porter Kaye Scholer LLP represented GE. He said the manufacturing of equipment installed by GE "was done in a number of places," not just California, and that it was in Japan where GE installed that equipment.
Faulty installation in Japan, he noted, is alleged in the complaint as a cause of the meltdown.
"Under California's governmental interest test, when a plaintiff is injured by a defendant's conduct in another jurisdiction that limits or denies liability for that type of conduct, that jurisdiction has the predominant interest and would be most impaired if its law is not applied," Weiner said.
He noted that when GE made its agreement with Japan to install equipment there in the 1970s, it was with the knowledge that the Compensation Act was in place, and in reliance on it.
Copyright 2020, Metropolitan News Company