Thursday, June 25, 2020
Page 1
Court of Appeal:
Five-Year Sentence for Hate Crime Was Too Lenient
Panel Reverses Judgment, Says Judge Abused Discretion in Striking Prior; Defendant, Who Threatened Pregnant Black Woman, Had Faced Mandatory Sentence of 25 Years to Life Under Three Strikes Law
By a MetNews Staff Writer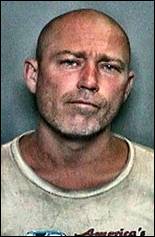 —Orange County District Attorney's Office
TYSON MAYFIELD
Criminal Defendant
Div. Three of the Fourth District Court of Appeal has branded a sentence an abuse of discretion and reversed the judgment, expressing disgust that a man who committed a hate crime and faced a mandatory prison sentence of 25 years to life, as a third-strike defendant, plus 13 years based on enhancements, was let off with a five-year term after the judge struck a prior.
"[T]his is not a close call," Acting Presiding Justice William W. Bedsworth said in an opinion filed Tuesday.
The matter was remanded to the Orange Superior Court where the defendant, whose body bears a number of tattoos in the form of swastikas and white supremacist symbols, will have an opportunity to withdraw his guilty plea to commission of a hate crime with "the present ability to commit a violent injury" or cause "actual physical injury." That plea was rendered after Judge Roger B. Robbins offered him a plea deal, over the vehement objection of the District Attorney's Office.
Bedsworth's Opinion
Bedsworth wrote:
"The members of this panel have enjoyed long careers in the practice of law. We've seen enough to make it difficult to shock us. But not, as it turns out, impossible.
"Respondent Tyson Theodore Mayfield has an extensive criminal record that includes multiple acts of violence against racial minorities. In this case, he threatened to make a pregnant African-American woman 'drop' her unborn baby while she was waiting at a bus station. As a third-strike defendant, respondent was facing a mandatory prison sentence of 25 years to life. However, the trial court dismissed one of his prior strike convictions in the interest of justice under Penal Code section 1385 and sentenced him to five years in prison."
He continued:
"The district attorney contends the dismissal constitutes an abuse of discretion, and we agree. Completely. Everything about respondent's crime and his record shouts for application of the Three Strikes law. There is nothing about his criminal history or personal character that suggests he somehow falls outside the spirit of the Three Strikes law."
Waiting for Bus
Mayfield committed his offense on Sept. 17, 2018 at the Fullerton Transportation Center where his victim, who was eight months pregnant, was waiting for a bus.
The woman, who was referred to in the opinion as "Jasmine C.," recounted the incident in a victim impact statement, saying:
"When Tyson was walking towards me telling me 'I'm going to make sure you drop your baby. It's a promise making sure you have this baby. I don't like pregnant niggers like you, I have a field day of doing that,' I felt very scared.…When he made these threats towards me, what came to my mind was that he wanted to physically hurt me and my unborn child and do whatever he could for me to have this baby."
The woman used pepper spray on Mayfield; he grabbed her backpack and went off; he quickly returned, telling her:
"You're going to pay now, you nigger, I'm going to make sure you really drop this baby."
She ran to a nearby café and phoned the police.
Issue of Dangerousness
Disputing Robbins's view that Mayfield is entitled to leniency because he did not touch the victim and his conduct did not evince dangerousness, Bedsworth said that the result of the episode "was an eight-month pregnant woman running for her life—and the life of her unborn child" caused by the defendant's "declarations of overt and despicable intent." He added:
"Surely the language used here—'Now you're going to pay, nigger'—addressed to a pregnant woman demonstrates a danger to society as clearly as displaying a knife or a screwdriver."
The jurist noted that Mayfield hurled the same epithet at a man he punched several times outside a liquor store in Fullerton in 2017. He asked the man, of Filipino-Turkish descent, for use of his lighter; being a non-smoker, he had none; Mayfield became agitated and attacked him.
In return for a guilty plea, the judge in that case reduced the charge to a misdemeanor and sentenced Mayfield to a year in jail.
The defendant uttered racist insults to a couple he confronted in 2006 at a gas station. He asked if they had spare change; the woman said they did not; irked, Mayfield punched the man in the face repeatedly.
For that offense—his second strike—he was convicted of battery with serious bodily injury and mayhem and was sentenced to nine years in prison.
Stricken Prior
The prior which Robbins struck was a 2005 conviction for assault with a deadly weapon. He walked up to a stranger and slashed his face with a knife.
Mayfield received a two-year prison sentence (but was out in time to commit his 2006 offense at the gas station).
The 2005 conviction, Robbins noted, was "14 years old and now remote in time."
Bedsworth countered that in the intervening years, Mayfield "spent over 10 years in jail or prison."
That first strike was therefore not "what the law considers cognizably remote for purposes of the Three Strikes law," he said.
'Tremendous Break'
Mayfield was "given a tremendous break in 2017 when the court reduced his felony hate crime to a misdemeanor," Bedsworth declared, remarking in a footnote:
"The record does not reflect how in the world that happened."
That break, he said, enabled Mayfield "to avoid the imposition of a lengthy prison sentence at that time," observing:
"Yet, before the dust settled on that case, he went out and committed another hate crime, against Jasmine. His unrelenting criminal behavior since suffering his first strike conviction in 2005 demonstrates him to be an unchanged man, with a stubborn character and no discernible prospects for reform."
The case is People v. Mayfield, 2020 S.O.S.3039.
Copyright 2020, Metropolitan News Company