Page 1
Court of Appeal:
Owners May Seek Damages for Mishandling Pets' Remains
Recompense for Emotional Distress Is Potentially Recoverable Under Cause of Action for Negligence, Opinion Says, Opening Door to Possible Recovery Under Trespass to Chattels Theory If Complaint Is Amended to Allege Third Party Beneficiary Status
By a MetNews Staff Writer
<![if !vml]>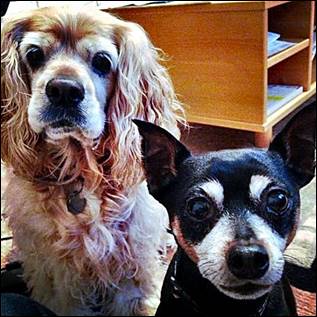 <![endif]>
Depicted above are Winnie (left) and Wesley, both deceased. The owners contend in their Orange Superior Court complaint—which a judge dismissed—that ashes sent to them by a crematorium are not those of their pets. On Friday, the Court of Appeal reinstated the action, holding that damages for emotional distress may be sought under a cause of action for negligence, as presently pled, and under a cause of action for trespass to chattels, if amended to allege that the pets' owners were third party beneficiaries of a contract between their veterinarian and the crematory.
An Orange Superior Court judge erred in holding that a couple who pled that they had two family dogs cremated, with the expectation that they would receive the ashes of those particular animals, have no cognizable cause of action even if the ashes that were sent to them were those of other dogs, Div. Three of the Fourth District Court of Appeal has held.
With a repleading, the opinion declares, damages for emotional distress might be recoverable under a cause of action for a trespass to chattels, it sets forth, noting that that the actual ashes of the plaintiffs' dogs were personal property. A cause of action for negligence was already adequately pled, it says.
The opinion, filed Friday, rejects the trial court's conclusion that the plaintiffs' "right to the ashes has not been interfered with."
Judgment of Dismissal
Court of Appeal Justice Raymond J. Ikola wrote the opinion, which partially reverses a judgment of dismissal which followed Orange Superior Court Judge Craig L. Griffin's sustaining of a demurrer, without leave to amend. The complaint was filed by Simi Valley residents Hillarie and Keith Levy against Only Cremations for Pets, Inc., located in Newport Beach.
The Levys had arranged with their veterinarian in September 2016 for cremation of their dog Winnie, who died of heart failure. They opted for the more expensive plan: individual cremation, with the ashes being sent to them, rather than a cremation of Winnie along with other pets, and the collective ashes being scattered at sea.
The following year, they had their dog Wesley, who was suffering from lung disease, euthanized, and made the same arrangement with their vet for cremation. When the ashes arrived, however, it was discernible that they were heftier in volume than those of Winnie, who had been twice the size of Wesley.
The veterinarian made a refund to the Levys of the costs of cremation of each of the dogs.
Protest on Yelp
As Hillarie Levy told it on Yelp:
"KTLA did a story on Only Cremations showing that group cremations are performed even though you receive a certificate guaranteeing individual cremations….My 2 dogs died within a year of each other, 1 was 26 LBS and the other was 12 LBS. Both were cremated at Only Cremations. Shockingly, the 26 LB dog's ashes weighed in at 6.5 OZ, whereas the 12 LB dog's ashes weighed 8 OZ."
She remarked in her review:
"What's worse is that instead of denying the group cremations, the owner, Dr. George Katcherian, offered me 'two of his best urns along with me being able to personally view my next pet be rolled into the oven by itself—a $450 value.' "
Only Cremations has denied the factual allegations.
Superior Court Decision
Griffin said in his ruling that the "plaintiffs assume something went awry in cremating one of both dogs because of the difference in ash weights," and remarked that "[w]ithin the universe of probable explanations for the difference," they "chose" to believe that misconduct had occurred.
He continued:
"But from reading the operative pleading it appears plaintiffs have been refunded the money paid for 'private' cremation, and thus have no monetary damages. It further appears that plaintiffs had no direct dealings (and thus no direct privity) with defendant herein. Both of these facts defeat plaintiffs' claims for breach of contract, breach of bailment, and breach of good faith."
Ikola agreed that the complaint fails to allege a contract between the Levys and Only Cremations, but said that leave to amend must be granted to permit the allegation that the plaintiffs were third party beneficiaries of the contract between their veterinarian and the pet crematorium.
While the opinion affirms the judgment as to the disallowance of certain causes of action, it declares that those based on trespass to chattels could survive a demurrer if there is a successful repleading, and says Griffin erred in sustaining a demurrer as to a cause of action for negligence.
Trespass to Chattels
Addressing the cause of action for trespass to chattels, Griffin set forth, in sustaining the demurrer:
"In order to state a claim for trespass to chattel, there must be some act performed by the defendant which interfered with the owner's right to use the chattel—but here plaintiffs' right to enjoy their living pets expired when the pets died, and their right to the ashes has not been interfered with….
"Moreover, there are no apparent measurable damages from the comingling, the trespass claim fails."
Ikola noted that while damages for emotional distress are generally not recoverable based on a breach of contract, the 1999 California Supreme Court opinion in Erlich v. Menezes points to two exceptions: where there is a physical injury or where "the breach is of such kind that serious emotional disturbance was a particularly likely result."
No physical injury occurred, he said, which "leaves only the second exception." Ikola wrote:
"That exception applies here. The sole purpose of a private cremation of a pet is the emotional tranquility of the owner. There is no economic benefit to a private cremation—to the contrary, it is more expensive than a group cremation. That additional cost is incurred solely for an emotional benefit."
He continued:
"That fact is reflected in defendant's alleged marketing material. According to the complaint, defendant advertised the emotional benefit of a private cremation, professing that 'our pets are as much a part of the family as any human, deserving the same equal, loving treatment.' Its Web site described one of its goals was 'to provide [customers] with a dignified and proper farewell to [their] beloved pet.' Plainly, this is an appeal to the emotional satisfaction of potential customers. Accordingly, to the extent that plaintiffs can allege they are third party beneficiaries of the contract between the veterinarian and defendant, emotional distress damages are available."
Special Relationship
Ikola recited that damages for emotional distress may be sought in a cause of action for negligence where the plaintiff is a direct victim and where duty to that plaintiff arises by virtue of a "special relationship" between the parties. Such a relationship was found, he said, by the California Supreme Court in its 1991 decision in Christensen v. Superior Court between crematory and relatives of decedents whose remains had allegedly been mishandled, notwithstanding that the plaintiffs had not contracted with the crematory for its services.
Then-Justice Marvin Baxter (now retired) wrote:
"Defendants here assumed a duty to the close relatives of the decedents for whose benefit they were to provide funeral and/or related services. They thereby created a special relationship obligating them to perform those services in the dignified and respectful manner the bereaved expect of mortuary and crematory operators."
Ikola said:
"The principal difference between this case and Christensen, of course, is that here we deal with pet remains rather than human remains. In all other respects, Christensen is closely on point. It is certainly true that people generally form stronger bonds with human family members than with pets, but that is a difference in degree, not in kind."
Duty of Care
The jurist went on to say:
"While the distinction between pet remains and human remains may affect the degree of harm caused by mishandling the remains, it does not change the fundamental relationship that the crematory has to the owner where a private cremation is sought. In both cases, the raison d'etre of the relationship is to provide emotional solace to the survivors. The very fact that the owner incurred the additional expense of a private cremation signals that the owner shared a strong emotional bond with the pet. That was not only foreseeable, but it was a pillar of defendant's marketing strategy. In offering a private cremation service predicated on the dignified treatment of pet remains, defendant entered into a special relationship and assumed a duty to use reasonable care in avoiding emotional harm to the owner."
The case is Levy v. Only Cremations for Pets, 2020 S.O.S. 5358.
Santa Barbara attorney John Derrick represented the Levys. H. Thomas Watson and Aaron Henson of the appellate law firm of Horvitz & Levy in Burbank teamed with Sean M. Bryn of the Encino firm of Luna & Glushon in arguing for affirmance.
Copyright 2020, Metropolitan News Company