Wednesday, July 22, 2020
Page 1
Marvin M. Lager, Los Angeles Judge for 25 Years, Dies at Age 66
By a MetNews Staff Writer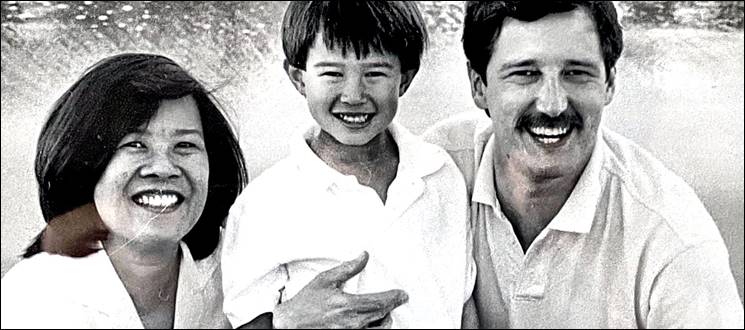 Marvin Lager, at right, is seen with wife Pamela G. Chin and son Max Lager in an undated family photograph. He died July 13.
Former Los Angeles Superior Court Judge Marvin M. Lager has died, it was announced yesterday.
He was 66.
Lager, who died July 13, retired from the bench on April 5, 2019. In light of the coronavirus epidemic, services were private.
"Judge Lager was a familiar sight in the Mosk Courthouse zipping along on his red electric scooter," Presiding Judge Kevin C. Brazile said yesterday in an email to colleagues. "Although he had multiple sclerosis (MS), Marvin did not let this disease define him."
New York Accent
Brazile noted that Lager, who was born in New York, "retained his distinctive accent despite having lived in California since 1979."
Lager received his law degree from Columbia University in 1972, then then spent a year as a law clerk for U.S. Court of Claims Judge Thomas J. Lydon in the District of Columbia.
He became a member of the State Bar of California on Jan. 5, 1979, and went into private practice, concentrating on business litigation.
For 25 years, he held judicial office, first as a judge of the Los Angeles Municipal Court, to which he was appointed in January 1994 by Gov. Pete Wilson. He was elevated by Wilson to the Superior Court on April 9, 1997.
Various Assignments
He served in various assignments, most recently in the Probate Department. He was member of the Appellate Division, on assignment by then-Chief Justice from 2005-07.
Lager is survived by his wife, attorney Pamela G. Chin, and their son, Max Lager.
The family has asked that donations be made in Lager's name to the National MS Society using this link:
http://main.nationalmssociety.org/goto/maxlager.
Copyright 2020, Metropolitan News Company