Wednesday, June 3, 2020
Page 3
Ninth Circuit:
Reconstructing One Entrance to Restaurant To Accommodate Wheelchairs Not Enough
Memorandum Opinion Says Plaintiff, Though Now Able to Enter Eatery, May Maintain Action to Compel Access Through Other Door
By a MetNews Staff Writer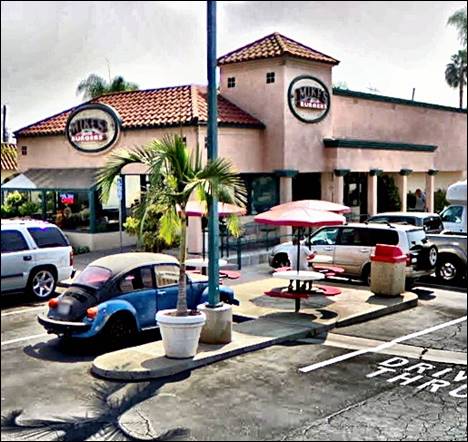 Above is a depiction of Mike's Classics Burgers in La Mirada, a city in southeast Los Angeles County near Orange County. The Ninth U.S. Circuit Court of Appeals on Monday held that Mike's did not sufficiently remedy its noncompliance with the Americans With Disabilities Act to be entitled to summary judgment in its favor, ridding it of a civil action against it, because one of two entrances remains inaccessible by persons in wheelchairs.
A Mexican-style hamburger restaurant in La Mirada that made 21 architectural changes to its building in response to a suit under the Americans With Dyabilities Act, including altering one of the two entrances to render it accessible by those in wheelchairs, did not do enough to warrant summary judgment in its favor, the Ninth U.S. Circuit Court of Appeals has held.
Its failure to reconstruct the other entrance calls for continued litigation, a three-judge panel said Monday in a memorandum opinion. Comprising the panel were Circuit Judges Bridget Shelton Bade and John B. Owens, along with District Court Judge Barry Ted Moskowitz of the Southern District of California, sitting by designation.
The opinion reverses an April 17, 2019 determination by District Court Judge John F. Walter of the Central District of California. In granting summary judgment in favor of the owner of Mike's Classic Burgers and the owner of the real property on which the business is situated, Walker ruled that the plaintiff, Nehemiah Kong, a person confined to a wheelchair, had sought access to the building and got just that by virtue of one entrance now being usable by him.
West Entrance
"It is undisputed that the west entrance to Mike's Classic Burgers now fully complies with the ADA," Walter pointed out. "It is also undisputed that the west entrance is clearly identified as the accessible entrance and there are signs posted at the north entrance directing customers to the west entrance."
He said the operative pleading contains no allegations "that would give Defendants notice that both the north and west entrances were required to comply with the ADA Access Standards in order for Mike's Classic Burgers to be 'readily accessible to and usable by individuals with disabilities.' "
Walter cited a District Court case saying:
"[E]every seat location in a stadium is not required to be wheelchair-accessible. Every room in a hotel is not required to be fully accessible. Every stall in every bathroom is not required to accommodate wheelchairs. Every entrance or exit is not required to be wheelchair-accessible."
In light of that, the judge said, the defendants were not given "fair notice" that what Kong sought was not simply access to the premises, but also an order that both entrances to Mike's Classic Burgers be rendered ADA-compliant.
Memorandum Opinion
The Ninth Circuit held Monday:
"Kong did not plead ADA violations hypothetically…, nor did he raise a wholly new legal theory at summary judgment….Instead, his claim was transparent and remained consistent: the front entrance was ADA-noncompliant and needed to be remedied. Kong did not lead the Appellees or the district court into believing that he was only seeking one accessible entrance. For example, in paragraph 22 of the Second Amended Complaint. Kong stated that he 'seeks to have all ADA violations related to his disability removed so that he enjoys full and equal access at Mike's Classic Burgers.' Appellees had fair notice of this claim. The district court erred in concluding otherwise."
Given the survival of the action under the ADA, the opinion says, Walter erred in declining to retain pendent jurisdiction over King's claim under California's Unruh Civil Rights Act.
Kong was represented by San Diego's Center for Disability Access. He sought statutory damages of at least $4,000 and—the element that generally drives such actions—attorney fees.
Walter ruled that "Plaintiff Kong shall recover nothing" by way of damages or fees.
The case is Kong v. Shirazi-Fard, 19-55465.
Copyright 2020, Metropolitan News Company