Tuesday, January 14, 2020
Page 1
Abe Khan Sets March 1 Retirement From Los Angeles Superior Court
By a MetNews Staff Writer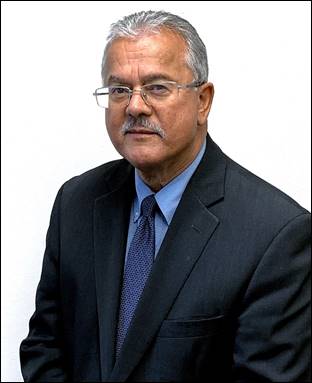 ABE KHAN
Los Angeles Superior Court Judge
Los Angeles Superior Court Judge Abe Khan, 70, is leaving the bench on March 1, after more than 31 years of service—with two years of his time as a judicial officer having been as a court commissioner, between judgeships.
Khan, appointed in 1988 to the Citrus Municipal Court in the San Gabriel Valley, was challenged at the polls in 1992 by an Orange County lawyer, Patrick B. Murphy, who had just opened an office in West Covina, where the Citrus courthouse was located. The incumbent, running as "Abraham Aponte Khan," lost although no issue was raised against him—a loss which is generally attributed solely to his foreign-sounding name.
(The Commission on Judicial Performance acted to remove Murphy from the bench in 2001 based on the abandonment of his judicial duties for more than four years, but quickly rescinded that order after learning he had already resigned.)
Retained Judicial Robe
Khan's term on the Citrus court ended the first week in January, 1993. However, he continued on the bench, as a court commissioner.
"There was no break in service," he recounted in an interview late Friday.
He served for about a month in Torrance, as a subordinate judicial officer of the South Bay Municipal Court, then came to downtown Los Angeles. The jurist remained a Los Angeles Municipal Court commissioner until gaining a judgeship on that court in the 1994 election, running this time as "Abe Khan."
He had hoped to run for the Los Angeles Superior Court in 1998 and had signed up with Cerrell Associates, which then specialized in judicial elections, as its candidate who was second in line, meaning that he would be represented if there were second open seat. However, the #3 Cerrell candidate, James Kaddo (the of the Los Angeles Municipal Court, now a Superior Court judge), filed papers for that seat, and Alban I. Niles, who as presiding judge of the Los Angeles Municipal Court had given Khan a favorable assignment, declared for the third seat.
There were no more open seats that year, and Khan opted not to run. However, he now recounts that he knew unification was just around the corner, with many of the counties in the state already having merged the municipal courts and the Superior Court.
In 2000, he did become a Superior Court judge through unification.
'Great Experience'
"It's been a great experience," Khan said of his time on the bench. "I've had a lot of exciting moments."
He recalled handling, as a commissioner, the arraignment of "Hollywood Madam" Heidi Fleiss, charged with pandering. That was on Aug. 9, 1993.
"I was asked if she could use a private elevator," Khan related. "I said 'no.'
"I didn't want to give the impression any special treatment."
That was a move he regretted, Khan said, recalling that there were about 200 reporters crowding the hallway.
For the past six years, Khan has been a settlement judge. He remarked:
"I'm gratified they trusted me to settle these cases for my colleagues."
Going Through Boxes
Although he is presently using up earned vacation time, he noted, he still "in and out" of his chambers, explaining he has 22 boxes of materials from cases, much of which he'll be tossing out.
His wife, Rosalinda Khan, won't find him underfoot when he goes into retirement because she's still working, Khan said, mentioning that she is a finance manager for Richards, Watson & Gershon.
He said they will be going to Hawaii for nine or 10 days and will "relax, take it easy, do a little whale-watching."
As to what his future endeavors will be, he advised:
"I haven't made any final decision, yet."
He said he might join the assigned judges program and might become a private judge.
Khan—known for his dapper appearance, including sporting ties with ornate designs—has been in public service for more than 40 years. A 1977 graduate of Southwestern Law School, he was a Los Angeles deputy district attorney, a Los Angeles deputy city attorney, and a Los Angeles deputy public defender.
Copyright 2020, Metropolitan News Company