Tuesday, February 25, 2020
Page 8
JUDICIAL ELECTIONS: Los Angeles Superior Court Office No. 150
Prosecutor, Fired Deputy City Attorney, Private Practitioner Seek Judgeship
By ROGER M. GRACE, Editor
Just how much clout a female name has with voters in Los Angeles County will be tested in this contest.
Two males—Los Angeles Deputy District Attorney Manuel Alejandro Almada and private practitioner Tom Parsekian—are in a race with "Sherri Onica Valle Cole" (as her name will appear on the March 3 ballot). A person named "Sherri" is readily perceived to be a woman.
In past elections, where there was one woman running and two males, there was generally a runoff in which the female was one of the contenders.
There looms the question: Can Cole win the judgeship—outright in March, or in a November run-off—notwithstanding a lack of support within the legal community and consistently low assessments of her credentials for a judgeship by those who have examined them? Evaluations of judicial candidates by those who are seemingly in the know have, in recent years, proven to be of little impact on voters.
Cole has an additional advantage: her name will be on the predominance of the slates—a meaningful factor in some recent elections, though not in the most recent elections.
Her current ballot designation as "Attorney-at-Law" is neither particularly strong nor weak.
Previous Campaigns
Cole ran unsuccessfully for a Los Angeles Superior Court judgeship twice before, in 2016 and 2018. Her name appeared on the primary ballot in each election as "Onica Valle Cole." Although some would discern she's a female because "Onica" ends in an "a," that unusual name is not distinctively feminine; that of the 2016 general election victor—Kim L. Nguyen—arguably was (at least among the non-Asian population), and that of the winner in the 2018 primary, Maria Lucy Armendariz, plainly was. Also, the winner in each of those elections had a stronger ballot designation than Cole's.
Cole is registered with the State Bar as "Onica Sherri Cole." Her Social Security number is issued in that name.
Initially seeking to run in the current election as "Sherri 'Onica' Cole," apparently sliding her middle name in front of her first to accentuate her gender, the Registrar-Recorder's Office decided to allow her to proceed under the name she chose, but with one change: the quote marks, indicating a nickname, are removed.
No Endorsements
Cole's campaign website reveals no endorsements.
Campaign finance reports through Feb. 15 show that she has received no campaign contributions, other than loans to her committee—which are sizeable—from herself and (to a minor extent) her husband, with the husband making some nonmonetary donations.
Cole has made periodic loans to her committee starting with $11,133.94 on April 29, 2016 (during her first campaign), with the latest being in the amount of $500 on Jan. 19. Loans from her total $152,317.79. Her husband, Los Angeles Police Detective Supervisor Brent Honoree, made a loan of $150 and his nonmonetary contributions are valued at $2,387. That adds up to $154,854.79.
Expenditures (including unpaid bills in the amount of $93,231.57) total $95,901.56.
In making the loans last year, Cole identified herself as "Onica Valle Cole" with the occupation of "unemployed." She still listed herself that way in making the loan in January. Yet, on her campaign website, she says that in 2019 and currently, she has been in civil law practice.
Her committee has spent heavily on slate mailers.
Almada's Advantages
Almada has a Latino name and the ballot designation of "Deputy District Attorney, County of Los Angeles." A Latino name, once a hindrance, has become an asset, of burgeoning value. A candidate's identity as a prosecutor has long been a strong plus, though it might not provide so much of an advantage this year, with voters becoming less swayed, or even deterred by, a candidate's "tough on crime" image.
Almada's campaign finances are relatively low. As of the latest report, this month, Almada's committee has raised $14,750, of which $8,000 was from the candidate; it has spent $17,370.25.
Nineteen Los Angeles Superior Court judges endorse him, as do District Attorney Jackie Lacey and former District Attorney Steve Cooley. Aside from serving as a prosecutor under Lacey and Cooley, he was a deputy district attorney in Santa Barbara County while Joyce E. Dudley was district attorney, as she still is; he also has her endorsement.
He's the choice of the Los Angeles Times in this race.
Parsekian's Campaign
Parsekian is listed on the ballot as "Attorney/Mediator," though a question has been raised as to how much mediating he does.
His committee has taken in $112,847 in contributions, plus a $30,000 loan from his law firm, coming to $142,847.
Los Angeles Superior Court Presiding Judge Kevin Brazile endorses him, as do 10 other judges of the court. However, he highlights his endorsements by Democratic officeholders.
He is backed by the Los Angeles County Democratic Party and 14 Democratic clubs. As an ex-actor and father of an actress whose husband also is an actor, he has garnered donations within the entertainment community.
Almada, 39, obtained his law degree from Whittier Law School in Costa Mesa, now closed. Cole, 48, graduated from the law school at Loyola. Parsekian, 60, earned his JD at Rutgers in New Jersey.
MANUEL ALEJANDRO ALMADA
Deputy DA Asks That Quality of the Work He Does Be Considered
Deputy District Attorney Manuel Alejandro Almada, born in Tijuana, Mexico where he received his initial schooling, came to the United States with his mother, at the age of seven. He won't say if they entered legally, but notes that he, his mother, and his two sisters are naturalized citizens.
His mother, he recounts, "raised me and my two sisters by herself." She strove to better herself, the lawyer says, noting that she was a waitress for several years, took college courses, and gained employment in the Accounting Department of the City of Los Angeles (from which she is now retired).
"She instilled in me the value of hard work," Almada remarks, relating that the message she imparted to him was:
"You work hard and you stay honest."
Three Prosecutorial Offices
He passed the bar exam on a single try, joined the Long Beach City Prosecutor's Office in March 2007, then shifted to the Santa Barbara District Attorney's Office in December 2010.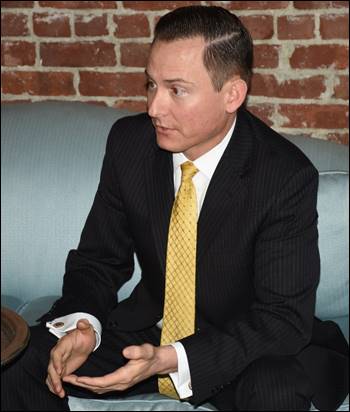 ALMADA
An Oct. 2, 2012 press release from the Santa Barbara DA's Office announces the conviction of a man who had engaged in a massive real estate fraud scheme, selling lots in a subdivision which he falsely represented had residential water rights. The release says:
"District Attorney Joyce Dudley commented that Deputy District Attorney Manuel Almada had done an excellent job with a complicated and important case."
In January 2013, he joined the Los Angeles County DA's Office.
A person who formerly held a high position in that office terms Almada "very professional."
Almada does, however, appear to lack respect among adversaries in the Public Defender's Office, it's been learned, with some deputies viewing him as smug.
Recent Victory
A colleague of Almada brings out:
"I think it's worth a mention that while DDA Manuel Almada's opponents were busy attending political endorsement meetings, Almada was busy doing his job—securing a conviction in a double murder trial that took place over nine court days, which with 402 motions was more like 12 court days. The jury rendered its verdict on [Feb. 11], with defendant convicted of both murders and a kidnapping.
"Almada could have tried to delay the trial in order to have more time to devote to his campaign, but he did not choose to do so. He tried the case swiftly, efficiently, effectively because of the painstaking trial preparation that he did, which in turn resulted in a complicated case being tried so quickly."
Length of Practice
Almada acknowledges that his opponents have been lawyers longer than he. Parsekian was admitted to the State Bar in December 1991 and Cole in December 1998; his name was added to the rolls of attorneys in December 2006. But, he says, he has made more total "use" of time devoted to law practice than they have.
"I've been a prosecutor throughout my time as a lawyer," Almada points out. "I have tried 65 jury trials."
He adds that he has handled appeals of misdemeanor convictions in the Los Angeles Superior Court Appellate Division, as well as juvenile matters.
"I have had life experience that would make me the most qualified, and legal experience that would make me the most qualified for the Superior Court," he declares.
Notwithstanding far lower campaign finances than his opponents, the prosecutor says of his chances of winning, outright, in the March 3 primary:
"I think I can and I think I will."
SHERRI ONICA COLE
Former Deputy Prosecutor Says She Has Handled Two Civil Case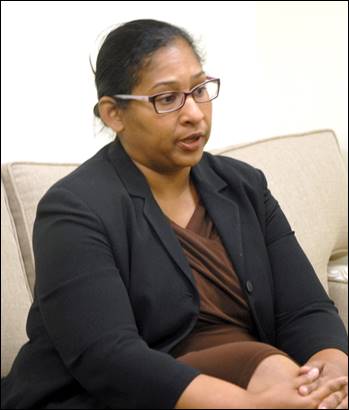 COLE
It was on Jan. 3, 2018, that Onica Sherri Cole—running as Sherri Onica Cole—was fired by the Los Angeles City Attorney's Office as a deputy. She applied for unemployment benefits.
The Employment Development Department rejected the city's protest to her receiving benefits, saying:
"YOU DISCHARGED THE CLAIMANT FOR ENTERING FALSE INFORMATION ON WORK RECORDS. AFTER CONSIDERING THE AVAILABLE INFORMATION, THE DEPARTMENT FINDS THE REASONS FOR DISCHARGE DO NOT MEET THE DEFINITION OF MISCONDUCT CONNECTED WITH THE WORK."
She ran that year for a judgeship, as she had, unsuccessfully, two years earlier. At the time of the June 5 primary, she was out of work. Her ballot designation, after a court scuffle over it, was "Attorney/Mother." She wanted to use "Consumer Prosecutor/Attorney."
Cole insisted she was fired in retaliation for filing a workers' compensation claim and for her activity as a union representative in challenging management, declaring:
"I have been a constant confronter of management."
She added:
"I'm not going to apologize for being aggressive. I am never going to apologize for doing things that may not be politically correct."
Since then, she says, she has completed two civil trials.
She notes that she has been a member of the Black Women Lawyers, Langston Bar Association, and Latina Lawyers, but is "not sure if I paid my dues yet for this year or when they are due," and belongs to "a bunch of democratic clubs" but doesn't know which memberships are current.
Cole had been a volunteer temporary judge for the Los Angeles Superior Court but says her appointment expired, but that she will seek to act as a pro tem in Orange County where she now works.
TOM PARSEKIAN
Lawyer Seen as Running Partisan Political Campaign for Judgeship
"Judicial elections are nonpartisan," attorney Thomas Ned Parsekian recites, adding:
"Judges should be nonpartisan in their races, while they're running for judge, as well. I believe that I have been."
Some differ with his perception that he is running a nonpartisan campaign.
The Los Angeles Times, a newspaper with Democratic leanings, says in its editorial endorsing Manuel Alejandro Almada:
"Tom Parsekian has an extensive background in complex litigation and as manager of a law firm, but he makes too much of his overt connections with the Democratic Party establishment as he campaigns for what should be a nonpartisan office."
Photo of Schiff
The various Democrats running for judgeships this year who have been endorsed by the party's county central committee make note of that fact on their websites, and several list numerous Democratic clubs as supporting them. Parsekian goes beyond such a notation. When his campaign website is entered, there appears next to a large likeness of Parsekian a photograph of Rep. Adam Schiff, D-CA, who led the team of House of Representatives members in presenting in the U.S. Senate the case for removing Donald Trump as president.
If a visitor to the site has not already begun scrolling to the content below, after about eight seconds a photo will be seen, replacing that of Schiff. It's a shot of U.S. Rep. Maxine Waters, D-CA, one of Trump's most vocal critics who has termed the president "a bully, an egotistical maniac, a liar and someone who did not need to be President" and "the most deplorable person I've ever met in my life," and who was one of the first to call for his impeachment.
Next comes a photo of Fiona Ma, California's state treasurer who, at her swearing-in last year, blurted out, "f—k Trump," and made an obscene gesture.
In his Facebook campaign page, Parsekian declares:
"I am proud to announce that the Los Angeles County Democratic Party has officially endorsed my campaign for Los Angeles Superior Court Judge - Seat 150. This is a game-changing moment for our campaign and I am honored to have the support of the #Democratic activists that fuel the Democratic Party."
Parsekian's Comments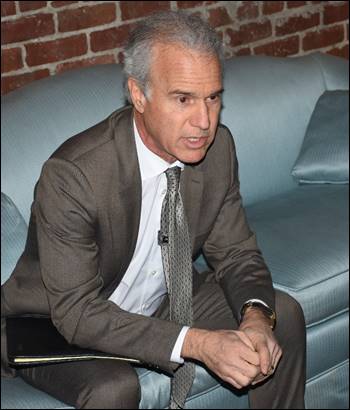 PARSEKIAN
Parsekian insists that he's conducting a nonpartisan campaign because he is willing to accept an endorsement from virtually anyone, without regard to the person's party affiliation. He explains:
"Anybody who reads about me—and they can go on my website and they can read all about me, they can research about me—and if they do that, and they determine that I'm a good lawyer, I'm a good person, most importantly, who would be a really good judge—if they determine that and they want to endorse me, then fine—as long as they're not people who are criminal or have problems with moral turpitude, or something….
"But if people are duly elected state officials from either party who hold a statewide office, whether it's California state attorney or governor or lieutenant governor or whatever it is—they're not endorsing me, unfortunately—if they say, 'Tom, we think you're an incredible person, we've heard about you and we want to endorse you,' I'd say: 'Well thank you, I appreciate that.' "
'Blue Dog Democrat'
Parsekian, in stating that he's a Democrat, immediately adds: "Whoa!" specifying:
"I'm what you might call a 'Blue Dog Democrat.' "
That term, he advises, "references those who are a little more center, in terms of their political philosophy."
He says he doesn't know the origin of the term.
On the 1960s Hanna-Barbera cartoon series, "The Flintstones," one character was a dog named "Dino" who was blue. "DINO" is the acronym for "Democrat in Name Only," a term sometimes applied to fiscally conservative Democrats who are apt to be called "Blue Dog Democrats."
Alludes to Father
Parsekian points out, as he is prone to do:
"My father was a very highly respected politician in New Jersey. He was a state senator."
Ned Parsekian, who died in 2008, was elected to the state Senate in 1965 and was defeated in his bid for reelection two years later, and failed in future bids for public office.
Tom Parsekian says his father would, in today's terms, be deemed a "Blue Dog Democrat," and proceeds to tie that political status with decency, saying:
"My whole thing is, I grew up as my father's son, and he was a World War II generation individual—what they call the 'Great Generation'—and, in fact, that phrase means something to me because those are people who followed common courtesy, decency, respect for other people no matter what their position.
"People were always afforded respect from my father, no matter what side they were on—he at least gave them that opportunity without denigrating them, and that's what I was taught growing up, and so, when I say he's more center, or Blue Dog, more conservative Democrat, what I mean by that is, he was all about respect for other people, human decency, and when I talk about my judicial election, that is what I talk about."
He says that if he is elected, he anticipates that a party to litigation that had been conducted before him, emerging from his courtroom, will say of him:
"You know, no matter how he ruled, whether it was for or against us—what a decent man he was."
'Good Christian'
Interjecting religion, he proclaims:
"I am a good Christian, I think. If you talk to people who know me, and have known me for a long time, I think they will tell you that that's what they take away."
Parsekian also mentions that he is a family man, residing near the Hollywood Bowl, with his wife and three adult children.
His daughter, Lauren Parsekian, is a director and actress; her husband, Aaron Paul, is also an actor. Tom Parsekian is a former actor.
Many of his campaign contributions come from show business figures, including television host Jimmy Kimmel, who plunked $5,000 in the campaign coffers.
Expense Account
Parsekian has, in a departure from judicial candidates' standard practices, turned campaign funds into a personal expense account, using them to pay for meals at restaurants which were denominated strategy sessions, financial reports show.
Contributors last year subsidized Parsekian's meals with two others at King's Fish House in Long Beach ($113.04); with two persons at the Daily Grill in Studio City ($103.22); with, variously, one or two companions at the Marmalade Cafe in Sherman Oaks on three occasions (spending $100.76, $67.97, and $54.94); with three persons at the Bistro Gardens in Studio City ($118.16); with four at Ca Del Sole Restaurant in North Hollywood ($131.64); and with three at the Miro Restaurant ($170.36).
Also listed on a report are a lunch meeting for an unspecified purpose with one person at Tao ($56.28) and a "Thank You Dinner with Donors-T.Parsekian & 2 people" at Tao, as well as an "Endorsement Mtg.-T.Parsekian & 2 people" at the Miro Restaurant.
Observation Offered
One knowledgeable observer comments:
"Parsekian has all the attributes of a slick politician; he should be running for something else where he has a better chance to leverage his political connections."
The observer adds:
"His lack of an electorally viable ballot title…and a name that fails to resonate with many voters, means that even if he makes it to November, he will not be able to overcome the historically strong…Latino vote that should take Almada to victory."
Copyright 2020, Metropolitan News Company