Wednesday, February 19, 2020
Page 8
JUDICIAL ELECTIONS: Los Angeles Superior Court Office No. 42
Deputy District Attorney Is in Uphill Battle With Deputy Attorney General
By ROGER M. GRACE, Editor
The ballot designation of "Deputy District Attorney" is normally formidable. Candidate Robert "Bob" Villa holds that position. However, "Deputy District Attorney, Los Angeles County" may provide little or no advantage to him in the March 3 primary in light of the designation of his opponent, Linda L. Sun: "Deputy Attorney General, State of California."
Sun has the election advantage of being a female. Too, her campaign committee has received about $172,000 in campaign funds while Villa's committee has taken in roughly $42,000. These figures represent financial reports filed with the Secretary of State's Office covering the periods through Jan. 18, plus "late contribution reports" since then, telling of contributions of $1,000 or more in the preceding 24 hours. (The late reports do not indicate whether the money comes in as an outright gift or a loan.)
Last year, Sun loaned her committee $22,000, and her husband, Albert Sun, loaned it $25,000. On Friday, Linda Sun put in another $12,500.
Villa last year loaned his committee $10,000; his wife, Andrea Villa, this year made a post-Jan. 18 contribution of $5,000; and his mother, Jennie Villa, has put in a total of $12,000.
The committee for Sun has spent heavily on slate mailers. Villa scoffs that such flyers are "are yesterday's news," expressing the view that use of social media "appears to be a better way to reach the voters."
Sun will, predictably, attract votes of Asian Americans—many of her campaign contributions come from that community, with most of the donors not being attorneys—and Villa will draw votes from the Latino community, based on his surname (although it's actually Italian).
Neither belongs to any voluntary bar association. Villa is a member of the Association of Deputy District Attorneys, a union, and Sun is involved in charitable activities.
Villa, 59, received his law degree from Western State, and gained State Bar membership in 1988. Sun, 53, is an alumnus of Southwestern, and was admitted to the State Bar in 2000.
LINDA L. SUN
Supervising Deputy A.G. Credits Eu, Lew as Mentors, Inspiring Her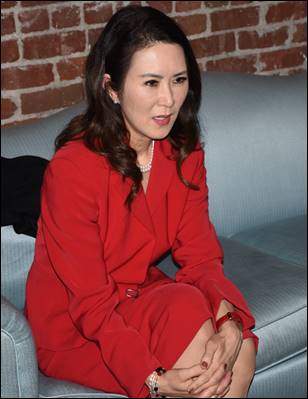 SUN
Supervising Deputy Attorney General Linda L. Sun, who was born and reared in Hong Kong and came to the United States at age 18, was urged to go to law school by the woman she worked for and a man she met in Chinese American activities. The woman, to whom she was a special assistant (from 1991-94), was then California's secretary of state, March Fong Eu (since deceased), and the man was U.S. District Court Judge Ronald S.W. Lew of the Central District of California.
Lew, now on senior status, recounts:
"I first met Linda in January of 1991, while participating in community events. Having grown up with a foundation of a loving family and having the focus and maturity to maintain a balance of scholarship, work, and civic mindedness, I encouraged her to go to law school.
"While in law school, Linda worked as a judicial extern in my chambers in 1999. Linda's work consistently reflected quality research, writing, and analytical skills. She was always reliable and dependable in getting the work done.
"After law school Linda continued to hone her skills at the California Attorney General's Office."
Federal judges, unlike state judges, are precluded from making endorsements in judicial races. Lew does, however, say of Sun, without direct reference to her capacity to serve as a judge of the Los Angeles Superior Court:
"Linda is a delightful person to work with and she remains a committed volunteer for civic and community work. Her intelligence, energy, and temperament, including a good sense of humor, will enable her to achieve continued success in all her future endeavors."
Took Advice
Sun took Lew's advice of what law school to choose: his alma mater, Southwestern, which she attended from 1997 until December of 1999. During the first two years, she attended classes at night, working fulltime during the day at the Milken Family Foundation; in 1999, in addition to externing for Lew, she was an extern for the Department of Justice.
Eu and Lew, she notes, were also her "inspiration to pursue a career in public service."
While pregnant with her first child, she did pro bono work for Public Counsel in 2000, then became a deputy attorney general in 2001, in the Licensing Section, being promoted to supervising deputy in 2015.
Sun chose not to use the word "Supervising" as part of her ballot designation, though it is part of her office title. She explains:
"I think there are some people who think adding the word 'Supervising' may connote an administrative role."
The candidate says she does perform administrative chores, but also handles legal work, pursuing administrative actions against licensees of 40 state agencies.
She notes that she sometimes appears in the Los Angeles Superior Court in writ proceedings, and handles appeals.
"I do not handle criminal cases," Sun says, quickly amending the statement by mentioning that a "tiny, little part of our job" is to go into criminal court where a licensee is the defendant, seeking suspension of the license, pursuant to Penal Code §23, during pendency of the proceedings.
Endorsements by Judges
Sun has received the endorsements of 27 sitting Los Angeles Superior Court judges including the presiding judge, Kevin Brazile. Asian Pacific American Bar Association, Japanese American Bar Association, Mexican American Bar Association, and the Mexican American Bar Association PAC have also urged her election.
 Numerous politicians are on her list of supporters.
The Los Angeles County Democratic Party has endorsed Sun, as have 18 Democratic clubs. (Villa is a Republican.)
Highly Regarded
In her latest office performance evaluation, for the period of June 1, 2018 to June 1, 2019, Sun is given the highest rating—"Masterful"—in 15 of the 17 categories, and "Exceeded Expectations" in two others.
The report contains these comments by Senior Assistant Attorney General Linda K. Schneider:
•"Linda, your commitment to our work, our clients, and our staff is admirable. You handle matters very professionally without letting the stress of difficult situations bother you….[¶] You are the go-to supervisor to resolve conflicts between staff members, such as paralegals and legal secretaries. Using strong listening and mediation skills, you are able to resolve things quickly and without hurt feelings…."
•"Linda, you guide and inspire your staff by working hard, always volunteering to help, and are very much in tune to the well-being of our staff members. You treat everyone fairly and with respect. Because our staff members have so much respect for you, they want to do their very best to please you. This is a win-win situation that creates an optimum working environment…."
•"You are…in charge of the social committee, which under your leadership has become a very large committee with many people interested in participating because it is so successful….[Y]ou inspire great morale in the Los Angeles office and collegiality among our staff….[¶] A recent survey conducted among your team members concerning the supervision you provided showed extremely favorable results. Every one of your team members said only great things about you and the supervision you provide; none had any suggestions for improvement. This comment is a good example of your team's views: 'I can't think of a single area of improvement for Linda. She is an excellent supervisor.' "
•"Linda, you work almost entirely independently, but also keep me informed of important matters as they arise. You are a great representative of our office and have an excellent relationship with our clients…."
•"Linda, you are very dependable and responsible….You are also the historian, saving and being able to find documents, prior analyses, and other information easily. When something is needed, everyone comes to you…."
ROBERT 'BOB' VILLA
Deputy D.A. Stresses His Years of Experience in Trial-Court Courtrooms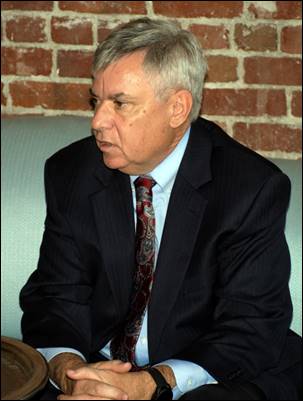 VILLA
Los Angeles Deputy District Attorney Robert Villa says that what sets him apart from his opponent, Supervising Assistant Attorney General Linda Sun, is that, as a prosecutor for more than 30 years, he's had far more experience than she in Superior Court courtrooms.
Sun goes to court on writ matters, he notes, but points out that he's there trying cases—case after case—before juries. He acknowledges that Sun "is probably qualified" but remarks:
"She definitely doesn't have the trial experience I have. I'm sure she's been in court, but our jobs are quite different. I believe that I have a lot more court experience and I definitely have in front of a jury."
He elaborates:
"I have over 200 felony trials. I believe that court experience is really important for the judicial role. I've seen just about everything there is to see in my capacity as a deputy district attorney in court—and I think that would be helpful on the bench, knowing the process, and how it goes, and how to respond to things."
Villa says he never handled a civil matter before going into the DA's Office.
Avoiding Cronyism
The candidate says the sort of judge he would avoid being like is "one who's not trustworthy," as opposed to a judge "who doesn't lean towards people that they may know or been friends with for a long time." He elaborates:
"There's been instances where I've known people who have known other people and there's some favoritism that happens sometimes—and I hope that's not the kind of person I would be."
Has he noted it for the record?
"Not on the record, no," he responds.
Does he owe it to his client to do so? Villa says:
"As long as I think the trial is fair. Sometimes rulings will go against you. That's part of the business. Sometimes you don't understand why. Sometimes you have a decent idea why.
"But I think I've been very effective for the People of the State of California. If there's a reason to appeal something that went against me, I will appeal it."
Endorsements by Judges
He's endorsed by 16 sitting Los Angeles Superior Court judges and stresses that he has appeared before all of them. Also vouching for him are District Attorney Jackie Lacey and former District Attorney Steve Cooley.
Villa says he has not applied for appointment to the Superior Court, observing the "political climate" would not be favorable for him.
"I'm just a public servant and I can't name a bunch of political people that I know," he reflects. "I do one thing—and that's try cases."
 Views of Villa
A former higher-up in the District Attorney's Office terms Villa a "very prolific trial attorney" but notes that "some supervisors marked him down for not being diligent."
One judge says:
"I have known Bob Villa since approximately 1999 or 2000. He has tried, I believe over 500 felony trials to verdict, over a third of them murder trials. He is an excellent and extremely knowledgeable trial attorney. I have watched him in trial when I worked with him in the District Attorney's office. He is a very hard working and conscientious attorney who values doing the right thing without regard for any detriment it may have to his career. I don't think there is another Deputy DA who has tried more cases or is as knowledgeable as Bob."
Another judge remarks:
 "He is intelligent and an effective representative for the district attorney's office. However, he can be very abrupt, and lacks the temperament required to be an effective jurist."
'Intestinal Fortitude'
A informed observer has this to say:
"Bob is well liked at the DA's Office and defines the terms 'team player' and 'mentor' due to his willingness to share and impart his knowledge. When word got out that he would challenge Linda Sun in Office 42, you could almost hear the cheer rise around the office. If anyone has the intestinal fortitude to mount a robust campaign, it is Bob. He works tirelessly and will be a formidable candidate and stellar bench officer."
A colleague of Villa advises:
"I have worked with Bob Villa for over three decades. I was once his supervisor in the Compton hardcore gang unit for a short time. Bob is an excellent trial attorney. He and I are currently assigned to the Norwalk branch. I have the pleasure of seeing him at work preparing trials daily. He is the "go to guy" for the young attorneys who are trying their first or second murder case. He is always willing to discuss trial strategies and legal concepts in a patient and effective manner. Bob is well liked and respected by his colleagues, the bench and defense attorneys. With his experience in the courtroom and over thirty years of experience, he will make an excellent judge."
Deputies in the Public Defender's Office have mixed views of Villa, some seeing him as fair, pleasant and trustworthy, others considering him to be rude to opposing counsel, dismissive, and lacking in judicial temperament.
'Exceeded Expectations'
He is presently in favor with his office. In his last three annual performance evaluations, he was rated "Exceeded Expectations (Very Good)."
The most recent report, made on July 25, hails his "extensive courtroom experience, outstanding legal knowledge" and "strong trial advocacy skills," adding:
"Most significantly, Mr. Villa is always willing to tackle the most significant and challenging cases."
Copyright 2020, Metropolitan News Company