Tuesday, January 14, 2020
Page 8
JUDICIAL ELECTIONS: Los Angeles Superior Court Office No. 162
Two Private Practitioners, One Deputy District Attorney, Do Battle
By ROGER M. GRACE, Editor
Criminal defense lawyer David D. Diamond, civil rights lawyer Caree Annette Harper, and Deputy Los Angeles District Attorney Scott Yang are adversaries in the race for an open seat.
Each has a campaign website. Each of the websites lists endorsers. Harper's list, however, is noteworthy—apt to result in a double-take. Under "Other supporters" she includes:
"Judicial Candidate & one of Ms. Harper's opponents, David Diamond…."
There is a news story on the supposed endorsement on Page 1 of today's issue.
On their respective websites, Diamond lists 15 sitting Los Angeles Superior Court judges as endorsers, Harper enumerates 13, while Yang includes the names of 32.
Yang touts the endorsement of the Association for Los Angeles Deputy Sheriffs (ALADS). Diamond boasts of his endorsement by the Los Angeles Police Protective League which he says is meaningful because that group is not prone to support criminal defense attorneys.
Today: a further look at Harper—discussed yesterday in connection with contempt matters—and profiles on the other two candidates.
DAVID D. DIAMOND
Says Negative Portrayals of Him Are Inaccurate—Maintains He Doesn't Seek to Deceive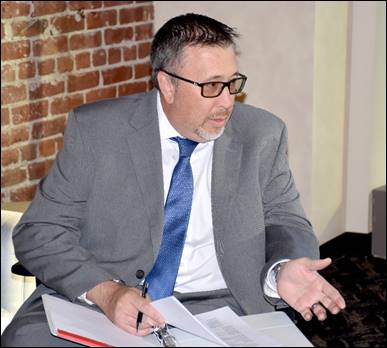 DIAMOND
Criminal defense attorney David D. Diamond contends that this newspaper has the wrong take on him. It has disparaged him in connection with his 2018 bid for election to an open seat, as well as his current campaign effort.
But he's not the tricky person that has been portrayed, he insists.
In a recent interview, he provided his side of the stories.
2018 Election
When Diamond ran for an open seat two years ago, the METNEWS endorsed his opponent, then-Deputy District Attorney (now Judge) Troy Davis. Foremost among its criticisms of Diamond was his seeking to portray himself on the ballot as "Attorney/Police Commissioner."
Los Angeles Superior Court Judge Mary Strobel held on March 29, 2018, that Diamond's service on an advisory board in Burbank that met monthly for one to three hours did not qualify as a "principal" profession, vocation, or occupation, as required by the Elections Code as a basis for a ballot designation.
"That the position is unpaid," Strobel said, "while not dispositive, also suggests that the amount of time and effort involved is not substantial."
Strobel looked only at Elections Code §13107 and did not consider Code of Regulations §20716—promulgated by the Office of Secretary of State and having the force of law—which bars designations relating to positions that "are voluntary or for which the candidate is not compensated," with one exception, that was not relevant.
Diamond now says that the attorney who represented him in the writ proceeding before Strobel, Bradley Hertz, as well as attorney Fredric Woocher of a different firm, "all told me, 'Don't worry, there's no requirement to get paid' " in connection with an activity set forth in a ballot designation.
He acknowledges that he did not personally review the Code of Regulations provision, explaining:
"I don't do election law."
Candidate Elaborates
In an email on Sunday, he elaborates:
"I consulted two of the most reputable election law lawyers regarding my 2018 ballot designation. I would never want to do anything that was deemed improper or misleading. Both advised me that being paid was not a necessary requirement.
"The Police Commission meetings were once a month but as indicated in my lengthy declaration and declarations of other commissioners, we had other work outside of the meetings, such as daily email review, budget review, reading material and preparation, crime reports review, walking the neighborhood for national night out, touring the police facility, etc. They both felt I would prevail if challenged.
"Unfortunately, I did not, but I was given the opportunity to be heard which is how our system works."
Response to Harper
This year, he is running as an "Attorney/Adjunct Professor." One of his two adversaries, Caree Harper, told the METNEWS on Nov. 27 that she would challenge the words "Adjunct Professor." Diamond that day provided a statement in response, saying:
"I am puzzled by Ms. Harper's proposed challenge. I have slowed my practice down and focused on teaching. It is a paid position with a substantial time commitment. I should not be punished for extending myself to the community in multiple arenas. This is the same candidate that asked me to throw her a fundraiser in my home, having never met me in person. Unfortunately, the only troublesome pattern is her erratic behavior such as spending time in custody for being in contempt of court and taking enormous sums of money from mentally challenged clients for doing little work. My very first anonymous donation received in this campaign was from an attorney that wished me luck and told me Ms. Harper 'is a joke and unethical; actually she is unfit for the bench.'
"While I make no such comment on her practice, this attorney seemed well-versed with my opponent."
Claims on Websites
Diamond's statement does not mention where he was teaching. However, his law office website then said:
"Mr. Diamond is an Associate Adjunct Professor of Law at Southwestern School of Law in the Trial Advocacy Honors Program."
It added:
"He is also an Associate Professor of Criminal Justice at National University and is currently an Adjunct Professor at Woodbury University teaching Courts and the Law."
His campaign website stated:
"He has been both a professor of criminal justice and most recently, an associate adjunct professor of law, teaching trial advocacy at Southwestern Law School."
It also said that he "is currently a University Professor teaching Courts and Criminal Law."
Contradiction by Southwestern
Contradicting that, a spokesperson for Southwestern advised on Nov. 27 that he does not teach there.
An email from this newspaper to Diamond on that date querying where he does teach was unanswered. He did say on Dec. 1, in response to a second email, sent to him that day:
"My teaching background has been extensive. I have taught at National University (Criminal Justice), Southwestern Law School and currently at Woodbury University wherein I am paid to teach courts and the law."
Attached to a later email that day was a CV showing that he was an adjunct associate professor of law at Southwestern from 2007-12, teaching "trial advocacy" and "coaching teams to compete in national mock trial competitions."
A Dec. 4 column in the METNEWS observed that Diamond was, through the websites, representing himself to be, at present, an adjunct professor at Southwestern, a law school, while he is actually teaching undergraduate students at a trade school.
No Deceptive Intent
In the recent interview, Diamond disclaimed any intent to provide misinformation:
He declares:
"I would not want anybody to be misled about where I'm teaching currently."
The candidate elaborates:
"I do think it's very important not to say something that is obviously not truthful, intentionally. I'd never be deceitful. I'd never try anything of that nature."
Diamond insists the statements on the websites indicating that he presently teaches at Southwestern were there through inadvertence, and advises that they have now been corrected.
He explains:
"On my personal law firm website, probably when it was designed—because I've been practicing solo for a long time—probably when it was designed I was teaching at Southwestern."
Reminded that the website has been updated recently—evident because it mentions Woodbury where he has taught only since last year—he says:
"What happened is I gave my updated job to my web designers and said, 'Put this up about Woodbury, please,' and it was put up there….
"I have subsequently gone myself and changed all that, not relied on the web people."
Campaign Website
With respect to the campaign website, Diamond says:
"I think the explanation would be that when I ran in 2018…, that was my most recent work."
The 2018 campaign website was transformed into the website for the current election, he relates, and "that's probably why it still said, 'most recently at Southwestern.' "
He specifies that Woodbury has expanded its range through the years and, now, is "not a trade school."
Diamond proclaims:
"I'm proud of being at Woodbury."
'Anonymous' Contributor
The Dec. 4 column, to which Diamond takes exception, questioned his Nov. 27 statement that an "anonymous" donor had made certain denigrating remarks about Harper and that "this attorney seemed well-versed with my opponent." The column asked how money could have been provided with anonymity and, if it was, how Diamond would know that the secret contributor was an attorney and was knowledgeable about Harper.
Diamond says in a Jan. 2 email:
"As for the donation, I meant to state 'unsolicited' as opposed to anonymous. That was my error."
He later supplied a copy of the email from his benefactor, with information identifying the sender redacted. Diamond apparently gained the impression that the sender was "well-versed" with Harper based on the email saying (with sanitizing by this newspaper):
"I have seen her f— up a case."
Assessments of Candidates
Back to the interview.
Diamond says of Yang:
"I would say that he is qualified. I've had cases with him. Sex crimes. He was very honest, very ethical, willing to negotiate some resolution.
"So, I have not had any bad experiences with him."
(Yang says he has "had cases with Mr. Diamond" and comments, simply: "He was fine.")
Expressing a view as to Harper's fitness for a Superior Court seat, Diamond provides this analysis:
"I don't think she's qualified. She's very adamant about her strengths as a civil rights litigator and I don't think she could be impartial given the amount of energy and enthusiasm she shows for alleged victims of civil rights [violations]."
As to his own suitability for the bench, Diamond says:
"I believe I am very well qualified. I've been trying cases for 20 years. I was certified by the State Bar as a criminal law specialist at Year 10—which is really the earliest you can really do it….
"I've been a judge pro tem for nine years and while I don't do the hard-core matters, I have done traffic, I have done restraining orders, I have done limited civil."
He relates that judicial assistants "praise my ability to handle calendars, get through things, speak to litigants, and have a very good demeanor."
Election Outcome
How can he win? Diamond acknowledges:
"Females get a lot of voters and prosecutors get a lot of voters."
However, he speculates that Harper's ballot designation—"Attorney/Radio Producer"—might have a "negative effect" on her chances. (Harper appears irregularly on Stevie Wonder's KJLH radio station and, according to her campaign website, produces segments.)
As Diamond sees it:
"I think Mr. Yang will probably get the most votes being that he's a prosecutor—which leaves it between Caree and myself—and does her confusing ballot designation, will that negate the fact that she's a female candidate? I don't have an answer to that."
He relates his understanding that Harper's political consultant, David Gould, has expressed his perception "that it would be a toss-up race."
Characterizing himself, he says:
"I'm a pretty simple guy, married to a schoolteacher."
CAREE ANNETTE HARPER
Part 2
Has Drawn Sanctions for Misconduct Causing Voiding of Jury Verdict, 'Reckless' Action in Minors' Case
U.S. District Court Judge Andrew J. Guilford of the Central District of California on Nov. 1, 2006, granted in part and denied in part a motion by defendant County of Orange to dismiss claims Harper brought on behalf of two clients based on alleged Sheriff's Department misconduct in March 2005. Guilford observed:
"At oral argument, Plaintiffs' counsel noted she has had some time pressures. The Court hopes and expects that where leave to amend is granted in this Order, Plaintiffs will more clearly allege their claims."
On Sept. 17, 2007, Guilford granted summary judgment in favor of the county and 10 Doe defendants; individual deputies remained as defendants.
The jury trial was held on April 16, 2008, with Harper and attorney Thomas Beck representing to the sole remaining plaintiff, Floydell Nunn. On April 24, jurors found Deputies William Downard and Jay Myers liable to Nunn in the amount of $2,100.
Guilford on July 2 granted the defendants a new trial based on misconduct on the part of Harper. Twice, she violated an order in limine by making reference to racial remarks without first clearing them with the judge and also violated an order by alluding, in argument, to alleged corruption in the Orange County Sheriff's Department not involving the defendants.
Using 'N' Word
Guilford wrote:
"The 'N' word is the most offensive and inflammatory word in the American vocabulary. It reflects the most shameful part of our country's history, when we allowed racial hatred to deny people of an entire race their inalienable rights. In appropriate circumstances, those who use the word should have to bear the consequences. But the word can also, in some circumstances, unfairly inflame the passions of a jury. That is why this Court explicitly told counsel not to raise the racial epithet issue without first reviewing it with the Court. Counsel then violated that order not once, but twice. While counsel argues that the first violation was the result of a misunderstanding, there is absolutely no excuse for the second violation. Counsel then violated another of the Court's orders while closing.
"The only reason the Court can perceive for counsel's persistence in violating the Court's orders is that counsel knew exactly how inflammatory the issue would be, and used it purposefully to prejudice the jury against Defendants. This is unacceptable.
"The Court finds that the cumulative effect of the three instances of misconduct more likely than not affected the jury."
Monetary Sanctions Sought
The defendants sought monetary sanctions. The judge responded:
"The Court agrees that Plaintiff's counsels acted improperly during the trial in this matter, and that their improper trial conduct came at the end of a long line of violations of this Court's Orders….Indeed, Plaintiff's counsel failed to timely file jury instructions and exhibits in this case, and even her Opposition to this Motion for New Trial was filed two days late.
"Still, the Court finds that at this stage, the appropriate remedy for counsel's misconduct is to grant the Motion for New Trial, and the Motion for Sanctions is DENIED."
Ninth Circuit Reverses
The Ninth U.S. Circuit Court of Appeals on March 4, 2011, reversed the order for a new trial. The memorandum opinion says:
"[R]egardless of whether appellant counsel's violations of the district court's orders were an attempt to inflame the jury, the verdict showed that the jury was not 'influenced by passion and prejudice.' Both the special finding that neither defendant acted with malice or reckless disregard of the plaintiff's rights and the very low $2,100 verdict evidence a calm jury, not one influenced by passion and prejudice.
"This reversal will reinstate the jury verdict that was set aside. Our decision, however, is without prejudice to reconsidering whether sanctions are appropriate against plaintiff's counsel."
Attorney Fees Requested
Back in the District Court, Guilford on Sept. 30, 2011, made an award of attorney fees in the case.
The plaintiff sought an attorney fee award of $242,475, with $201,075 of that amount to go to Harper, based on $300 an hour for more than 800 hours of work. Guilford said that $200 an hour was reasonable recompense for her, and reduced the number of hours to 650, saying:
"The Court also has concerns about the number of hours billed by Ms. Harper. Among other issues, Ms. Harper frequently bills 15 minutes—the lowest increment of her time—for tasks that seem like they should only take a few minutes and could have been combined with other small tasks. In her fee request, Ms. Harper includes a minimal amount of time spent reviewing orders from the Ninth Circuit, which should not be included….The Court discounts those hours and others."
Guilford announced that "the Court must adjust the fee award downward due to limited success and lack of meaningful public benefit," and concluded that "attorney fees of $21,000 for Ms. Harper are appropriate."
He proceeded, however, to cut the net amount going to Harper. The judge imposed a $975 sanction on her, based on the trial misconduct, payable to the defendants.
'Willful and Reckless' Misconduct Found
A harsh assessment of Harper's conduct came in a July 30, 2019 order by District Court Chief Judge Virginia Phillips of the Central District of California, who imposed a $3,000 sanction on the lawyer. Triggering the penalty was Harper's act of filing an application for the court's approval of the compromise of a minor's claim—an action that is generally not apt to raise hackles. The filing of the application by Harper, however, came seven years after the lawyer obtained settlement funds and distributed to minors, through their guardians ad litem, their shares.
Phillips said Harper's response to an order to show cause why sanctions should not be imposed "fails to address" the matter of the delay "adequately." The judge recited that Harper told of deaths in her family and personal medical problems, as well as a problem in communicating with the guardians ad litem, but said:
"Although the Court sympathizes with counsel's personal struggles in 2018 and that the Guardians Ad Litem may have been difficult to work with in this case, counsel fails to provide any plausible explanation for why it took her seven years to file the application for compromise of minors Plaintiffs' claims, especially from 2012 when the case settled to 2017 before her personal issues arose in 2018. Moreover, counsel had many tools available to her if the Guardians Ad Litem were non-responsive, namely she could have notified the Court and moved for their substitution with suitable alternate Guardians Ad Litem; yet, counsel failed to do so. In fact, this is the first time the Court has learned of any difficulties between counsel and the Guardians Ad Litem in this case."
Harper insisted she acted in good faith in disbursing funds to the minors, explaining that after the court approved the settlement as to the adult lead plaintiff, and given that "the amounts to be provided to each child were already designated," she "did not believe" that she "was violating an ethical or legal duty to the minors" by making a distribution.
Phillips responded:
"Whether counsel believed she was violating an ethical or legal duty to her clients is not determinative here. Counsel purposefully took on the representation of Plaintiffs, most of whom were minors, in this case. Her ignorance of the law and failure to comply with the requisite legal procedures to settle and compromise a minor's claims does not excuse her misconduct. Further, even assuming counsel did not know the proper procedure to follow to settle and compromise minor Plaintiffs' claims, the Court stated in its October 2, 2012 Order that the dismissal of the action did 'not pertain to the claims of the minor [P]laintiffs, which are settled subject only to Court approval.' That direction reasonably should have raised the matter with counsel, who should have investigated and researched this issue further.
"The Court concludes counsel's actions in this case were willful and reckless."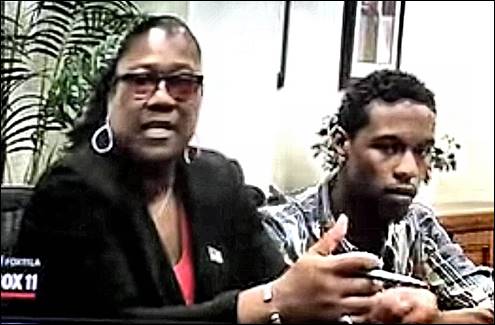 Harper is seen with client Clinton Alford in a screenshot from a Fox 11 report on a lawsuit the lawyer brought on his behalf. Alford is now complaining about Harper to the State Bar.
Harper, as a Plaintiff
Suing as "Jane Doe," Harper on Feb. 6, 2009, brought an action against a security guard at the federal courthouse who, she asserted, manhandled her and yelled at her after she went through a metal detector and set off an alarm. Harper also sued the private company that employed him.
According to testimony of the security guard, Harper was loud, uncooperative, and belligerent. He recounted that she walked off and refused to return for her bag which had gone through the X-ray machine.
Los Angeles Superior Court Judge Malcolm Mackey—who disallowed the plaintiff proceeding pseudonymously—directed a verdict on some causes of action; the jury found for the defendants on the remaining causes of action. The defendants were awarded costs in the amount of $8,268.84.
Div. Four of the Court of Appeal for this district affirmed, in a Dec. 20, 2012 unpublished opinion by then-Presiding Justice Norman Epstein (now retired). Each of Harper's various arguments was rejected and the judgment was affirmed.
Costs on appeal were approved by the Superior Court on April 23, 2013, in the amount of $5,443.67.
Pending State Bar Complaint
Clinton Denel Alford is a resident of Delano, California—specifically, he's housed at Kern Valley State Prison. He was convicted of human trafficking, sex crimes, and kidnapping. Those convictions were affirmed on March 15, 2019, by Div. Three of this district's Court of Appeal in an opinion by Los Angeles Superior Court Judge Serena Murrillo, sitting on assignment.
Alford's trial attorney was Harper, who was already representing him in a civil rights action against the City of Los Angeles based on excessive force in connection with an unrelated 2014 arrest. Harper obtained a $500,000 settlement in that case.
In a verified complaint to the State Bar, filed Dec. 23, Alford alleges:
"On May 2015, I paid this attorney Ms. Harper $200,000 to represent me in my criminal case GA097507-02 in the Alhambra Superior Court.
"Our agreement was that Ms. Harper would be paid $150,000 to represent me in the jury trial which she completed….During the trial my attorney was reading reports for the very first time during the trial and failed to address any of the allegations made by one witness.
"The remaining $50,000 was supposed to pay this attorney Ms. Harper to do my appeal. After losing the trial, Ms. Harper filed a notice of appeal. The appellate court appointed a different lawyer who completed the appeal. Mr. Harper never did any work on the appeal and then refused to return the $50,000 which she had been holding to do appeal. She kept my $50,000 even though she never did any of the work on the appeal."
Harper responds:
"…I cannot violate attorney/client privilege by specifically commenting on my fee agreement with Mr. Alford, but what I can say is that this allegation is inaccurate and baseless. I am a zealous advocate for each and every client. My rates are competitive but consistently less than my male counterparts. Did you know women make .80 cents on the dollar to male counterparts?"
Ex-Client Sues
Derris Hurth is another dissatisfied former client.
He filed suit against Harper in Los Angeles Superior Court on Jan. 9, 2014, alleging "Breach of Fiduciary Trust and Fraud." Hurth, incarcerated in a federal prison, did not manage to effect service on Harper, and the case was dismissed on Oct. 22 for failure to prosecute.
In any event, the wrongs that were alleged harked to 2008.
What he contended was that he paid $5,000 to Harper to represent him, through a preliminary hearing, in the event criminal charges were brought in connection with a matter. According to his account, charges weren't brought; he asked for his money back; the lawyer said she would make a refund after deducting the value of her services in making two calls to the Sheriff's Department and taking calls from him; she later advised him that the value of those services equaled the $5,000 he had paid.
The complaint sets forth that Hurth went to Harper's office; the security guard would not admit him, "but assured Plaintiff that he was not the only person" seeking a refund from Harper, and that "this…happens all the time."
Tells of Qualifications
In an email yesterday, Harper told of her background, saying:
"In or about 2006, Pasadena NAACP President Joe Brown and former D.A. Steve Cooley presented me with the Shirley Fields Volunteer award for dedicating half of my time in one year to pro bono legal services. During that time, I was able to save single mothers from losing their Section 8 housing, and I achieved an acquittal of a teen who was wrongfully beaten by police but then falsely charged with attempt murder on the officers. Since then I have regularly donated my time.
"In 2016, I defended Black Lives Matter protesters who blocked a freeway to protest the police shooting of unarmed pedestrian Michael Brown in Ferguson- there where no convictions.
"I have won millions for survivors/victims of excessive force.
"During the election of President Barack Obama, California lawyers were dispersed throughout the country to oversee the polls-I was one of them. I was directly responsible for the calculation of ballots of those who were initially turned away for unconstitutional reasons.
"Prior to being and attorney, I was a paralegal, a contract private investigator for a City Attorneys office and a police officer. I was the vice-president of my academy class and I while on the force I was awarded a lifesaving medal for diving into a canal of water to rescue a submerged driver and perform CPR on him until he was airlifted to safety where he made a full recovery."
SCOTT ANDREW YANG
Relies on Record in Handling Variety of Matters Including Notable Death Penalty Case
Los Angeles Deputy District Attorney Scott Andrew Yang is soft-spoken and respectful. Unlike opponent David D. Diamond, he won't discuss the matter of his other rival in the race, Caree Harper, having been found in contempt by U.S. District Court Judge Otis Wright II, saying:
"I'm going to stay away from that."
Instead, he points to his own experience, noting he has "handled everything from misdemeanors all the way up to death penalty cases."
Elaborating, he says he's been the prosecutor in 73 jury trials, including four murder cases, one of which (despite his reference to "death penalty cases" in the plural) included the seeking of a death sentence.
Yang relates that he and his wife, who runs a restaurant, are prepared to spend "about $250,000" on the campaign. He acknowledges that Diamond, when he ran in 2018, was able to muster about $150,000 in funds (it was $131,586.84), and expresses the expectation that Harper has money to spend from her $1.5 million settlement of a client's action against the California Highway Patrol. (Harper garnered about 40 percent of that sum, but has said that she waived costs and fees, with her actual take remaining unknown.)
The prosecutor expresses the hope that he will win, outright, in the March 3 primary, and says he is "working very hard toward that."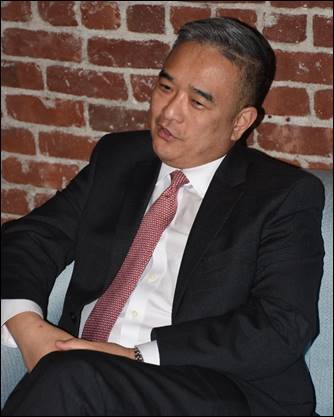 YANG
Emigrant From Vietnam
Yang—who came to the United States with his parents at age 4 from Vietnam—was admitted to the State Bar of California on Jan. 6, 2003. He spent his first five years in private practice, handling civil cases. That experience, he relates, "wasn't as meaningful" as his subsequent public service in the DA's Office—and in fact, Yang remarks, his days as a civil practitioner were "boring."
His background as a prosecutor would not affect his fairness on the bench toward criminal defendants, he maintains, noting: "Some of my closest friends are public defenders."
He remarks:
"I think a prosecutor is probably best suited for the bench because we carry our duty not to win, but to seek justice."
Input from deputy public defenders indicates that Yang is viewed as pleasant and ethical, but some see him as immature.
Negative Assessment
One Los Angeles Superior Court judge who has observed him asserts that Yang is "not ready for the bench," terming him a "very, very nice guy" but possessed of an "average, at best, legal mind" and "NOT respected as a legal scholar, strong advocate or skilled lawyer."
On the other hand, Yang's past three annual office evaluations lend him the rating of "Exceeded Expectations (Very Good)." The latest one, dated Aug. 16, says:
"Mr. Yang is bright, hard-wording and was a wonderful addition to the Sex Crimes Division. He carries a heavy caseload of complex and challenging cases."
The report indicates that he has "experience handling difficult and sensitive cases."
Major Prosecution
The death penalty case that was entrusted to Yang and to Deputy District Attorney Jon Hatami was the prosecution of one Isauro Aguirre, found guilty by a jury on Nov. 15, 2017 of the first-degree murder of a child, Gabriel Fernandez, with the special-circumstance allegation of murder-by-torture declared to be true.
In arguing on Nov. 27, 2017, at the penalty phase, that the jury should recommend capital punishment, Yang said:
"The only just and appropriate penalty that this defendant should receive is nothing less than death."
He recited that "for eight months," Gabriel "was abused, he was beaten, and he was tortured." Yang noted that the child's last vision was that of "his mother and the defendant standing over him kicking and punching him to death."
The jury on Dec. 14 made the recommendation Yang sought, and in June 2018, Los Angeles Superior Court Judge George Lomeli imposed a death sentence.
The child, was the son of co-defendant Pearl Sinthia Fernandez, who pled guilty in February 2018 to murder-by-torture, and was sentenced at the same time as Aguirre. Lomeli imposed on her a life sentence, without possibility of parole.
(Gabriel was uniformly identified in news reports as age 8, but was said in a Court of Appeal opinion last week—in which it was held that social workers could not be held criminally liable for failing to prevent the death of the boy through neglecting to take steps to protect him from continued abuse—to have been 7.)
Copyright 2020, Metropolitan News Company