Monday, January 13, 2020
Page 8
JUDICIAL ELECTIONS: Los Angeles Superior Court Office No. 162
Criminal Defense Attorney, Civil Rights Lawyer, Prosecutor, Are Rivals
By ROGER M. GRACE, Editor
Seeking Office No. 162 are criminal defense lawyer David D. Diamond, who lost a race for a Superior Court open seat in 2018, and two newcomers to election contests, civil rights lawyer Caree Annette Harper and Deputy Los Angeles District Attorney Scott Yang.
Diamond's ballot designation is "Attorney/Adjunct Professor"; Harper is billed as an "Attorney/Radio Producer"; Yang is identified as "Deputy District Attorney, County of Los Angeles."
As one woman up against two men, Harper is apt to be in a November run-off, and Yang, with his ballot designation as a prosecutor, is her likely opponent—though fluctuating election dynamics preclude any confidence in prognostications based on what's happened in previous elections.
Diamond, 47, and Yang, 44, earned their law degrees at Southwestern; Harper, 52, received hers from Thomas Jefferson School of Law in San Diego.
First: a look at Harper, a multi-faceted individual who is both hailed and assailed. Examined today are two federal court matters, one involving a determination that Harper was in civil contempt, resulting in a brief jailing for a coercive purpose, and another entailing the prospect of such an incarceration, which did not occur.
Coming tomorrow is a discussion of sanctions imposed on Harper and other controversies concerning her, as well as a look at the other two candidates.
CAREE ANNETTE HARPER
Part 1
Found in Contempt, Jailed, She Later Asserts New Contempt Matter Is the First She Has Encountered
March 2, 2015: Civil rights attorney Caree Harper is taken from the courtroom of U.S. District Court Judge Otis D. Wright II of the Central District of California in handcuffs after her answers to questions the jurist posed are deemed nonresponsive. The minute order recites:
"Ms. Harper refused to answer the court's questions and the Court ordered her detained for contempt of court 18 USC 401. She will remain in custody until such time she is willing to answer the Court's questions."
Two days later, Harper answers questions to Wright's satisfaction and she is released.
Oct. 22, 2018: Harper is present in the courtroom of District Court Judge James Otero of the Central District of California, facing possible incarceration, again, based on civil (coercive) contempt, this time until she complies with a court order to return privileged documents to the Los Angeles Sheriff's Department. She tells the judge:
"And I have not been held in contempt before, ever. My rights were deprived when I was yanked into custody, and I was never— ..."
She's cut off.
Later:
"And I have never been held in contempt."
Yet later, she asks:
"May I please ask also, since I have never had a contempt proceeding—"
The 2015 contempt jailing was widely reported. Harper sued Wright over the event. Yet, she insisted in court in 2018 that she had never been found in contempt.
Candidate Is Enigma
The perception that Harper strays beyond ethical boundaries is not an uncommon one. The fact that she has been remarkably successful in pursuing civil rights actions is undeniable.
Some hail her as a spunky and dedicated advocate. Others denigrate her as a lawyer who is devious and greedy.
She is charismatic and energetic. No one would find her to be a bore.
Tom Beck, now retired, was a respected Pasadena lawyer. He was brought in by Harper as co-counsel in the trials of three civil rights actions she could not settle. Beck was quoted by the Los Angeles Times as terming her a "bulldog," adding:
"She knows how to win, has a lot of street smarts and thinks on her feet."
The Pasadena Weekly dubs her a "Warrior Angel."
'Willful, Reckless'
On the other hand, U.S. District Court Chief Judge Virginia Phillips of the Central District of California, in imposing a sanction, proclaimed Harper's misconduct in a case to be "willful and reckless."
Others have likewise questioned Harper's commitment to rules of conduct, formal or informal.
Clash With Wright
Going back to the case in Wright's court: Harper was the attorney for Marlene M. Pinnock, a 51-year-old homeless woman with bipolar disorder who was beaten on July 1, 2014 by a then-California Highway Patrol officer, Daniel Andrew, who spotted her walking along the shoulder of a freeway. A motorist video-recorded Andrew repeatedly punching the woman.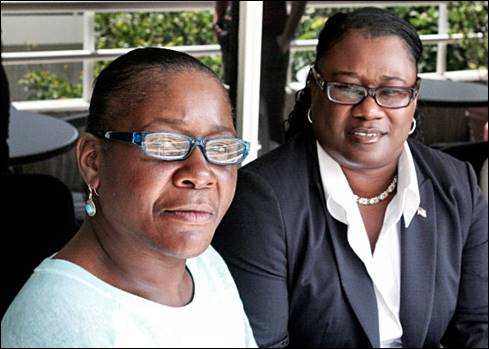 —AP
Marlene Pinnock, left, is seen with attorney Caree Harper in a 2014 photo.
Under a settlement, the state paid $1.5 million and Andrew resigned. Of that amount, Harper reportedly received $600,000—or 40 percent—but, the lawyer has claimed, she did not net that full amount in light of unreimbursed costs and expenses. The case was settled shortly after it was filed, without discovery.
On Feb. 17, 2015, Wright, Harper, and James J. McGarry, the attorney for Andrew, participated in a telephonic status conference. Harper told the judge:
"We do want the Court to retain jurisdiction for 90 days."
Later, Wright queried:
"You wanted me involved for 90 days, I'm involved. All right?
Harper responded: "I do."
The minutes recite:
"The Court agrees to retain jurisdiction of the case for 90 days."
Wright learned at the hearing that Pinnock's share was to go into a special needs trust, indicated that he wanted to know how the settlement funds had been disbursed, and asked for a copy of the settlement agreement, which Harper agreed to provide. The status conference was continued to March 2. The judge provided no hint of the grilling Harper would undergo at that proceeding in connection with his concern that the lawyer had taken advantage of her mentally ill client by taking an excessive chunk of the settlement through a retainer agreement that was not subject to an independent review.
March 2 Hearing
At the March 2 status conference—which was to culminate in Harper's arrest—Wright recited at the outset:
"Now, we had a telephonic on February the 17th where we discussed a number of things that were all new to the Court, and Ms. Harper was requesting that the Court maintain jurisdiction over this matter for 90 days."
He expressed displeasure that a copy of the settlement agreement had not yet been provided by Harper.
Harper represented:
"Actually, on the 17th, the Court was not requested to maintain jurisdiction over the matter."
After some back-and-forth banter, this colloquy took place:
"THE COURT:…And let's be clear. The Court certainly did not ask to retain jurisdiction of this case.
"MS. HARPER: Neither did I, your Honor.
"THE COURT: Yes, you did. You asked that I retain jurisdiction for 90 days.
"MS. HARPER: In what writing?
"THE COURT: This is over the telephone.
"MS. HARPER: What writing?
"THE COURT: Okay. You're going to be cute. That's all right. I can be cute, too."
In subsequently suing Wright over the contempt jailing, Harper argued that the judge acted in the absence of jurisdiction (an exception to judicial immunity) in light of a dismissal having been filed on Feb. 17 (after the status conference)—not taking into account his retention of jurisdiction, at her request.
Wright's Questioning
The dialogue on March 2 continued:
"THE COURT:…All right. I have some questions. I want you to describe your first encounter with Ms. Pinnock: When? Where? Under what circumstances did you meet Ms. Pinnock?
"MS. HARPER: I'm not going to answer that question.
"THE COURT: Pardon me? What you did you say?
"MS. HARPER: Without my counsel being here, answering questions that may or may not be attorney-client privilege items, I'm not in position to answer that because I cannot waive attorney-client privilege."
Wright did not allow Harper to summon counsel.
As the skirmish continued, Wright advised:
"I'm asking whether or not—let me explain something to you, ma'am. Let me explain something. Let me tell you what you're looking at this point. If you're going to be obstinate and not ask—answer any of the Court's direct questions, I'm in power to hold you in contempt, and I will confine you in custody until such time as you comply. Is that clear?"
Pinpointing his concern over Harper's share of the proceeds, Wright said:
"You filed a complaint in July [2014] and this matter was settled and fully executed two months later, September 24th. No depositions were taken, no discovery was performed, literally nothing was done. This entire case was handed to you in your lap with a videotape that a first-year lawyer would have been able to try and successfully win this case with a videotape, all right?"
Taken Into Custody
Eventually in the proceeding, Wright invoked his contempt powers under 18 USC §401 which authorizes the civil proceedings he instituted, under which a contemnor may be held in custody until he or she complies with a court order. (That section is also the basis for criminal contempt proceedings, entailing potential penal consequences or a fine.) Wright ordered that Harper be taken into custody, telling her that she would "remain in contempt of court until such time as you're willing to answer the Court's questions." The transcript reveals this subsequent interplay:
THE COURT: All right. I want you to be quiet for one second. As soon as you are ready to answer some of the Court's simple questions about the nature of your first encounter with your client, when you first—shh, just be quiet—when you first became aware that she was of special needs, that she would need a special need trust, when you first became aware of the fact that she was not able to take care of her own legal affairs, when you first became aware of those things, when you are ready to answer those Court's questions, you'll be released from custody.
MS. HARPER: Your Honor, I tried to answer already.
THE COURT: Adios.
MS. HARPER: I'm ready to answer now. I tried to answer and you cut me off.
THE COURT: No. You didn't believe me. Good-bye.
MS. HARPER: I tried to answer you. You're now—you're doing an improper order because you said when I'm ready. I've said that I'm ready, but his Honor cut me off.
THE COURT: Oh, you're ready now?
MS. HARPER: Your Honor cut me off, sir.
THE COURT: No. Shh. When did you first encounter your client? How did you know she was in a mental hospital?
MS. HARPER: In the hospital. Her aunt signed the initial retainer agreement before Ms. Pinnock signed it in August.
THE COURT: When—
MS. HARPER: I was—I don't have that—you asked for the client's one. The aunt signed.
THE COURT: Listen to —
MS. HARPER: She dispatched me to find her niece.
THE COURT: Okay. You want to answer your own questions. You're not answering my questions. Take her away.
MS. HARPER: You know, I'm entitled to a hearing before you arrest me."
Later in the hearing, with Harper absent, Wright told McGarry and a deputy attorney general:
"I am troubled by a situation wherein an attorney's first encounter with his or her client is in a mental hospital, and sufficient measures are not in place to assure that that client's interests are protected. And particularly then when I see that for two months' work—if dare call this work—the client is then charged 42 percent [of] the gross settlement. Literally, no work was done."
Further Hearing
A final hearing in the case, on March 17, was well attended. A Facebook posting had urged a large turnout to show support for Harper (who was not present).
"Ms. Pinnock, in my opinion, has been exploited," Wright said at that hearing, according to news accounts.
The judge did something that day that was unorthodox. He solicited questions from the audience.
An April 4 article in the Times says that one Sha Dixon advised Wright that she had drafted the Facebook posting, reciting that it reads: "Come down to court and ask Judge Wright to stop abusing his power." The article advises:
"Wright responded: 'Got you. You want—what you want is for Judge Wright to stop trying to protect Marlene Pinnock, right?' "
"Dixon elaborated, 'So if you're trying to protect Ms. Pinnock's interest, you would actually be trying to speak up about the officer who beat her. That's actually protecting [her] interests.'
" 'No. Making sure that she isn't ripped off by her lawyer protects interests,' the judge replied.
Harper Sues
The complaint in the lawsuit Harper filed in the District Court for the Central District of California against Wright and others, based on alleged civil rights violations and other claims, asserts bullying and a disregard of her medical needs. It sets forth:
"At the time of the settlement Ms. Pinnock had never had a conservator and had never filed bankruptcy, unlike Defendant Judge Otis Wright who finalized a personal bankruptcy the year before and became the only sitting Judge on the federal bench to do so. Having charged off a $12,000.00 shopping spree at Nordstrom's as part of his bankruptcy the Defendant Judge was furious to find that plaintiffs counsel, a female, made a considerable amount of money in what he characterized as a relatively short period of time."
The pleading goes on to say, of the occurrence on March 2, 2015:
"The Plaintiff asked the Defendant Judge if he was authorizing the force being used on her and he… gestured with his hands. Plaintiff alleges that the Defendant Judge engages in sexual relations with court reporter(s)and through that intimate contact has developed signals about going on and off the record without parties knowing. This allegation was part of the Judicial Misconduct Complaint the Plaintiff filed against the Defendant Judge in 2015. When confronted with this allegation as part of Ninth Circuit's investigation the Defendant Judge stated that he 'learned that it was error to go off the record without consent of all counsel and he stopped that practice....'"
Dismissal With Prejudice
District Court Judge R. Gary Klausner dismissed Harper's action with prejudice based on her failure to serve the summons and complaint within 90 days of instituting the action.
The Ninth U.S. Circuit Court of Appeals on Dec. 5, 2018, reversed, in a memorandum opinion, which notes that the District Court has discretion to extend the period, saying:
"Although Harper did not timely serve the summons and complaint…, Harper properly served defendant Judge Wright two days after the service deadline, and properly served the remaining defendants about two weeks after the service deadline. Furthermore, Harper's claims would be time-barred if the action was dismissed. Under these circumstances, we conclude that the applicable factors weigh against dismissal."
The opinion adds:
"In light of our disposition, we do not consider Harper's contentions regarding the merits of her claims."
Second Dismissal
On May 15, 2019, Klausner again dismissed the action against Wright and others with prejudice.
Although Harper had set forth unconventional acts by Wright in connection with the contempt adjudication, Klausner recited that "[j]udicial immunity applies to virtually any action taken by a judge in his judicial capacity," observing that everything Wright did constituted "judicial acts," and declaring that immunity applied.
Harper has again appealed to the Ninth Circuit. Her opening brief is due March 30.
New Contempt Matter
Shainie Lindsey was the girlfriend of Reginald Thomas Jr. He died in the custody of the Pasadena Police Department in 2016.
Harper brought a civil rights action in the District Court for Central District of California on behalf of Lindsey and the children she had by Thomas.
The city contended that the death was the result of his ingestion of controlled substances, including PCP and methamphetamine. The plaintiffs insisted that it was the consequence, at least in part, of the use by police of a hobbling device, applied when they acted to subdue him in Lindsey's apartment.
The Pasadena City Council settled the action for $1.5 million.
There was a Nov. 30, 2017 protective order requiring Harper to return to the Sheriff's Department, upon termination of the civil proceeding, its investigation file, known as a "homicide book," and other documents. A Sept. 6, 2018 deadline was later set by the court. The lawyer did not meet it.
Magistrate Judge Rozella A. Oliver slated a hearing for 10 a.m. on Sept. 19 at which Harper was expected to explain her failure to provide the materials. She did not show up.
At about 3:35 p.m., an email was received by the court from Harper, prompting Oliver, the following day, to direct her to provide a declaration explaining why she had been absent from the hearing and why the materials had not been returned. The responsive declaration did not satisfy Oliver, who set an Oct. 22 civil contempt hearing before Otero.
Contradictory Excuses
At that hearing, Otero declared:
"So the reasons for noncompliance include—offered by Ms. Harper include, by the Court's review: medical issues, death in the family, moving difficulties, inability to locate the documents, never having received the files, having already destroyed the files. So it appears that the excuses are contradictory and contradict certain statements that she made to defense counsel and to the Court itself."
Harper said, during a discourse:
"So this sheriff's murder—these books that are at issue were so incomplete and unhelpful that there was no—based on the time constraints this Court gave for trial, they weren't something that were even hot items that were usable. I was surprised that we were required to keep things on hold because of the security hold on—because of this officer's investigation, Sergeant [Robert] Gray. So it's not like it was significant.
"Now, I'm troubled by the fact that the Court says I gave contradictory statements. I take that very seriously, and I am really saddened that the Court sees an attorney, who is clearly disorganized, moving, grieving and going through extreme emotional distress while dealing with four different families and closing this case out and not having anything—having everything in limbo, you cannot move your office and your home simultaneously without almost everything getting misplaced. That is what I'm under."
Tells of Problems
The attorney went on to say:
"If I am essentially homeless for a month, living out of a hotel, which I did, if I have my stuff packed in trucks, which 1 did, then I can't physically do it.
"I have a torn rotator's cuff from serving in the line of duty representing my community as a police officer. I suffered another tear on August 8th shoveling around boxes. Yes, I have a doctor's note for that.
"Did I try? Yes, I did my best, and that should matter some small amount. To just say, 'Hey, she didn't comply,' doesn't trying matter? And I have not been held in contempt before, ever. My rights were deprived when I was yanked into custody, and I was never—and I was never in trouble with the bar. They didn't question me about that. But the Ninth Circuit court did question Otis D. Wright for doing that to me, and there is a case number for that. I didn't get in trouble for that; he did—."
Courtroom Colloquy
The transcript reflects this further dialogue:
"MS. HARPER: …I'm doing my best. I tried. I tried. And I'm telling the truth. And I have never been held in contempt.
"And this saddens me, and this makes me just want to take the flag off dealing with this because if there's no fairness when I have not disseminated protected information—I have not thought about disseminating protective information, but you know who have? Defendants. They published it on PACER. They published confidential statements of the officers….
"The defendants put his story on PACER [the federal courts' online repository of dockets and filed documents]. That was confidential. They've done the exact opposite of what the protective order says, and I haven't, and they haven't gotten sanctioned for anything. I mean, it's punishment having this over my head for three weeks. My mother is here. She's sick, and she fell because of this.
"THE COURT: Ms. Harper, take control of yourself.
"MS. HARPER: I have control, Your Honor. I just have passion about being wrongfully accused.
"THE COURT: Ms. Harper, you do not throw your pen in this court.
"MS. HARPER: I did not—it bounced off, and I needed that, so that was not I know the record needs to be clear. That was not aimed. That ricocheted, and so—
"THE COURT: So let's do this. You're obviously under a lot of stress. The Court is going to give you 30 days to do a diligent search for the records. You are to provide a declaration detailing the diligent search you have done. And you either will find the records or you will attest you have done a diligent search and either the records have been destroyed or not able to be found by you, and you will put that under penalty of perjury, and you will have 30 days to do that."
Later in the proceeding, Otero granted her more time than that—until Dec. 10. He declined to hear her protest to a $7,500 sanction imposed by Oliver to cover attorney fees expended by Pasadena, as well as by the County of Los Angeles in representing the Sheriff's Department, in connection with retrieving the materials, saying that the matter was not before him.
The county was represented in the proceeding by Raymond Fuentes of the Glendale law firm of Fuentes & McNally. In a letter dated Oct. 25 to the Office of County Counsel, he reported that at the Oct. 22 hearing, Harper "gave inconsistent versions as to why she could not return the Homicide Book," remarking:
"She stated that she could not find the homicide Book. Then, she argued that she was never provided a 'hard copy of the Homicide Book.' This argument was partially true, except for 58 pages of emails that revealed that, at her request the Homicide Book was emailed to her on three (3) separate occasions. Additionally, Homicide Sergeant Gray was deposed based on the Homicide Book. She also argued that she had moved and that during the move the Homicide Book may have been misplaced. She alleged that she had a death in the family and had medical problems, which did not allow her to search for the Homicide Book. Finally, it was established that she had filed an Ex Parte Application, in which she requested that the court allow her to use the Homicide Book in a new civil rights action by a baby of the decedent from another woman, other than Plaintiff Lindsey. As such, Ms. Harper encountered a problem with the argument that she could not find the Homicide Book, when she had previously asked the court to allow her to use the Homicide Book in a new Civil Rights Action."
The letter alludes to "numerous emotional pleas" by Harper during the hearing.
Harper filed a declaration on Oct. 31 insisting that she had done the best she could but couldn't find the documents that were sought and Otero issued an order on Dec. 6 saying:
"[T]he Court finds that Ms. Caree Harper has substantially complied with the Magistrate Judge's orders regarding the return and/or destruction of documents covered by the protective order. Accordingly, the Court vacates its Order to Show Cause."
Copyright 2020, Metropolitan News Company