Thursday, July 30, 2020
Page 1
Sexual Harassment Claim Revived in Suit by Judd Against Weinstein
Ninth Circuit Determines That California Statute Is Applicable
By Sandra Hong, Staff Writer
Actress Ashley Judd's sexual harassment claim against ex-producer Harvey Weinstein was revived by the Ninth U.S. Circuit Court of Appeals yesterday, reversing a District Court order that dismissed, with prejudice, Judd's claim on ground that her relationship with Weinstein did not fall under California's sexual harassment law.
The opinion, written by Circuit Judge Mary H. Murguia, overturns the determination by District Court Judge Philip S. Gutierrez of the Central District Court of California that the California law in question, Civil Code §51.9, limits sexual harassment claims to specific business and fiduciary relationships.
"The relationship between Judd and Weinstein was characterized by a considerable imbalance of power substantially similar to the imbalances that characterize the enumerated relationships in section 51.9," Murguia wrote. "That is, by virtue of his professional position and influence as a top producer in Hollywood, Weinstein was uniquely situated to exercise coercive power or leverage over Judd, who was a young actor at the beginning of her career at the time of the alleged harassment."
Murguia added that "nothing in the language of section 51.9 … requires a fiduciary relationship," citing the 2009 decision by Div. Five of this district's Court of Appeal in C.R. v. Tenet Healthcare Corp.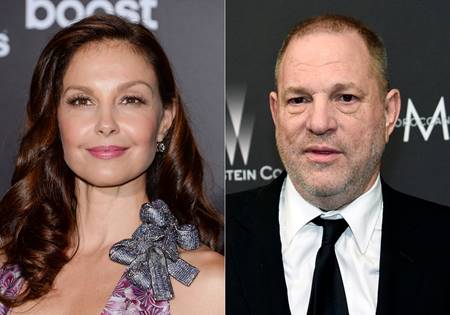 In this combination photo, Ashley Judd attends the premiere of "The Divergent Series: Insurgent" in New York in 2015, left, and film producer Harvey Weinstein arrives at the Weinstein Company and Netflix Golden Globes afterparty in Beverly Hills in 2015
Initial Complaint
Judd sued Weinstein in 2018, alleging that early in her career, Weinstein sexually harassed her in his private suite at the Peninsula Hotel in Beverly Hills, then blacklisted her from major Hollywood projects after she rejected his advances.
In her complaint against Weinstein, Judd included statements from "The Lord of the Rings" director Peter Jackson, who had been cautioned by Weinstein that Judd was "a nightmare to work with" and to avoid working with her "at all costs."
Judd's suit for defamation, sexual harassment, intentional interference with prospective economic advantage, and violations of California's Unfair Competition Law was initially filed in Los Angeles Superior Court in 2018, and removed by the defendant to federal court based on diversity of citizenship.
Weinstein then filed a Rule 12(b)(6) motion to dismiss the entire complaint for failure to state a claim. Gutierrez denied the motion on all claims except the sexual harassment claim, which he granted with leave to amend.
Judd filed an amended complaint, which Weinstein again moved to dismiss, claiming they did not have the requisite "business, service, or professional relationship" under §51.9. Gutierrez granted the motion with prejudice. Judd appealed.
Civil Code §51.9
Section 51.9 includes examples of where such a "business, service, or professional relationship" may exist, such as with doctors, lawyers, teachers, and landlords. Producers or directors were not explicitly mentioned in the statute until 2019, when the Legislature amended it to include both, as well as elected officials, lobbyists, and investors.
Judd argued that the amendment was evidence that the law as originally written intended to include relationships such as hers and Weinstein's and that their relationship was substantially similar to the ones detailed under §51.9.
However Gutierrez found in favor of Weinstein's argument that their relationship at the time of the alleged harassment wasn't covered under §51.9 and declined to retroactively "expand the reach" of the statute.
"The amendment explicitly added producers, directors, and elected officials to the statute shortly after an outpouring of sexual harassment and assault allegations against individuals in these categories," Gutierrez wrote.
"[T]he fact that the Legislature found it necessary to amend the statute to explicitly include producers and others is evidence that it may have had some doubts as to whether these relationships were covered by existing law."
Professional Relationship
Murguia, however, termed Weinstein's argument "unavailing," concluding that "Judd's claim arises out of the alleged retaliation that followed their meeting, not merely Weinstein's sexual advances" and that a professional relationship had existed since Judd had finished working on a film produced by Weinstein's company, Miramax, before the alleged harassment.
Judd also stated that she was discussing potential roles in films that Weinstein was working on at the time, Murguia noted.
"This is more than enough to allege a professional relationship at the time of the alleged harassment," she concluded.
Murguia also rejected Gutierrez's view that Judd and Weinstein's relationship was "centered around employment" and did not fall under §51.9 because the statute applies only to relationships outside the workplace.
"Under the facts alleged—namely, that the general meeting at the Peninsula Hotel was 'not a job interview for any particular role,' but rather a form of business development by which Judd could expand her professional relationship with Weinstein—Judd's sexual harassment claim survives dismissal," Murguia wrote.
Murguia added that whether their relationship was an employment one and existed outside the scope of section 51.9 was a question to be argued in front of a judge or jury.
The case is Judd v. Weinstein, 19-55499.
Attorneys on appeal were Theodore J. Boutrous Jr., Theane D. Evangelis, Michael H. Dore, Lauren M. Blas and Marissa B. Moshell of Gibson Dunn & Crutcher LLP of Los Angeles for Judd and Phyllis Kupferstein of Kupferstein Manuel LLP of Los Angeles on behalf of Weinstein.
Lawyer's Comment
Boutrous released a statement saying:
"This is an important victory not only for Ms. Judd but for all victims of sexual harassment in professional relationships. The court correctly holds that California law forbids sexual harassment and retaliation by film producers and others in powerful positions, even outside the employment context, and we look forward to pursuing this claim against Mr. Weinstein at trial."
Weinstein was sentenced on Harvey Weinstein was sentenced in a New York courtroom on March 11 to 23 years in prison, 20 years of the term being based on forcibly performing oral sex on a woman in 2006 and three years for the rape of a different woman in 2013. He currently incarcerated in a maximum security prison in New York.
Revelations of his persistent sexual misconduct sparked the #MeToo movement. More than 80 women have come forth with allegations of sexual abuse by Weinstein, who co-founded the production company Miramax.
Copyright 2020, Metropolitan News Company