Wednesday, June 3, 2020
Page 1
CJP Orders Justice Johnson Removed From Office
Commission Sustains Allegations of Sexual Harassment, Says the Court of Appeal Justice Lied In Testimony, Won't Reform; Embattled Jurist Will Seek Review by California Supreme Court
By a MetNews Staff Writer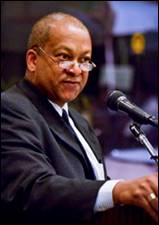 JEFFREY W. JOHNSON
Court of Appeal Justice
The Commission on Judicial Performance acted yesterday to remove Court of Appeal Justice Jeffrey W. Johnson of this district's Div. One from office based on repeated acts of sexual harassment and other improprieties that demeaned the office, with the jurist vowing to continue his fight by calling on the California Supreme Court to keep him in office.
The disciplinary body said in a 111-page decision and order, published in today's Slip Opinion Supplement at page 2536, that it places credence in the recitations by the chief witness against Johnson during a 17-day hearing—Justice Victoria Chaney, a member of the same division as Johnson—and disbelieves him.
"Rather than take responsibility for his offensive behavior, he maligned the victims, including his colleague Justice Chaney, and accused them of testifying falsely," the CJP said of Johnson. "But it is Justice Johnson whom the masters found, and we find, testified untruthfully in many instances."
Chaney testified as to unwanted touchings by Johnson and inappropriate comments to her of a sexual nature. She told of him entreating her to have an affair with him (both are married) and, on one occasion, forcing his way into her hotel room when both were in Reno attending the National Judicial College.
Unable to Reform
The CJP, adopting all findings by three masters in a Jan. 3 report, declared:
"Justice Johnson's misconduct has severely tarnished the esteem of the judiciary in the eyes of the public. Given his persistent denials of serious misconduct, we do not have confidence that he can reform, as he has not conveyed that he recognizes the extent of his wrongdoing. Further, given his lack of candor during this proceeding, we do not have confidence that he has the fundamental qualities of honesty and integrity required of a judge. Consequently, in order to fulfill our mandate of protecting the public, enforcing high judicial standards, and preserving public respect for the judiciary, we remove Justice Johnson from office."
Yesterday's decision becomes final in 30 days. It is subject to discretionary review by the California Supreme Court.
Johnson's attorney, Paul S. Meyer of Costa Mesa, said yesterday that review will be sought, stressing that there is no issue relating to Johnson's capacity as a jurist and that all of the allegations relate to "non-judicial social conversations." He remarked that no witness contended that his client had been "unfair in any case" or was "anything less than brilliant."
Since the commission came into existence in 1961, only once did it call for the removal of a justice of an appellate court. On May 2, 1977, it ordered the involuntary retirement of California Supreme Court Justice Marshall F. McComb, after a 50-year judicial career—not based on misconduct, but due to the 82-year-old jurist having become senile.
CJP's Conclusions
Summing up its conclusions, the commission said:
"Judges are expected to be honest, have integrity, uphold high personal standards, and treat everyone with dignity and respect, on or off the bench. Justice Johnson's conduct before, and during, this proceeding demonstrates that he does not meet these fundamental expectations. He committed 18 acts of prejudicial misconduct and was found to have engaged in the unwanted touching of four women, to have engaged in conduct that would reasonably be perceived as sexual harassment of seven women at his court, to have misused the prestige of his position and demeaned his judicial office by attempting to develop personal relationships with three other young women, and to have further demeaned his office by his offensive conduct toward a fourth woman, as well as by multiple incidents of undignified conduct while intoxicated.
"Justice Johnson's refusal to admit to serious misconduct, and his intoxication, coupled with his failure to be truthful during the proceedings, compels us to conclude that he cannot meet the fundamental expectations of his position as a judge. Fulfilling the commission's mandate—particularly with respect to maintaining public confidence in the integrity of the judiciary—can only be achieved by removing him from the bench."
'Social Contagion'
Johnson contended he was the victim of "social contagion" in that witnesses talked about him among themselves, tainting their testimony.
"But Justice Johnson offers no proof that any witness fabricated a story about him based on conversations with other people," the CJP responded.
The commission took into account his positive contributions, but said:
"It is undisputed that Justice Johnson has made significant contributions to the judiciary as well as to his community. But even a good reputation for legal knowledge and administrative skills does not mitigate prejudicial misconduct."
Composition of Panel
The commission has 11 members—six public members, three judges, and two lawyers. Two members—Los Angeles Superior Court Judge Lisa B. Lench and one public member—recused themselves.
Their decision was unanimous.
Johnson was appointed to his post in 2009 by then-Gov. Arnold Swarzenegger, at the recommendation of Div. One's outgoing presiding justice, Vaino Spencer (since deceased). At the time, Johnson was a U.S. magistrate judge for the Central District of California, a position for which he was hired in 1999.
He received his law degree from Yale in 1985, was private practice 1985-89, and was an assistant United States attorney for the Central District of California from 1989-99.
Copyright 2020, Metropolitan News Company