Monday, January 6, 2020
Page 1
Childhood Sex Abuse Actions Against Jackson's Companies Are Revived
Court of Appeal Says Jan. 1 Statute Dictates Result
By a MetNews Staff Writer
Claims by two men of childhood sexual abuse by "King of Pop" Michael Jackson were revived on Friday by Div. Eight of this district's Court of Appeal, which held that the actions may be maintained against the late superstar's corporations under legislation that went into effect on Wednesday.
Los Angeles Superior Court Judge Mitchell L. Beckloff had dumped the two cases—one of them, through a grant of summary judgment in favor of the defendants, and the other through a sustaining of demurrers without leave to amend—on the basis of Code of Civil Procedure §340.1, as it read at the time. In general, suits for childhood sexual abuse against third-party nonperpetrators were barred unless filed by the alleged victim's 26th birthday, subject to a narrow exception which the judge found inapplicable.
Both plaintiffs, James Safechuck and Wade Robson, sued MJJ Productions, Inc. and MJJ Ventures, Inc. subsequent to turning 26. Safechuck brought his action in 2014, when he was 36, and Robson brought suit in 2013, at age 30.
The complaints alleged (1) intentional infliction of emotional distress; (2) negligence; (3) negligent supervision; (4) negligent retention/hiring; (5) negligent failure to warn, train, or educate; and (6) breach of fiduciary duty.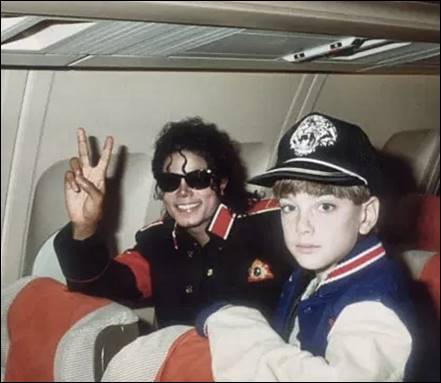 Michael Jackson is seen in photo with James Safechuck, who is suing the late entertainer's companies, claiming Jackson sexually abused him hundreds of times between 1988-92.
Amended Statute
Effective Jan. 1, §340.1 was amended to set the cutoff date for third-party actions to be where the would-be plaintiff reaches age 40. Subd. (a) now provides:
"In an action for recovery of damages suffered as a result of childhood sexual assault, the time for commencement of the action shall be within 22 years of the date the plaintiff attains the age of majority…."
Ordinarily, Presiding Justice Tricia A. Bigelow said in yesterday's opinion, a claim, once it is time-barred, cannot be revived.
Two Subdivisions
However, she noted:
"The newly revised section 340.1 contains two subdivisions that expressly preserve and revive nonfinal claims."
Under subd. (q), she pointed out, claims made before the plaintiff turns 40, although previously time-barred, unless they have "been litigated to finality" are "revived, and these claims may be commenced within three years of January 1, 2020."
Bigelow also drew attention to subd. (r) which says:
"The changes made to the time period under subdivision (a) as amended by the act that amended this subdivision in 2019 apply to and revive any action commenced on or after the date of enactment of that act, and to any action filed before the date of enactment, and still pending on that date, including any action or causes of action that would have been barred by the laws in effect before the date of enactment."
Legislative Intent Clear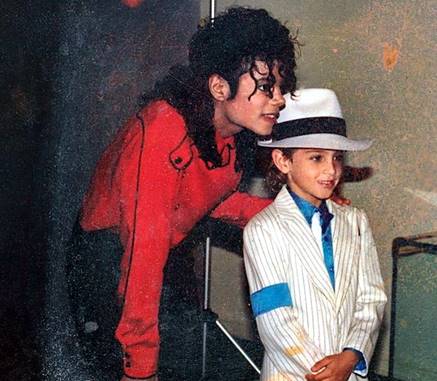 Plaintiff Wade Robson is seen, as a child, with entertainer Michael Jackson. Robson contends Jackson sexually molested him repeatedly over a period of seven years, starting in 1990.
The jurist wrote:
"The import of section 340.1, subdivisions (q) and (r) is clear: the Legislature intended to preserve and revive all nonfinal claims. Plaintiffs filed their lawsuits before their 40th birthdays and their cases remain pending on appeal, so they have not reached finality….The extended limitations period therefore applies to render their claims timely."
While the defendants conceded that reversal was necessary in Robson's case, they argued that demurrers were sustained in Safechuck's case not only based on untimeliness. Noting that Beckloff found a failure to state causes of action for negligent supervision, negligent hiring/retention, negligent failure to warn, train, or educate, and breach of fiduciary duty, they argued that the appeals court should partially affirm.
"We decline to do so and leave those issues to the trial court on remand," Bigelow said.
The case is Safechuck v. MJJ Productions, 2020 S.O.S. 31.
Attorneys on appeal for the plaintiffs were John C. Manly, Vince W. Finaldi, and Alexander E. Cunny of Manly, Stewart & Finaldi, along with Holly N. Boyer and Steffi A. Jose of Esner, Chang & Boyer.
Representing the defendants were Howard L. Weitzman, Jonathan P. Steinsapir, Aaron C. Liskin, Katherine T. Kleindienst of Kinsella Weitzman Iser Kump & Aldisert, as well as Alana H. Rotter of Greines, Martin, Stein & Richland.
Weitzman's Comment
Weitzman—who is also attorney for Jackson's estate, which defeated actions by Safechuck and Robson—said in a statement on Nov. 18 after a tentative decision was issued by Div. Eight in favor of the plaintiffs:
"This new law extends the time for genuine victims of abuse to file legal claims. The appellate court's tentative ruling is not on the merits of Robson and Safechuck's allegations and the court in no way said that these cases will go to trial. Neither does it reverse the 2015 rulings dismissing Robson and Safechuck's claims against the estate, which are final and no longer subject to any appeals. We are confident that the claims against Michael Jackson's corporate entities will, once again, be dismissed as has happened before."
"Leaving Neverland," a two-part documentary on allegations by Safechuck and Robson, aired on cable networks last year. Jackson's estate is suing HBO over that program.
Jackson was acquitted in 2005 of criminal child molestation charges.
He died June 25, 2009, at age 50.
Copyright 2020, Metropolitan News Company