Tuesday, July 28, 2020
Page 3
Italian American Lawyers Association Won't Suspend Its Meetings Because of Epidemic
By a MetNews Staff Writer
The Italian American Lawyers Association is not about to let something like a world-wide epidemic get in the way of holding its monthly meetings.
Those meetings, customarily held at Casa Italiana and marked by conviviality and homemade-style Italian cuisine, can't be held these days—but the IALA, headed by a determined westside sole practitioner, Theresa Macellaro, is staging its get-togethers via Zoom, with Macellaro lining up speakers who are generating wide participation.
The latest meeting took place Wednesday night. Speaking was medical doctor Anthony S. Fauci, director of the National Institute of Allergy and Infectious Diseases, with participation by comic Jay Leno, former host of NBC's 'The Tonight Show', and actor Joe Mantegna, known for his roles as Fat Tony on the animated series 'The Simpsons' and David Rossi on 'Criminal Minds.'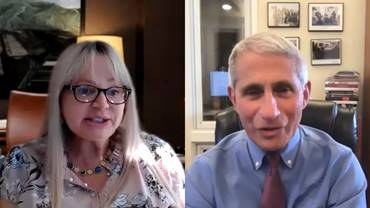 Above are IALA President Theresa Macellaro, left, and researcher Anthony S. Fauci, director of the National Institute of Allergy and Infectious Diseases, during a meeting, via Zoom, of the Italian American Lawyers Association.
Macellaro reported that 136 persons logged on, with multiple persons participating on some call-ins. Participants included leaders from 15 other local bar associations and approximately 30 judges. Macellaro headed the discussion with Fauci, who talked about his Italian heritage, the current status of vaccines and drug therapies, and his thoughts on what Los Angeles should be doing right now to get through the pandemic.
His advice included shuttering bars and wearing masks.
Mantegna was deputized as the group's "highest-ranking member"—a play on his having portrayed the fictional U.S. Supreme Court Justice Joseph Novella on CBS's 2002 dramatic series 'First Monday.' The actor presented Fauci with an IALA award for excelling in his chosen field, his exceptional moral character, and for his lifetime work which has had broad impact and conferred great benefit to society as a whole.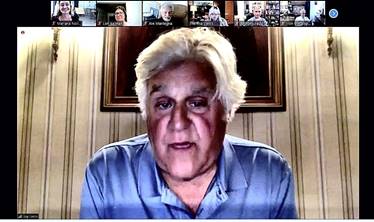 Former Tonight Show host Jay Leno added levity to the June 22 meeting of the IALA.
Leno also made an appearance, telling jokes and stories. It has become a custom during Macellaro's term to end meetings with those in attendance singing "That's Amore" and when it came time for that, Leno drew laughter by suggesting, in good natured fun, that Fauci should sing the first few lines solo, so he could finally be caught doing something badly.
Last month's IALA meeting featured remarks by Los Angeles Superior Court Presiding Judge Kevin Brazile and U.S. District Court Judge Virginia Phillips of the Central District of California, who served as chief judge for four years, ending May 31.
Next month's meeting will be the traditional "Gaelic and Garlic Night," a joint meeting with the Irish American Bar Association.
Copyright 2020, Metropolitan News Company