Friday, October 2, 2020
Page 1
Court of Appeal:
Newsom's Emergency Order on Church Services Stands
Majority of Three-Judge Panel Sees No Basis for Enjoining Order Pending Appeal; O'Scannlain Dissents
By a MetNews Staff Writer
The Ninth U.S. Circuit Court of Appeals yesterday denied a Pasadena church's emergency motion requesting that it enjoin enforcement of Gov. Gavin Newsom's coronavirus orders restricting group-worship activities in an effort to stem the spread of the virus.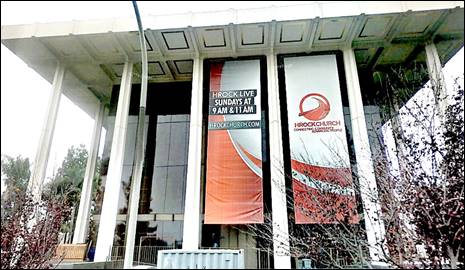 Pictured above is the Harvest Rock Church in Pasadena. The Ninth U.S. Circuit Court of Appeals yesterday denied its motion for an emergency order, pending appeal, barring enforcement of Gov. Gavin Newsom's ban on in-person, indoor church services in "Tier 1" counties, such as Los Angeles.
Judges Johnnie B. Rawlinson and Morgan Christen signed the order. Senior Judge Diarmuid F. O'Scannlain dissented.
Newsom issued guidelines in March limiting attendance at indoor worship services, and in July beefed up the restrictions in response to a resurgence of the virus, including declaring a ban on singing and chanting in places of worship. The state has divided counties into Tiers 1 through 4—with Los Angeles being in Tier 1, indicating that the risk is at the highest level—and here, in-person services are totally banned, while services in counties in other tiers are restricted.
Harvest Rock Church argued that a ban unconstitutionally contravenes the right of religious freedom under the First Amendment.
District Court Judge Otis D. Wright of the Central District of California denied the church's motion for a temporary restraining order and preliminary injunction. Harvest Rock appealed, and yesterday's order denies an emergency motion for an injunction pending appeal.
Majority's Opinion
The majority found that the church failed to show that Wright's decision was an abuse of discretion, as Newsom's orders treated secular and religious activities evenly. It said:
"We find that Harvest Rock has not shown a likelihood of success on its argument that the district court abused its discretion by declining to enjoin the Orders. The evidence that was before the district court does not support Harvest Rock's arguments that the Orders accord comparable secular activity more favorable treatment than religious activity. The Orders apply the same restrictions to worship services as they do to other indoor congregate events, such as lectures and movie theaters. Some congregate activities are completely prohibited in every county, such as attending concerts and spectating sporting events."
Harvest Rock argued that Newsom failed to rationalize barring indoor church services while permitting shopping in large stores. The majority responded that Newsom presented the declaration of an expert—Dr. James Watt, chief of the division of communicable diseases at the California Department of Public Health—explaining that prospects of infection are particularly high at "congregate events," and the church presented no declaration of an expert in rebuttal.
The U.S. Supreme Court on May 29, in South Bay United Pentecostal Church v. Newsom, declined to enjoin Newsom's order. Rawlinson and Christen commented:
"Harvest Rock has not shown that the restrictions at issue in this appeal are materially different than those presented in South Bay United Pentecostal, and though we are not bound by it. we are persuaded by the Supreme Court's conclusion that injunctive relief is not warranted."
O'Scannlain said in his dissent:
"At present, in 18 counties in California—home to more than 15 million residents and including its most populous county, Los Angeles—indoor religious worship services are completely prohibited. California insists that this drastic measure is necessary to fight the ongoing global COVID-19 pandemic—a worthy and indeed compelling goal of any State. Yet. in these same counties, the State still allows people to go indoors to: spend a day shopping in the mall, have their hair styled, get a manicure or pedicure, attend college classes, produce a television show or movie, participate in professional sports, wash their clothes at a laundromat, and even work in a meatpacking plant.
"The Constitution allows a State to impose certain calculated, neutral restrictions—even against churches and religious believers—necessary to combat emergent threats to public health. But the Constitution, emphatically, does not allow a State to pursue such measures against religious practices more aggressively than it does against comparable secular activities."
He said the Ninth Circuit is "neither bound nor meaningfully guided" by the U.S. Supreme Court's decision not to block Newsom's order, explaining that the nation's high court acted pursuant to the All Writs Act which, he noted, presents "a more demanding standard than that which applies to the motion for an injunction pending appeal here."
The dissenter said he disagrees with the majority's conclusion that Newsom is likely to prevail on the merits, declaring:
"Because California's COVID-19 regulations patently disfavor religious practice when compared to analogous secular activities, I believe that the church is quite likely indeed to succeed on the merits of its challenge to such regulations."
O'Scannlain pointed out:
"…California's framework would plainly permit a church in a Tier 1 comity to host a group of people for some non-religious purpose, but the same church would be prohibited from hosting an event for the same people in the same setting for the same length of time simply if it were for purposes of religious worship. It is difficult to conceive of a more obvious form of discrimination against religious activity than that."
The majority's order responds:
"The dissent states that the restrictions applicable to places of worship 'do not apply broadly to all activities that might appear to be conducted in a manner similar to religious services,' but does not provide support for this point. By our read the restrictions on theaters and higher education are virtually identical."
The case is Harvest Rock Church, Inc. v. Newsom, 20-55907.
The Ninth Circuit on May 22, in a 2-1 decision, denied a temporary restraining order against the enforcement of Newsom's order, sought by the South Bay United Pentecostal Church in Chula Vista.
Copyright 2020, Metropolitan News Company