Tuesday, December 29, 2020
Page 1
Deputy DAs View Gascón's Top Lieutenants With Distrust
Spotlight Is on Iniguez, Trujillo, Blacknell; Dec. 15 Transcript Draws Attention
By ROGER M. GRACE, Editor
There is not only apprehension within the District Attorney's Office concerning the new and unconventional head of the office, George Gascón—who laments the days when a "tough on crime" sentiment prevailed—but there's leeriness, also, of those he's placing in key positions—chiefly, Interim Chief Deputy Joseph Iniguez, special assistant Mario Trujillo, and incoming Community Relations Director Tiffiny Townend Blacknell.
A particular concern has been raised over an extraordinary "sweetheart" sentencing deal reached by Blacknell, as a deputy public defender representing a defendant accused of murder, and Trujillo.
Within a week of Gascón being sworn in as district attorney on Dec. 7, Blacknell, a member of his transition team, gained wide attention by emailing colleagues in the Public Defender's Office and certain criminal defense lawyers exhorting them to tattle on prosecutors and judges who deviate from Gascón's lenient sentencing policies.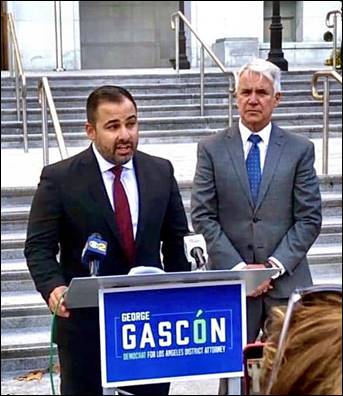 Deputy District Attorney Joseph Iniguez withdrew as a candidate for district attorney and endorsed former San Francisco District Attorney George Gascon. Gascón, as Los Angeles County district attorney, has appointed Iniguez his interim chief deputy.
Well-Known Figure
Trujillo, the 2009 president of the Mexican American Bar Association and currently a member of the Downey City Council, is a prominent figure in the legal community. He was a candidate for district attorney in the June 5, 2012 primary but withdrew, then supported then-Los Angeles City Attorney Carmen Trutanich in his unsuccessful bid for the office, acknowledging at the time that he was not backing Lacey because she would not promise him a reward if he did.
Lacey was elected that year and reelected in 2016, but lost her bid for a third term on Nov. 3 in a run-off with Gascón.
Iniguez has drawn notice based not on what he has done, but hasn't done. Tentatively placed in the Number Two spot in the office, he is derided based on the lack of longevity of his service as a prosecutor.
Blacknell had been the attorney for Rudy Dominguez, who is charged with a gang-related murder and multiple attempted murders, with special circumstances. The proposed plea bargain came to light on Dec. 15 when a motion was heard by Los Angeles Superior Court Judge Mark Arnold to dismiss the gun enhancements and gang allegations set forth in the information, filed when Lacey was district attorney.
The motion, among those in a multitude of cases, was pursuant to a policy announced by Gascón on his first day in office not to seek beefed-up sentences.
(He retreated on Dec. 18, to an extent, authorizing sentencing enhancements to be sought or to continue to be pursued in limited instances. But he retained a ban on alleging or pursuing gang enhancements or gun-use enhancements.)
Blackburn, Herring
Dominguez was represented at the hearing before Arnold by Deputy Public Defender ("DPD") Traci Blackburn, who had just stepped into the case. The prosecutor was Deputy District Attorney ("DDA") Jeffrey Herring.
Herring made his motion under the statutory ground of it being "in furtherance of justice" but acknowledged that he could provide no justification for the action he was seeking other than office policy. That wasn't enough, Arnold said, denying the motion without prejudice to it being renewed at the time of sentencing, should there be a conviction.
Transcript of Proceeding
This dialogue took place:
"THE COURT [addressing Blackburn]: Have you talked to Mr. Herring about a future date?
"MS. BLACKBURN: No. Mr. Herring is not the attorney of record on this case. It was Mr. Trujillo. We had discussed disposition. I thought that's what we were going to do today….
"MR. HERRING: It's news to me that I'm not the attorney of record on this case….
"MS. BLACKBURN: ….There's an offer that was conveyed to me, that I conveyed to Mr. Dominguez, and—
"THE COURT: From who?
"MS. BLACKBURN: From Mr. —
"MR. HERRING: I believe it was Mario Trujillo. That's what I've been told.
"I've also been told from a separate set of supervisors there is no offer, and that's why we're in a conundrum today.
"THE COURT: Well, then everybody needs to be here on the next day because as far as I know, you're the representative of the people. I've never seen—who did the offer come from?
"MS. BLACKBURN: Mr. Trujillo.
"THE COURT: Trujillo? I don't know who that is.
"MS. BLACKBURN: He's in charge of special circumstances, at least was in contact with Ms. Blacknell prior to this date and conveyed an offer, which I conveyed to my client. So it's news to me that—
"THE COURT: What was the offer?
"MS. BLACKBURN: Seven years."
The next hearing was set for yesterday. At that hearing, Herring read the special directive in full; Arnold said it has no legal force; the prosecutor moved for leave to file an amended complaint without enhancement allegations, though acknowledging that the present pleading is not defective; and the judge denied the motion. He instructed that any future proposed dispositions be discussed with the victim's family before being conveyed to the defendant.
Deputy's Reaction
The seven-year sentence which Trujillo is said to have proposed is viewed by some as inordinate. One seasoned prosecutor asked a questioner, rhetorically:
"Have you ever seen a case reduced that drastically?"
Had that deputy witnessed it? The answer was: "No."
Spotting favoritism toward Blacknell, at a time when she was about to switch employment to the District Attorney's Office, the prosecutor remarked:
"I don't know anyone else who's getting this type of offer."
Such "special treatment," the critic asserted, constitutes a "tremendous ethical violation," explaining:
"Ms. Blacknell can't be asking for offers from the very administration she's [about to be] working for."
Procedures followed in Dominguez's case, the deputy maintained, "did not respect the chain of command."
Normal Office Procedure
A former high-level prosecutor emailed this reaction:
"I have NEVER seen a case where the charges were reduced that drastically without there being documented insurmountable problems of proof. That would be put on the record by any competent prosecutor at the time of the plea. Also such a disposition would have to be reviewed by AT LEAST three layers of supervision—head deputy of Hardcore Gang Division, director of Bureau of Specialized Prosecutions, and assistant district attorney of Special Operations. ALL would be memorialized in writing in a 'disposition report.' "
In an email, a veteran deputy district attorney said of the sentence offer:
"Disgusting!!!! Conflict of interest. Back door deal!!! Unethical!!! Unbelievable!!!"
That person also communicated:
"[Former District Attorney] Steve Cooley called the DDA Mario Trujillo a 'quisling' during a recent KFI interview. He called Trujillo this even before this back door deal was taking place. Utterly disgusting.
"I wonder how the citizens of Downey feel to see their newly elected city councilman subjecting their city to dangerous criminals being released back into the community and property crimes not being prosecuted. It's in the best interest of the community to recall both George Gascon and Mario Trujillo."
A judge referred to Trujillo as "Gascón's henchman." The jurist said it was "shameful that the assigned DA appears to be out of the loop" as to a sentence offer.
Trujillo, in his campaign for district attorney, took stances at odds with Gascón's philosophy. He told the METNEWS, in a written statement:
"As the District Attorney of Los Angeles County, I will continue to focus on punishing and incarcerating violent offenders. Public Safety is non-negotiable!"
However, he did note that he would "take a proactive and innovative approach to working with the stakeholders in the community to find ways of diverting low level offenders from the system and putting them on a true path to rehabilitation."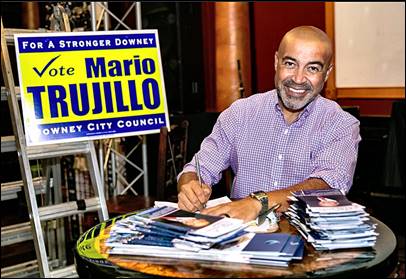 Above is a photo of Los Angeles Deputy District Attorney Mario Trujillo from his campaign this year for the Downey City Council. He was elected Nov. 3.
Debbaudt Speaks Out
One retired DDA has uttered criticism publicly in connection with the Dominguez case.
Marc Debbaudt, a former president of the Association of Deputy District Attorneys ("ADDA") and an unsuccessful candidate for a Los Angeles Superior Court judgeship in 2004, posted on his Facebook page a denunciation of the alleged plea offer. In his discourse, he terms Trujillo a "sell-out" and derides the choice of Iniguez—whom he terms "Joseph 'Baby' Iniguez"—as interim chief deputy, pointing to his scant experience in the office.
His commentary appears in full in a box below.
Yesterday, he posted additional observations as to the hearing held that day before Arnold, noting the participation of Head Deputy Larry Droeger of the Hardcore Gang Division, who is Herring's supervisor. He wrote (with the spelling of Droeger's name corrected):
"Droeger…felt the need to explain the chain of command and office protocol. Essentially, Head Deputy Droeger was unaware of what communications where made and indicated that any offer (7 years by Falsejillo) was not authorized. Droeger stated that Trujillo was not in his chain of command. So, let's comprehend this. Falsejillo is a joke, a mockery, a fraud, making deals he has no authority to make. A fake!"
Iniguez's Qualifications
A current DDA was quoted in this newspaper on Dec. 18 as saying of Iniguez:
"His qualifications for the job of chief deputy are non-existent and provide an insight into George Gascón's promotion criteria—be a 'yes' man person and an ideologue….It is an insult to all DDA's that such an unskilled person holds the number 2 position at the top of the chain of the command."
Iniguez, the prosecutor noted, is merely "a Grade II DDA with six years experience at the office."
The critic was also quoted as saying of the rumored forthcoming migration of some DPDs to the District Attorney's Office:
"Regardless of the cordial relationship many DDAs enjoy with their DPD counterparts, the PDs who are forming this insurgency are anything but friendly; they are the ultra-progressive ideologues, harboring ferociously anti-law enforcement beliefs, better known as 'true believers.' "
Yet another DDA mentioned that the office's Prosecutors' Information Management System "has extremely sensitive victim and witness information," noting:
"We have great concern that the PDs coming over will access that data. Also of concern are the many confidential files (confidential informant information, where if accessed, could lead to harm to victims and witnesses)."
Switching Camps
Blacknell, 44, will become director of community relations, it has been learned, a post Gascón is allowed to fill without a civil service exam. Serving under Lacey in a similar capacity was Community Liaison (and political advisor) Theresa "Terri" Coady—a person who, as some insiders saw it, had far too much influence over the D.A., to her detriment.
One of Blacknell's duties, sources say, will be as recruitment coordinator—a role she had at the Public Defender's Office.
For her to be wooing attorneys to the prosecutors' office is "a little odd," a DDA observed, because she "hates DDAs" and the function they perform.
Also switching camps, will be Deputy Public Defender Alisa Blair, according to three informed sources. Two of those sources also said there is a planned transfer by DPD Diana Teran.
Blair and Teran did not respond to inquiries. Blacknell, in a Dec. 14 email, said she has no comment, but suggested contacting Maxwell Szabo.
Szabo, a San Francisco political strategist at Szabo & Associates who is acting as Gascón's privately retained spokesperson, did not reply to a request for information.
The Public Defender's Office has declined to provide enlightenment, saying, through a spokesperson: "Our Department does not comment on personnel issues." The Office of District Attorney has merely acknowledged receipt of an inquiry.
Political Allies
Gascón's campaign "team" on Jan. 17 announced the formation of an "all-star policy committee." Iniguez, Blacknell and Blair were among the 12 persons identified as having been appointed.
The announcement said of Iniguez, identified as "a public servant, community leader and LGBTQ+ activist":
"Joseph was the first progressive candidate to challenge Jackie Lacey in her 2020 bid for re-election. He represents a generational shift within the DA's office, challenging the same politics as usual and building a movement to reclaim the District Attorney's office for the people.
"In November 2019, Joseph withdrew his candidacy for DA to support George Gascon, recognizing that the movement to change the DA's office and bring it into the 21 st century would be best accomplished by Gascon."
Lacey's Criticism
In August, Lacey, who is African American, slammed the inclusion on Gascón's committee of Blacknell and Blair, who are past presidents of the Black Public Defenders Association. She contended that a candidate for district attorney should not be allied with persons who have expressed extremist views inimical to the public's need for protection from violent crime.
Blacknell had said in an Aug. 2, 2019 tweet:
"Prison is obsolete. We need to reimagine America without it."
Last May 29, during demonstrations sparked by the May 25 Minneapolis police slaying of George Floyd, Blair posted a tweet declaring:
"Burn that sh*t down. We must destroy in order to rebuild."
On June 5, commenting on a video of Los Angeles police dealing with protesters, she tweeted:
"Look at these barbarians! #LAPD is an occupying army! #DefundPolice."
Lacey told FOX 11:
"You shouldn't have anybody on your committee whose talking about burn it down, when the city is burning because of rioting and looting. The other tweet, abolish prisons? So where do rapists go? Where are people who murder going? Are these people going to inform the public safety policy for the L.A. County DA's Office? They shouldn't!"
Seen in a tweet are Deputy Public Defender Tiffiny Blacknell, George Gascón, then a candidate for district attorney, and Deputy Public Defender Alisa Blair.
Kern District Attorney
On Sunday, an article by Kern District Attorney Cynthia Zimmer appeared on Bakersfield.com. It included this message to the county's lawbreakers:
"Criminals, you really must ask yourselves, why continue living in our county when you can take your criminal activity to Los Angeles, where you will be greeted with open arms? Let me share why relocation of your criminal activity is really in your best interest.
"First, Gascon has declared he will not allege a defendant's prior "strike" convictions in new criminal cases - ever. Ironically, on the day he swore an oath to uphold the laws of California, Gascon immediately vowed to break them. Prior strikes are legally required to be alleged by prosecutors. For you criminals, that means that the new LA DA is literally willing to break the law to ensure you don't face the punishment you deserve!
"Need more? Consider this: When arrested for felonies like domestic violence, elder abuse, child abuse and rape of an unconscious person, the DA will actively fight in court for your immediate release back onto the street without need to post bail. Who needs a defense attorney when the DA is already on your side! Just 'promise to appear' at your next court date and you walk free. Do you really think victims will testify when they know you are free to retaliate and there is little consequence for criminal behavior? Gascon has also proclaimed that he will seek the lowest punishment possible in every case, and will even advocate for early release of already convicted life-inmates."
*****
'Morass of Immorality' Marks Gascón Administration
By Marc Debbaudt
(The writer is a retired Los Angeles County deputy district attorney. The following was posted on his Facebook page, and is unedited.)
Apparently Mario Trujillo, sell-out, Gascon's Chief hatchet man, who latched onto Gascon like a leech and is going around the County doing what no DDA in good conscience is willing to do or could stomach, made a seven year offer on a special circumstance murder case with multiple attempted murders. 7 years! Not merely a sweetheart deal but a grotesquely massive sweetheart deal, like dozens of Christmas gifts multiplied into one. Merry Christmas, criminals!
But that wasn't enough. Get this! This offense to our profession is compounded by the fact that this deal was not communicated to the DDA handling the case. Nope. The DDA who was handling the case first heard about it from the new DPD handling the case, Tracy Blackburn, who announced it to the judge. Say what? 7 years on my murder case? That's news to me.
And that isn't the end of this morass of immorality. Here's where the vile repugnant corruption gets worse. The case was originally handled by Tiffany Blacknell, the new Gascon Recruitment Coordinator and also apparently a part of the cabal of extremely inexperienced people running the office, like the new Chief Deputy, Joseph "Baby" Iniguez, who has tried a whopping 4 felonies, 2 of which he lost, who then suctioned his failing career lips onto Gascon's derrière to rise and not on the merits. In any event, Blacknell, whose goal is to destroy the DA's office, handed off the case to Blackburn, because Blacknell is obviously too busy destroying the DA's office to continue to handle it.
Here's the clincher: Tracy Blackburn apparently said in the transcript (or the clear inference) that she was told about this 7 year abomination of an offer by Blacknell who apparently also told her that it came from Trujillo.
So, are you following? Two transition team members, both high ranking Gascon's administrators apparently discussed this case, one of whom had been representing this defendant. Let that sink in.
Two of Gascon's corrupt dogs talking about a case one of whom is switching alliances from the DPD's office to the DA's office. I guess I could be wrong, but this appears unquestionably like an inescapable conflict of interest if not outright disgusting corruption. They do all of this without contacting the DDA handling the case, and it's way beyond a reasonable deal.
Normally, if an attorney handling a party/client wanted to leave a firm and join another firm that is handling the opposite party, there would be an impenetrable firewall placed between the attorney and the case so as not to even appear to violate attorney client and attorney work product privileges. Yet, here, Blacknell-the-Destroyer uses her new position or connections to get her client a deal that skirts ethics and common sense, and Trujillo, not able to distinguish ethics from his groveling mission, together chose to violate the conflict obligations of The Rules of Professional Responsibility.
But, let's face it, maybe there are new stinking rules under the Gascon Administration. The laws no longer apply. Oaths no longer apply. The Constitution no longer applies. So, Defense attorneys, join the ethically repugnant brand new District Attorney's Office, excuse me, second Public Defender's Office headed by Gascon. Leave your firm, join the new firm, don't construct a firewall between you and the new firm to avoid the appearance of a conflict, and get amazing deals on all your clients.
The State Bar has always been cowardly and weak, but maybe even they won't miss this disbarable offense to their rules.
Copyright 2020, Metropolitan News Company