Monday, April 6, 2020
Page 1
Court of Appeal:
$2.6 Million Judgment for Injured Actress Is Voided
Dhanidina Says Jury Should Have Been Instructed on Assumption of the Risk in Case Where Cast Member In a Film, a Former Cheerleader, Was Unexpectedly Called Upon to Perform a Stunt and Was Injured
By a MetNews Staff Writer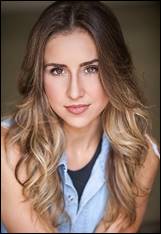 KRISTIN ELLIOTT
Actress
An aspring actress who was hired to appear in a film doing on-the-ground cheerleading—cast based on her background as a cheerleader in high school and college—and who was induced into participating in an unscheduled off-the-ground stunt, resulting in a severe injury when she fell, has been stripped of a $2.6 million judgment because, the Court of Appeal held, an instruction should have been given on assumption of the risk.
Justice Halim Dhanidina of this district's Div. Three wrote the opinion, which was filed Thursday and not certified for publication. It reverses a defense judgment which followed Los Angeles Superior Court Judge Margaret L. Oldendorf's determination that an instruction on comparative negligence, under the circumstances, sufficed.
The case is remanded for a new trial.
    No Pay
The plaintiff, Kristin Elliott, had responded in 2013 to a casting call for a film, to be produced by Connect the Dots, Inc., on the sexploitation of women in sports, and in particular, cheerleading. Although no money was to be paid, Elliott wanted to build her portfolio as an actress.
When she signed on, no mention was made of doing stunts, and stunt work was not included in the "storyboard"—which, Dhanidina explained, is "a frame-by-frame illustration of what the film will capture."
At the last minute, however, Meghan Gallagher, who was in charge of the production, told choreographer Claude Racine that she wanted to add a stunt to the cheerleading routine. It was arranged that Elliott would be elevated, with each foot on the hand of a cheerleader.
Racine assumed the role of one of the cheerleaders who would support Elliott—replacing an actress who was unable to perform the task—although Racine had no experience doing stunts. The precise cause of Elliott falling during a rehearsal of the stunt, resulting in her right elbow being broken, was not determined.
She has undergone elbow surgery and, according to testimony, will need an elbow replacement.
Summary Judgment Denied
Elliott sued Connect the Dots, Gallagher, Racine, and others. The defendants sought summary judgment based on the doctrine of primary assumption of the risk.
Los Angeles Superior Court Judge Holly J. Fujie denied the motion, saying:
"First, it remains a triable issue of material fact as to whether Moving Defendants increased the risk of harm to Plaintiff by allowing a person with no stunting experience to attempt to perform the stunt. Further, whether Plaintiff was a voluntary participant in the stunt is a triable issue of fact, given the fact that Plaintiff may have felt pressured into participating."
Decision on Instructions
On the morning of closing arguments in the case, Oldendorf rejected the defendants' request for an instruction on assumption of the risk and for a jury form seeking a determination as to that defense.
The jury found Ferguson 50 percent at fault, assessed Connect the Dots's liability at 35 percent, and declared Racine to be 15 percent responsible.
Elliott was awarded $2,646,973.73. She had asked the jury for damages of $11,707,973.73.
The plaintiff moved for a judgment notwithstanding the verdict and for a new trial. Oldendorf denied the motions; to the extent they relied upon assumption of the risk, the judge ruled that the defense did not pertain in light of the parties' relationship.
Only Connect the Dots appealed.
Dhanidina's Opinion
Dhanidina rejected Elliott's contention that her services had been engaged as an actress, playing a cheerleader, and she had not been hired to perform stunts. He said:
"She was not just an actress hired for her acting ability. Rather, the casting notice asked for experienced cheerleaders and did not limit the scope of cheerleading activity to ground-based dancing. Moreover, Elliott did a flip during her audition. Thus, Elliott was specifically hired for her cheerleading abilities and to perform cheerleading activities."
The jurist continued:
"Her role was therefore more akin to a stuntperson who is hired to engage in a hazardous activity, not to act. That the film's storyboard did not originally include a stunt does not change what Elliott was hired for and asked to do. When asked to perform a stunt, Elliott agreed….The risk of injury during a dance routine or during a cheerleading stunt was an inherent risk in the job Elliott was asked to do."
Relationship of Parties
Dhanidina noted that the California Supreme Court in 1994, in Neighbarger v. Irwin Industries, Inc., held that the doctrine of primary assumption of risk doctrine does not apply "when the defendant is a third party who has not secured the services of the plaintiff or otherwise entered into any relationship with the plaintiff."
Disagreeing with Oldendorf's view that Elliott's relationship with Connect the Dots was such that the doctrine is inapplicable, he wrote:
"Elliott and Connect were not coparticipants in a sport or recreational activity. Nor was Connect Elliott's coach or instructor. Elliott was hired—albeit not for pay—to perform in a film. As such, the relationship between the parties occurred in a context akin to employment."
The fact that Elliott was not paid is irrelevant, he said, because the film lists her in the credits and she was able to include the performance on her resume.
Increasing Danger
Where there is an assumption of a risk, Dhanidina pointed out, liability may still attach where the danger that was undertaken was increased through negligence of the defendant (as Fujie had noted). He said:
"[F]alling is an inherent risk of cheerleading. Even so, Elliott argues that Connect unreasonably increased the risk of harm, for example, by allowing Racine to participate in the stunt. Racine, the choreographer, had cheerleading experience. But she did not have experience stunting. Nonetheless, she participated in the stunt by positioning herself as part of the base, i.e., one of two people responsible for lifting Elliott and lowering her. Although it is not clear what caused the fall, there is evidence that Racine's and the other half of the base's timing was off, in that they did not lower Elliott's feet at the same time."
Dhanidina said Recine "put herself in the stunt in a crucial position," adding:
"The risk of falling otherwise inherent in stunting could have been increased by Racine's participation, which is an issue for the jury. Accordingly, the jury should have been instructed on the primary assumption of risk doctrine."
Responsibility Disclaimed
Connect the Dots argued it was not responsible for Recine stepping in to participate in the stunt because it had not instructed her to do so, and had not even hired her. It appears from the opinion that Gallagher had done so.
"Connect was not a third party in this activity," Dhanidina said, pointing to Gallagher's statement that producers are "the moms on set" who act to ensure safety.
The case is Elliott v. Connect The Dots, Inc., B290888.
Attorneys for Connect the Dots were Jeffry A. Miller, Brittany B. Sutton, Howard A. Slavin, Craig L. Dunkin, Judith J. Steffy and Lann G. McIntyre of Lewis Brisbois Bisgaard & Smith. Kahn Roven, Robert A. Kahn and Jonathan Roven represented Elliott.
Copyright 2020, Metropolitan News Company