Wednesday, June 10, 2020
Page 3
Court of Appeal:
Possible Contact by Convict's Lawyers With Jurors Must Be Facilitated
Opinion Says Man Sentenced to Death for 1989 Rape/Slaying of Girl, 9, Is Entitled to Writ Ordering Court To Ascertain If Three Members of 1993 Jury Panel Are Willing to Be Interviewed by Habeas Counsel
By a MetNews Staff Writer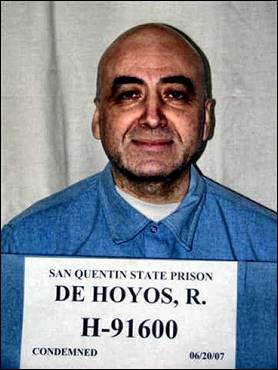 —California Department of Corrections
RICHARD DeHOYOS
Death Row Inmate
A man who kidnapped, raped, and murdered a 9-year-old girl in 1989, and whose 1993 conviction and death sentence were upheld by the California Supreme Court in 2013, has won a writ of mandate from Div. Three of the Fourth District Court of Appeal ordering that his lawyers be allowed to get in touch with three of the jurors, if they consent.
Those jurors previously spoke, after the trial, with investigators for defendant Richard Lucio DeHoyos—who was dubbed in news reports as "Uncle Fester" based on his resemblance to a character in the television comedy series, The Addams Family. Lawyers for DeHoyos, who are seeking habeas corpus relief in the U.S. District Court for the Central District of California, want to conduct more intensive interviews than previously took place.
A November 2000 Orange Superior Court order barred contact with erstwhile jurors without court consent. (The 1993 trial—the second one for DeHoyos, with his first conviction having been set aside by the judge in light of juror misconduct—took place before legislation was enacted, effective Jan. 1, 1996, sealing, after trial, personal identifying information relating to jury members.)
Stands by Order
Orange Superior Court Judge Kimberly Menninger on March 15, 2018, denied a motion to permit contact with the three former jurors. DeHoyos petitioned the Court of Appeal for a writ, which was summarily denied on Jan. 31, 2019; the inmate sought review in the California Supreme Court which was granted; and on March 22, 2019, the Court of Appeal was told to issue an alternative writ.
Div. Three complied; Menninger declined to set aside her order; the appeals court on Monday issued a peremptory writ requiring the Orange Superior Court to vacate Menninger's 2018 order. The opinion, by Justice Thomas M. Goethals, says:
"The trial court is directed to conduct a hearing to ascertain an appropriately neutral means of contacting the three jurors identified by DeHoyos, to inquire whether they consent to be interviewed by DeHoyos's representatives, and if so, under what conditions."
1999 Decision
In retransferring the cause to the Court of Appeal last year, the Supreme Court drew attention to its 1999 decision in Townsel v. Superior Court, authored by then-Justice Kathryn Werdegar, now retired. Werdegar said there that the Madera Superior Court, in a capital case, "did not abuse its discretion in requiring that appellate counsel approach jurors through the court," explaining:
"In this way, the court can act as a neutral third party, serving to apprise the jurors of counsel's interest and to determine, in the first instance, if a juror will consent to an interview with appellate counsel. If any juror refuses to consent, that is the end of the matter."
She said the Superior Court "in the exercise of its inherent power, was merely acting as a gatekeeper to ensure that any juror contact by petitioner's counsel (or a representative of petitioner), now almost a decade after the jury verdict in a capital case, is both consensual and reasonable" and declared that "the trial court's decision in this case to act as gatekeeper" was "consistent" with Penal Code §206. That provision, enacted in 1988, bars a nonconsensual contact with someone who has served as a juror in a case.
Werdegar wrote that an order requiring advance court approval "enables the court to determine ahead of time from the jurors whether or not any wishes to speak to appellate counsel."
Goethals's Opinion
Goethals said in Monday's opinion:
"In its 'gatekeeper' role, the trial court's responsibility is to manage the initial contact with the jurors to ascertain consent to be interviewed, not to unilaterally prohibit all contact….Thus, unless the juror has already communicated an unwillingness to speak with the defendant's counsel, the court's role is 'to determine ahead of time from the jurors whether or not any wishes to speak to appellate counsel.' "
Although Goethals had on Jan. 31, 2019, joined in his court's summary denial of the challenge to Menninger's order, his opinion on Monday contains a criticism of the judge, saying:
"In denying the motion here, the trial court failed to do what Townsel required of it. The court refused to allow any contact with the jurors—even those three who agreed to speak with DeHoyos's representatives in the past—indicating it was not convinced they had expressed a current willingness to be interviewed. That justification begs the question rather than answers it. The court's obligation as gatekeeper is to ask."
The case is DeHoyos v. Superior Court, 2020 S.O.S. 2675.
Copyright 2020, Metropolitan News Company