Friday, January 17, 2020
Page Special Section
PERSONALITY PROFILE:
RONALD F. BROT
He Seeks to Do for LACBA What He Did for Himself: Make a Comeback After Rocky Times
By SHERRI OKAMOTO
OS ANGELES COUNTY BAR ASSOCIATION PRESIDENT RONALD F. BROT leads one of the largest voluntary bar associations in the nation, commanding respect not solely based on the loftiness of that post within the legal community, but also his personal qualities and attainment. Yet, there was time when someone encountering him would have reacted with scorn or pity; he was homeless and a drunkard.
Growing up in Kalamazoo, Michigan, he was a boy with high potential; as a young lawyer in Los Angeles, he was a rising star. Then came his days of degradation; his resolve to climb back; and the hard work he put in to attain that goal.
The need for hard work was something instilled in Brot during his childhood. His father was the proprietor of Hepps Clothing Store. Young Brot spent years as "an undersized salesman," selling men's women's and children's apparel.
"I learned the value of work, and what it provided," he remarks.
Gift of Gab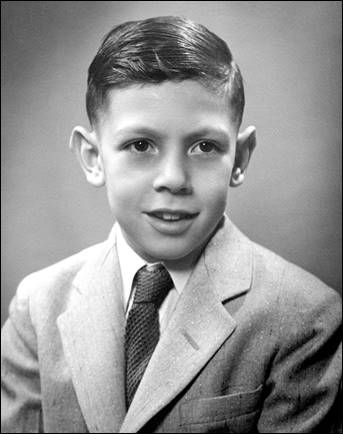 Above is an elementary school photo of Brot while he was in Kalamazoo, Michigan. The photo still hangs in his family home in Kalamazoo.
He also learned he had "a good gift of gab," and he set about applying that. By the time he was a teenager, Brot was an accomplished debater and extemporaneous speaker. He served as the master of ceremonies for the Loy Norrex High School variety show and gave the commencement address on behalf of his graduating class.
After high school, Brot headed off to the University of Michigan since it was an affordable choice.
He was the first in his family to go to college, but "education was critically important" to his parents, Brot relates, and says he wasn't going to let them down. After earning his undergraduate degree, he remained at the University of Michigan to earn his law degree.
Brot says that as far back as he could remember, he wanted to be a lawyer, or Elvis Presley. Given his poor ability to imitate the King, Brot says he knew that the law was going to be his career.
During his last year of law school, Brot helped one of his professors write a treatise on the Uniform Commercial Code. His knowledge of the body of laws governing commercial transactions led to a job offer with the law firm of Voegelin & Barton in Los Angeles.
Brot moved to California and passed the bar examination in 1972, but he remembers he was felling "kind of lost" since he knew no one in Los Angeles.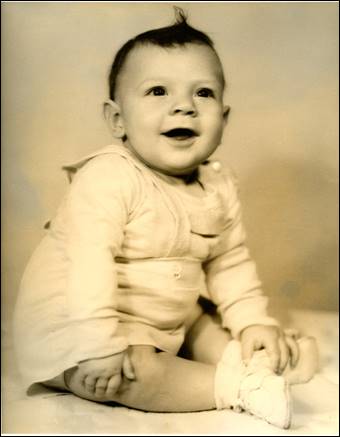 Depicted is Brot in 1946 at one-year old.
Joins LACBA
"Back then," he recounts, "everyone was a member of LACBA," so he joined too. Brot then called the head of what was then the Trial Lawyers' Section and asked if there was anything he could do. That call landed him on the Executive Committee for the section.
Five years later, Brot was its chair. He also became chair of the Commercial Law and Bankruptcy Section, and chair of the LACBA delegation to what was then the State Bar Conference of Delegates.
During this same time, Brot was recruited by Morrison Foerster to open a Los Angeles branch office, and he was flying all over the nation to lecture for continuing legal education programs.
Problems With Alcohol
Looking back, Brot says, he thinks he was "way too successful too fast," and he began drinking too much.
After he began his descent into alcoholism, Brot left Morrison Foerster, left LACBA, and then left the practice of law. Brot hit rock bottom, without a job or a place to live. He entered a 12-step recovery program in September 1984 and slowly began rebuilding his life.
With the assistance of his aunt and uncle, Brot was able to open a law office in the reception area of an abandoned factory in the industrial part of Chatsworth. He devoted his time to helping other recovering alcoholics with their legal problems.
One day, Brot says, a woman walked in to his office and asked him if he knew anything about child support. He did not, but he says he "shocked himself" by saying he would try.
He accompanied the woman to a court hearing, and when it was over, he says, the woman was crying. Brot was afraid he had done something horribly wrong, but the woman told him that because of him, her children would be able to eat.
In that moment, Brot recounts, he knew he had found his calling.
Rejoins LACBA
With time, Brot says, he started getting more work, and bigger cases. He rejoined LACBA and became active in the organization once more. This time around, Brot joined the Family Law Section.
In 2004, Brot became part of the section's Executive Committee, and he teamed up with Mark Gross to open their own family law practice one year later.
Brot served as chair of the Family Law Section from 2015-16, and he helped establish the trial advocacy program that is now known as the Sorrell Trope Family Law Trial Institute.
In 2016, Brot became a LACBA trustee in the first contested election in 25 years, winning his seat as member of a slate of reform candidates who opposed what they saw as fiscal irresponsibility, bullying of sections, and keeping secret from members the organization's financial figures and other information.
At that time, he says, he "gave no thought to rising through the chairs of the various officer positions," so he was "astonished" when then-President Michael E. Meyer and President-Elect Brian Kabateck asked if he would accept a nomination to become president-elect.
Meyer says he "saw integrity and a burning desire to make things better" in Brot. He remembers Brot was "always coming after me with all sorts of thoughts," and Meyers was struck by how much Brot cared about LACBA.
Kabateck says he noticed Brot was "someone with boundless amounts of energy," and "thought he'd make a great leader."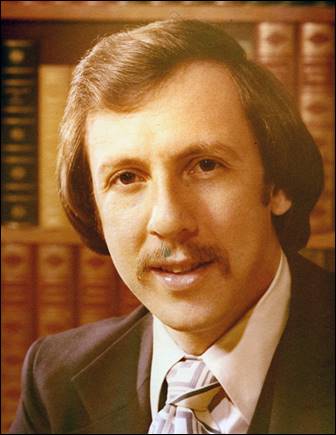 Above is a 1977 photo of Brot as chair of the Trial Lawyers Section of LACBA. It was used for the chairperson's column in the  Trial Lawyers Section Newsletter.
Breakfast Meetings
After Brot became president-elect and Kabateck became president in 2018, Kabateck said he and Brot would regularly meet for breakfast—and the meals would last for hours as they tried to "solve all the problems of the bar, and all the problems of our respective law practices, and then all the problems of the world."
As president, Kabateck says Brot is also furthering the mission that both he and Meyer had for helping reform the ailing organization.
"Michael's job was to find out what needed to be fixed, my job was to get us on the road to repair, and Ron's job is to get systemic changes," Kabateck explains. With Brot's enthusiasm and dedication to LACBA, Kabateck says, Brot is "really the right guy" to be at the helm this year.
Meyer opines that Brot "has picked up right where Brian left off, and he has made us, as a group, more collegial, more focused, and dedicated to making the bar more relevant to current members and potential members."
Brot leads by example too, Meyer observes. "He is always thoughtful and considerate to everyone," from a parking lot attendant to the mayor, Meyers says, treating "everyone with the same respect."
Meyer remarks that Brot "embraces participation from everyone," is highly responsive to input, and leaves no email unanswered. He also praises Brot for being "focused on the right issues," especially "increasing membership by being more responsive to the needs of our members."
Organization's Problems
When Brot took over as president July 1, he inherited a struggle with declining LACBA membership numbers and revenue.
"People complain that big law isn't interested in the bar, but I don't believe that," Brot comments. "People complain millennials aren't interested, and I don't believe that either."
Brot says he thinks today's lawyers are more interested in "social justice and contributing to the world" than just professional development. He notes that his priority, therefore, is reaching out to members and seeing "how the bar can grow and evolve to meet the needs of the constituency," adding:
"I insist we ask potential members, especially younger members, what they want…We don't want to sell a product they have demonstrated for last several years, they're not interested in."
The solution, he says, is "to change the product" being offered.
Brot declares that he is prepared to "make the financial decisions to ensure solvency of bar" because he is "committed to not spending more than we receive in revenue."
He says he knows this will result in the loss of devoted personnel, and his "heart hurts" about that, "but our common welfare must come first."
Pauley Comments
LACBA Senior Vice President Bradley S. Pauley says he thinks Brot is "showing real leadership, working hard, making tough decisions to make sure LACBA moves forward and is around for the next 100 years."
Brot "really leads from the front," Pauley says. "He wouldn't ask anyone to do something he isn't willing to do himself."
Pauley terms Brot "a man of action," who is not just looking to "diagnose an issue" but is "willing to take a look at hard issues confronting the bar and propose solutions that actually will achieve change."
LACBA President-Elect Tamila C. Jensen hails Brot as "very organized" with a "clear plan" for improving the organization. On top of that, she says, he's "very approachable," a hard worker, and "forward-looking."
Under Brot's leadership, for instance, LACBA has created a new Cannabis Section, and Jensen says a few other sections are in the works. Jensen says these kinds of programs "really put us on the road to being a more modern organization."
Pro Bono Projects
Even as Brot prepares to move LACBA forward, he says he remains "deeply committed to the pro bono service projects" run by the organization.
LACBA has partnerships with the city, the Los Angeles Superior Court and the U.S. District Court for the Central District of California to provide legal services and information related to immigration, HIV/AIDS, veterans' issues, and domestic violence.
LACBA Counsel for Justice President Brian K. Condon says Brot has taken the time to visit each of the project locations and meet with the directors individually, to fully understand their needs and how he can help.
Condon says Brot continues to provide regular input and support for the project, and "he has made it abundantly clear to me that he wants information, he wants to talk, he wants to share, and he wants to be involved."
Having a president be so personally involved has elevated the stature of the projects within the LACBA community, and "his intensity is infectious," Condon says.
Brot says there isn't a day that goes by that he does not feel grateful to have the opportunity he has had to serve as LACBA president.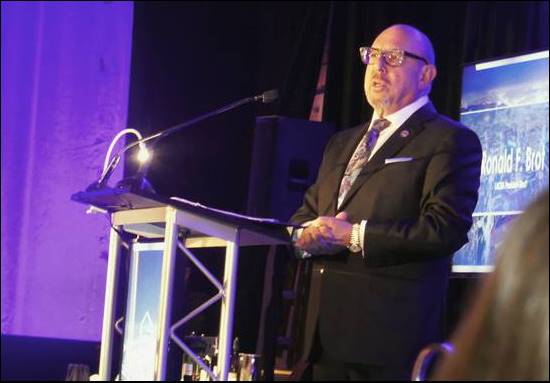 Brot is seen delivering remarks after being sworn in as Los Angeles County Bar Association president.
LACBA's Rebound
When his term is up, Brot says he hopes he will be remembered as "the guy who helped return LACBA to an organization of lawyers, for lawyers, by lawyers," by helping bring "stability and sustainability" to its membership rolls and financial operations.
Brot says he isn't sure what will be next for him. "My vocation and advocation is law and the bar," he says. "I know I'm not built to stay home or for the golf course," so "as long as I have energy and enthusiasm, I'll find somewhere to put it."
He also says he has not lost sight of how far he has come from the bleak days of his past.
"I know how unlikely it was to have a second chance at life," he reflects.
Brot's Rebound
It's been 35 years since he was homeless and jobless—and now he runs a successful 10-member law firm, leads LACBA, and received the Family Law Section's highest honor, the Spencer Brandeis Award.
Brot says he has to give credit to the program that led him to the path of recovery, which he continues to support.
"On a daily basis I am active in assisting lawyers and non-lawyers alike in overcoming alcohol and drug dependency, and in rebuilding their lives," he says.
"My life, I hope is a life that can bring hope to others who for whatever the circumstances have fallen from grace—and that can be through dependencies, addictions or what have you," he says. "I've been given the gift to take the steps on this path and I invite anyone who needs to, to follow those steps and know I'll always be there for you."
Generous With Time
Los Angeles attorney Lori Loo says she has seen first-hand how generous Brot can be with his time.
Loo was Brot's law partner from 2005 to 2010, and she was the "best man" at his wedding five years ago.
For all the time she has known Brot, Loo says, Brot has had daily contact with multiple people working on their recoveries. Sometimes it's just a two-minute phone call, but "it's still quite a commitment," Loo says.
Loo says she thinks Brot is so giving of his time because "he has such extreme gratitude for his own story." She also says Brot freely shares his "support, kindness and knowledge" with those in the legal world, and also in his private life.
Brot has two step-sons, 14-year old Izzy and 12-year old Dimitri, but he calls them "his kids." He also claims grandfather status to the child born to a former girlfriend's daughter, since he had helped raise the daughter.
Loo says she thinks this shows how strong of a bond Brot can form with others.
Brot is "not just a father, not just a sponsor, not just the senior partner at a firm, and not just the LACBA president," Loo observes. For many people, just having one of these titles would be enough, but Brot "somehow, some way, is able to do it all, and do it all well."
___________________________________________
Comments
Ron Brot is a terrific person, amazing leader and an incredible friend, husband and father. He is a fantastic role model and a very talented and highly skilled attorney who is among the best of the best of the family law bar. He has tremendous humility and courage, and he is a champion of justice. He has been a phenomenal partner to the Los Angeles Superior Court and he is one of the most dependable and caring persons that I know. He is plain and simply awesome and a blessing to us all."
—Kevin Brazile
Presiding Judge, Los Angeles Superior Court
Ron is a commanding powerhouse, a skilled leader who commands respect, and a Socratic teacher. He has been a mentor to many family law lawyers, and his attention to detail is infectious. Ron has a tremendous drive for service. He uses every hour in the day to honor his commitments to his family, the LA County Bar, his other service commitments, the elevation of the practice of family law, and his clients. Ron is truly tireless. Ron is impeccably dressed and even more prepared. He commands attention in a courtroom and his ease before the bench is inspiring and entertaining to anyone who has the opportunity to see him in a courtroom. There is no one more reliable than Ron—he is a man of his word. He is unique and so well-deserving of this honor.
—Elise Greenberg, Gary Fishbein, Mark Gross
Partners, Brot•Gross•Fishbein•LLP
Ron Brot is my hero. When Michael Meyer and I became president and president elect of LACBA we had no idea how much work had to be done. When we asked Ron to become president elect and then president he came into the job knowing full well the amount of effort needed and he did so willingly. We need more Ron Brots, but this one is pretty special so lets just keep him in the job for life!
—Brian Kabateck
Immediate Past President, LACBA
It is wonderful to see an excellent and dedicated family law litigator, Ron Brot, generously donate his time to the betterment of the Los Angeles legal community. He is extraordinarily busy, and litigates at such a high level, that his selfless dedication to the Los Angeles County Bar these past few years has been inspirational.
—Elizabeth R. Feffer
Judge, Los Angeles Superior Court
Having known him for less than a year, I have quickly become a fan of him for his openness, his straightforward approach to the task at hand, and his dedication to our profession and to the larger community we serve. I applaud his efforts to seek more public attorney members for the County Bar and have endeavored to assist him in that mission however I can.
—Lloyd W. Pellman
Partner, Nossaman LLP
I am pleased to express my praise of Ronald Brot, having had a broad experience with him as he was seeking to become elected as an officer of the LA County Bar Association. I have come to learn about his impressive experience as a lawyer throughout his career. He has overcome struggles as a young lawyer growing to become a prominent family lawyer leading his specialties.
I was honored to be able to personally assist as he has become the leader of our Association. He has distinguished himself as an outstanding officer completely dedicated to developing a number of initiatives planned to saving our struggling Bar Association. I deeply admire this generous man who richly deserves the honor of "Person of the Year."
—Harry L. Hathaway
Past President LACBA
Copyright 2020, Metropolitan News Company