Wednesday, January 8, 2020
Page 1
C.A. Blocks Prosecutions for Felony Child Endangerment
Justices Hold Statute Does Not Extend to Social Workers Who Failed to Take Steps to Protect Abused Boy,
Who Came to Be Murdered by Mother and Her Boyfriend; Charges Over Falsifying Records Also Barred
By a MetNews Staff Writer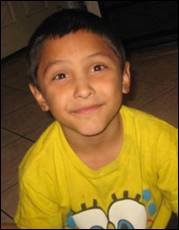 —Family Photo
GABRIEL FERNANDEZ
The Court of Appeal for this district yesterday barred the felony prosecution of four social workers for child endangerment based on their alleged failure to protect an abused 7-year-old boy who wound up being tortured and killed by his mother and her boyfriend, with the court also blocking pursuit of charges that the workers falsified public records by inputting deceptive information about the case in the department's computer system.
Div. One, in a 2-1 opinion by Presiding Justice Frances Rothschild, granted petitions for writs of mandate directing that their motions under Penal Code §995 for a dismissal of the information—denied by Los Angeles Superior Court Judge George G. Lomeli—be granted. She was joined by Los Angeles Superior Court Judge Gregory J. Weingart, sitting on assignment.
Justice Victoria Chaney agreed that prosecution for child endangerment, under Penal Code §273a(a), is precluded by a decision of the California Supreme Court, a decision with which she indicated disagreement. However, she disputed the majority's conclusion that the social workers, who were employed by the Los Angeles County Department of Children and Family Services ("DCFS"), were not "officers," subject to prosecution under Government Code §6200 for falsifying public records.
The four defendants were fired by the department. Pearl Sinthia Fernandez, mother of the slain Gabriel Fernandez, and her boyfriend Isauro "Tony" Aguirre, were convicted of murder.
Rothschild's Opinion
Rothschild said the portion of §273a(a) that pertains to a person who "permits any child to suffer" does not apply to the defendants, under the California Supreme Court's 1994 decision in People v. Heitzman which interpreted analogous language relating to elder abuse, requiring that a defendant have had a special relationship with the victim or an ability to control the abuser.
"The People do not cite to any statute or case law to support an argument that petitioners had the duty to control Pearl or Tony," she wrote.
Although the DCFS had the authority to remove a child from an unsafe home, she said, even if the defendants had sufficient knowledge of the circumstances to warrant such action, "they were merely permitted to take such action; they were not required to do so." Rothschild added:
"Moreover, imposing criminal liability on a social worker for making discretionary decisions, when the best solution is not always obvious, would create an incentive for the social worker to focus more on his or her own liability rather than on the best interest of the child."
The defendants did not come under the portion of the statute relating to a person who had "care or custody" of the victim because they did not have the boy in their charge.
Falsifying Records
Sec. 6200, applicable to an "officer" who falsifies public records is not germane, the jurist declared, because the defendants were not "officers."
"Neither the Constitution nor the Legislature created the positions, prescribed the duties, or fixed the compensation of the director of DCFS or its employees," she said, adding:
"Nor are their positions within either the Government Code's enumeration of county officers or Los Angeles County's list of officers in its charter. Therefore, under any test for determining whether one is an officer for purposes of Government Code section 6200, petitioners were not officers."
Chaney's Dissent
In dissenting as to blocking prosecutions under §6200, Chaney went back to an 1857 decision of the California Supreme Court in Vaughn v. English. There, "officers" were defined as "all persons in any public station or employment conferred by government."
The opinion said a person is an "officer" where that person was "appointed by government; the duties which he is to perform concern the public, and he is paid out of the public treasury...."
She recited language ion subsequent opinions likewise broadly interpreting the word "officer."
Chaney noted:
"In fact, the County Charter enumerates as one of its 'officers' a 'Director of Adoptions.'…When the County amended its charter to create DCFS, though, it moved all responsibility of the 'Director of Adoptions' to the Director of DCFS."
She commented:
"I am most disturbed by the negative incentives this case creates for social workers and for DCFS. Allowing a social worker to evade liability for falsifying a public document would incentivize social workers to put their own interests in avoiding liability for their misdeeds above the purpose of the state's child welfare statutory scheme, which is child safety. The petitioners' actions here prevented the system from working in whatever way it might have had they done their jobs honestly, and offers no incentive for either DCFS or individual social workers to work to reform and repair the parts of the system that may fail the children it is intended to protect. We have, in effect, encouraged DCFS and its social workers to cover their tracks if they stumble on the cracks in the system."
While agreeing that, under Heitzman, the prosecutions pursuant to §273a(a) must be blocked, she sided with the dissent by then-Justice Marvin Baxter (since retired), in which Justice Stanley Mosk (now deceased) and Justice Kathryn Werdegar (now retired) concurred. Baxter wrote:
"[T]he language and history of section 368 and the child abuse statute on which it was based (§ 273a) indicate that both statutes apply to any person who is guilty of criminal negligence under the particular circumstances. The majority's special relationship requirement appears to dishonor this clear intent."
He went on to say:
"The 'class' of offenders is clear on the face of section 368. By its own terms, the statute applies to 'any person' who commits the misconduct described therein. The quoted phrase is specific, unambiguous, and subject to no construction 'other than a literal one.' "
Chaney said: "I agree with Justice Baxter." She remarked:
"The People have alleged facts that, if proven, would suffice to show that Rodriguez, Bom, Clement, and Merritt did not merely permit Gabriel's mother and her boyfriend to murder Gabriel, they enabled it. By abdicating their responsibilities and falsifying documents, these social workers prevented the system from working and prevented anyone else from rescuing Gabriel."
The case is Bom v. Superior Court, 2020 S.O.S. 53.
Copyright 2020, Metropolitan News Company