Friday, May 29, 2020
Page 1
Court of Appeal:
USC Denied Right of Confrontation to Boermeester, Ex-Football Player Accused of Battering Girlfriend
By a MetNews Staff Writer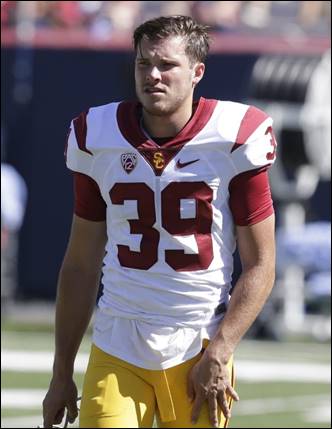 —AP
In this file photo, former USC kicker Matt Boermeester is seen before a game against the University of Arizona.
The Court of Appeal for this district, in a 2-1 decision, yesterday reversed the denial of a writ of mandate to former USC kicker Matthew Boermeester who contests his ouster from the student body based on intimate partner violence, with the majority saying he was wrongfully denied his right to cross examine his alleged victim and others, and with a dissenter insisting that right was waived by him.
Presiding Justice Tricia Bigelow of Div. Eight wrote the majority opinion, in which Maria E. Stratton joined.
"In a case such as this one, where a student faces a severe sanction in a disciplinary proceeding and the university's decision depends on witness credibility, the accused student must be afforded an in-person hearing in which he may cross-examine critical witnesses to ensure the adjudicator has the ability to observe the witnesses' demeanor and properly decide credibility," she declared.
"USC's disciplinary procedures at the time," Bigelow said, "were unfair because they denied Boermeester a meaningful opportunity to cross-examine critical witnesses at an in-person hearing."
The opinion reverses a decision by Los Angeles Superior Court Judge Amy D. Hogue.
Justice John Shepard Wiley Jr. asserted in his dissent that "Boermeester's counsel has manufactured this cross-examination issue."
Anonymity Accorded
The expulsion of Boermeester, was was two class units away from graduation, has attracted press attention. The woman he allegedly battered—hitting her, kicking her, pinning her against a wall and grabbing her neck—has been identified in reports as former USC tennis player Zoe Katz.
Nonetheless, Bigelow said in a footnote:
"Although Jane Roe has identified herself to the public in the events at issue, we will continue to use a pseudonym or initials to refer to Roe and other witnesses in this opinion."
Katz insists, contradicting earlier statements, that no violence toward her occurred.
No Forfeiture
The presiding justice wrote:
"We address the threshold issue of whether Boermeester has preserved his right to assert on appeal that he was improperly denied cross-examination of witnesses at a live evidentiary hearing. We find he has.
"USC contends Boermeester forfeited the issue when he failed to request cross-examination of third-party witnesses and waived it when he refused to submit written questions for Roe. We decline to fault Boermeester for failing to request cross-examination of other witnesses because such an objection was not supported by the law at the time and would have been futile in any case."
She added that "USC's policy did not allow for Roe to be questioned at an in-person hearing that Boermeester could attend," so he did not forfeit a right that did not exist.
The dissenter contended:
"Unaccountably, in California's first appellate student discipline case about domestic violence, the aggressor emerges as the victim. But the university was right to discipline this man. Substantial evidence shows he committed domestic violence. All procedures were fair. Overturning this discipline is unwarranted."
He went on to say:
"Boermeester's least specious argument about his supposedly unfair treatment concerns live witness cross- examination. (I agree Boermeester's notice was ample and his suspension was proper.) But Boermeester refused to submit cross-examination questions for Roe. No wonder. His tactical reason was that questioning Roe was the last thing Boermeester wanted, now that she had recanted completely and had come over to his side in a public way, on Twitter and all the rest. Questioning Roe—chancing any opportunity for her to modify or to contradict her recantation—offered Boermeester only peril. From Boermeester's perspective, Roe's recantation was perfect as it stood. Additional questioning could only spoil a good thing. So naturally Boermeester's lawyer refused to submit questions for Roe.
"That means the cross-examination issue on appeal is entirely manufactured. It is not unfair to deny someone something they did not want."
The case is Boermeester v. Carry, B290675.
Attorneys on appeal were Mark M. Hathaway and Jenna E. Parker of Hathaway Parker for Boermeester and Julie Arias and Karen J. Pazzani of Young & Zinn for USC.
Copyright 2020, Metropolitan News Company