Thursday, June 11, 2020
Page 1
Boxer Mike Alvarado 'KO'd' in Court of Appeal
Opinion Does Not Comment on Judge Fujie's View That Person Handling Case Has Duty To Check Superior Court's Website to Spot Any Filings That Were Not Received
By a MetNews Staff Writer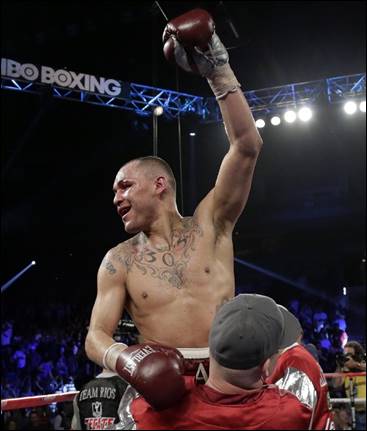 —AP
Boxer Mike Alvarado reacts after his victory in a WBO super lightweight title fight against Brandon Rios on March 30, 2013, in Las Vegas. He was not the victor in the Court of Appeal for this district on Tuesday; it affirmed a $700,000 default judgment against him and in favor of his former manager.
Mike Alvarado—the World Boxing Organization's light welterweight champion in 2013 and the World Boxing Council's Continental Americas' light welterweight champion in 2011—has lost a bout in the Court of Appeal for this district, with the justices affirming a 2019 default judgment against him granted to his former manager by Los Angeles Superior Court Judge Holly J. Fujie.
Tuesday's opinion, by Justice Halim Dhanidina of Div. Three, was not certified for publication. It does not allude to a point raised by Fujie—seemingly a novel one—in declining to set aside the judgment in response to Alvarado's motion in which he claimed that, during a period when he was representing himself, prior to the default judgment last year, he received no papers from the court or from the plaintiff's counsel.
Fujie pointed to a duty, in handling a case in the Superior Court, to keep abreast of developments by looking at postings on the court's website.
Ex-Manager's Lawsuit
The ex-manager, Frank P. Acosta, brought suit on April 14, 2014. Among his contentions was that Alvarado failed to pay him his share, as set forth in a contract, of earnings from matches.
Alvarado failed to answer the initial complaint, then failed to respond to an amended complaint; a default judgment was entered in 2016; he hired a law firm which got the judgment set aside; he filed an answer on March 27, 2018; the next month—on April 25—the law firm substituted out and Alvarado was substituted in as counsel. He failed to show up for a July 18, 2018 status conference or at an Aug. 15, 2018 hearing on an order to show cause re sanctions for the nonappearance.
At that August hearing, Fujie ordered his answer stricken and the entry of a default. She set an Oct. 1 hearing on an order to show cause re default judgment; on Oct. 1, Alvarado was again absent.
$700,000 Judgment
On Jan. 16, 2019, judgment was entered in favor of Acosta for $478,208.44 in economic damages and $229,005 in prejudgment interest.
Through new counsel, Alvarado then moved for an order, pursuant to Code of Civil Procedure §473, setting aside the second default judgment. In the absence of an attorney's affidavit of fault, a party moving for relief from default under that section must show "mistake, inadvertence, surprise, or excusable neglect."
In her order denying the motion Fujie recited:
"Moving Defendant declares that since April 25, 2018, he has not received any notice or phone calls about this action from Plaintiff or his lawyers or the Court."
He said the address for him was one in Thornton, Colorado, where his mother lives; he resides, Alvarado noted, in Dacono, Colorado.
But, Fujie observed, he signed the substitution form that lists the Thornton address for him.
Internet Posting
From the time that substitution of attorney form was filed on April 25, 2018, Fujie declared—though doing so under the heading of "Background" and not in the "Discussion"—Alvarado "had a responsibility for defending this case." She pointed out that "this Court posted on its website all pleadings filed in this case, which were accessible to" him.
The judge went on to find that Alvarado "has not shown any indication of surprise, mistake, inadvertence, or excusable neglect."
Dhanidina did not discuss whether there is a duty on the part of a person handling a case—whether an attorney or a pro per—to consult the court's website to ascertain if papers have been filed but not received (in paper form or, as now required, except as to pro pers, electronically).
Burden Not Met
In explaining the affirmance, he said:
"Alvarado has failed to identify how the trial court abused its discretion in denying his motion to set aside the judgment. Alvarado did not provide a declaration or other evidence that his prior counsel listed the incorrect address for Alvarado. Nor did Alvarado state that his mother's address was listed in error. His brief merely makes conclusory arguments that, after his counsel substituted out of the case, he never received any court papers indicating the status of the case. Alvarado therefore did not meet his burden to show he was entitled to relief from the default judgment or that the trial court abused its discretion."
The case is Acosta v. Alvarado, B300651.
Attorneys on appeal were Victor B. Mayen, of Pasadena, for Alvarado, and Evan Selim of the downtown Los Angeles law firm of McCathern, LLP for Acosta.
Copyright 2020, Metropolitan News Company