Monday, June 22, 2020
Page 1
Ninth Circuit:
Law Mandating Deletion of Actor's Age on Demand Is Invalid
Judge Bade's Opinion Affirms a Summary Judgment Which Included Permanent Injunction
By a MetNews Staff Writer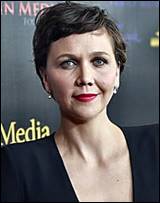 MAGGIE GYLLENHAAL
Actress
The Ninth U.S. Circuit Court of Appeals on Friday affirmed a summary judgment in favor of IMDb.com barring enforcement of a California statute which mandates that an entertainment-oriented subscription-based website must delete reference to a performer's age, upon demand and also excise it from any related publicly accessible website.
The appeals court said the statute is specifically aimed at IMDbPro—a for-pay service—and its progenitor, the Internet Movie Database ("IMDb") which is free to visitors and has been "ranked as the 54th most visited website in the world."
Circuit Judge Bridget S. Bade wrote for a three-judge panel in declaring:
"Unlawful age discrimination has no place in the entertainment industry, or any other industry. But not all statutory means of ending such discrimination are constitutional. Here, we address content-based restrictions on speech and hold that AB 1687 is facially unconstitutional because it does not survive First Amendment scrutiny."
Inspitation for Legislation
The statute in issue is Civil Code §1798.83.5, enacted in 2016 as AB 1687, authored by Assembly Majority Leader Ian Calderon, D-San Gabriel Valley. It was sponsored by the Screen Actors Guild-American Federation Of Television And Radio Artists ("SAG-AFTRA"), and inspired by a May 21, 2015 article in The Guardian in which actress Maggie Gyllenhaal—an Academy Award nominee, Emmy nominee, and Golden Globe winner—was quoted as saying:
"I'm 37 and I was told recently I was too old to play the lover of a man who was 55. It was astonishing to me. It made me feel bad, and then it made feel angry, and then it made me laugh."
(IMDb says in a mini-biography on its free website that "Gyllenhaal was born on November 16, 1977, on the Lower East Side of Manhattan in New York City.")
Bade's Opinion
Bade wrote:
"Because AB 1687 does not regulate commercial speech, or any other form of speech entitled to reduced scrutiny only, we apply strict scrutiny to determine its validity….Accordingly, the state must show that the statute 'furthers a compelling governmental interest and is narrowly tailored to that end.' "
She expressed agreement with District Court Judge Vince Chhabria of the Northern District of California—who on Feb. 22, 2017 issued a preliminary injunction blocking implementation of AB 1687 and on Feb. 20, 2018 permanently enjoined enforcement of it—that the statute does meet the first test, of serving a compelling state interest, but not the second.
"Even if a state intends to advance a compelling government interest, we will not permit speech-restrictive measures when the state may remedy the problem by implementing or enforcing laws that do not infringe on speech," Bade said. "Here, the State has not explored, or even considered, a less restrictive means to combat age Discrimination in the entertainment industry before resorting to the drastic step of restricting speech."
Other Remedies
She noted that neither of the two defendants—Attorney General Xavier Becerra and SAG/AFTRA—disputes "that speech-neutral remedies exist." She pointed, as an example of an existing remedy, California's Fair Employment & Housing Act which prohibits age discrimination in hiring.
The jurist continued:
"Yet, they offer little argument to show why these laws are insufficient. Although the State points to evidence in AB 1687's legislative history, this history is murky at best. This evidence consists largely of a single, anecdotal account of discrimination from one actress in an article in The Guardian. But the article does not address whether the actress attempted to avail herself of any other remedy or why any other remedy was insufficient. In sum, the article offers nothing to show that less-restrictive means are insufficient to combat age discrimination."
Comments in Footnotes
Bade said in a footnote:
"The article further cites statistical evidence from both an ACLU initiative to fight industry discrimination and a San Diego State University study detailing discrimination rates in the entertainment industry. But both studies appear concerned with sex discrimination rather than age discrimination."
In another footnote, she said, SAG/AFTRA has put forth a statement by Sheila Kuehl, a Los Angeles County supervisor and former actress, best known as Zelda Gilroy in "The Many Loves of Dobie Gillis" (1959-63.) Kuehl opined that measures less restrictive than those set forth in §1798.83.5 would not be effective.
"But this evidence was not before the district court," Bade said, adding:
"Instead, the statement was submitted to this court for the first time during the pendency of the appeal. SAG offers no justification for this court to now consider it as evidence, and we decline to do so."
Wording of Statute
Sec. 1798.83.5 provides:
"(a) The purpose of this section is to ensure that information obtained on an Internet Web site regarding an individual's age will not be used in furtherance of employment or age discrimination.
"(b) A commercial online entertainment employment service provider that enters into a contractual agreement to provide employment services to an individual for a subscription payment shall not, upon request by the subscriber, do either of the following:
"(1) Publish or make public the subscriber's date of birth or age information in an online profile of the subscriber.
"(2) Share the subscriber's date of birth or age information with any Internet Web sites for the purpose of publication."
That, Bade said, is aimed at IMDbPro, a subscription service launched by IMDb in 2002. She observed that it "functions more or less as Hollywood's version of LinkedIn," explaining that it's aimed at job-seekers, casting agents and producers.
'More Controversial Provision'
"But the statute contains a more controversial provision," she said, with reference to this wording:
"(c) A commercial online entertainment employment service provider subject to subdivision (b) shall, within five days, remove from public view in an online profile of the subscriber the subscriber's date of birth and age information on any companion Internet Web sites under its control upon specific request by the subscriber naming the Internet Web sites. A commercial online entertainment employment service provider that permits members of the public to upload or modify Internet content on its own Internet Web site or any Internet Web site under its control without prior review by that provider shall not be deemed in violation of this section unless first requested by the subscriber to remove age information."
In light of that wording, Bade wrote, "if asked to do so, IMDb must remove age information not only from a subscriber-curated profile on IMDbPro, as it has done in the past, but also from any separate profile publicly available on IMDb.com."
She explained:
"Visitors to IMDb.com can peruse movie reviews, trivia, plot summaries, and fictional character biographies. The site also contains encyclopedic entries on cast and crew members in the industry. Often, but not always, these biographical entries contain the subject's age or date of birth. In total, IMDb.com contains more than three million unique pages for titles and more than six million entries for cast and crew."
IMDB is a subsidiary of Amazon.
The case is IMDB.com v. Screen Actors Guild-American Federation of Television and Radio Artists, 18-15463.
Comments on Decision
SAG-AFTRA Chief Operating Officer and General Counsel Duncan Crabtree-Ireland commented Friday:
"The court's conclusion that this law wouldn't have a major impact on age discrimination in the entertainment industry is simply ill-informed. It highlights why it was so wrong for the trial court judge to deny us the opportunity to discover and present evidence that we know would have conclusively proved that point. Although no decision has been made about possible further appeals, SAG-AFTRA and our members will continue to seek out creative solutions to IMDb's recalcitrance."
SAG-AFTRA's president, Gabrielle Carteris, remarked:
"We're very disappointed by the decision, but it changes nothing about SAG-AFTRA's commitment to change IMDb's wrongful and abusive conduct. Neither I nor our members will stop speaking out until this outrageous violation of privacy used to facilitate discriminatory hiring ends."
Copyright 2020, Metropolitan News Company