Tuesday, September 29, 2020
Page 1
Wickham to Trade County Counsel Job for Court Post
Veteran Government Lawyer Is One of Three Elected to Commissionerships
By a MetNews Staff Writer
Mary Wickham is leaving her post as Los Angeles county counsel to become a Los Angeles Superior Court commissioner.
She was elected by the judges of the court along with attorney James Cooper and Jenny Cheung Marino, director of the nonprofit Children's Law Center of California. Ballots were counted Friday by Judges Steven J. Kleifield, Mark V. Mooney, and Michael L. Stern—the most senior judges who were available.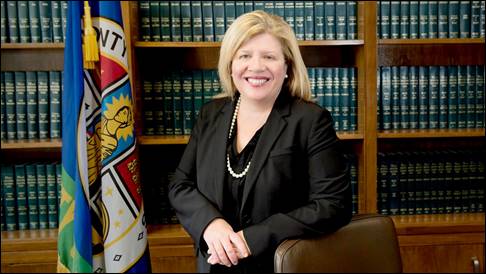 MARY WICKHAM
Court Commissioner—Elect
Wickham was appointed as county counsel by the Board of Supervisors, meeting in closed session, on Nov. 17, 2015. She had been serving in that position on an interim basis since June 16, four days after Mark Saladino resigned abruptly, later suing, unsuccessfully, to regain his post.
Executive Officer Resigns
The departure of Wickham from her county post comes on the heels of the Aug. 31 departure of the county's chief executive, Sachi Hamai, who left with a $1.5 million settlement of her claim against the county based on alleged harassment and defamation of her by Sheriff Alex Villanueva. Wickham orchestrated the settlement.
Wickham, earned her law degree from Whittier College in 1989, was serving at the time of her appointment as executive director of the County Equity Oversight Panel, a post she gained on an interim basis in 2013 and on a permanent basis the following year.
Before that, she spent nearly 18 years litigating employment cases for the county.
Wickham was the 14th person to serve as Los Angeles county counsel, a position created in 1913. There was an acting county counsel, Robert Kalunian, in 2009-10.
DeWitt Clinton held the post for 15 years, retiring in 1998. He was succeeded by Lloyd W. "Bill" Pullman, who retired in 2004, and his chief deputy, Raymond G. Fortner Jr., was hired for the post.
Kalunian stepped in temporarily, and Andrea Ordin, who has held a number of posts in government service, became county counsel in January 2010, resigning in February 2012 before her three-year contract was up, and was succeeded by John Krattli, who retired in July of 2014.
Saladino assumed the post in October of that year, exiting on a seemingly voluntary basis. He later sued, saying he was actually ousted by the Board of Supervisors.
Barger Comments
Supervisor Kathryn Barger commented yesterday:
"It has been a privilege to work with Mary Wickham throughout her long career with the county, and most recently over the past five years in her capacity as county counsel. I have greatly valued Mary's legal wisdom, keen insight, and strong leadership skills, among her many other positive attributes.
"While her departure is a loss for the county, I know she will continue to be of great service to the people of Los Angeles in her new role as a court commissioner."
Wickham did not respond to requests for comment on her decision to seek other employment, and it was not known yesterday when she would take her oath of office as a commissioner.
Copyright 2020, Metropolitan News Company