Page 1
Former State Bar President Saferstein Dies
Remembered as Outstanding Attorney Who Served Legal Community, Courts
By a MetNews Staff Writer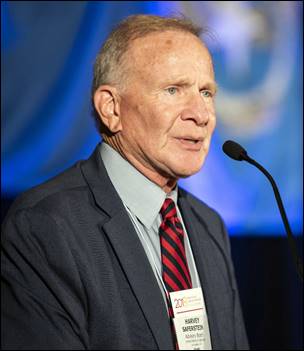 Harvey I. Saferstein is seen at the 2018 Ninth Circuit Judicial Conference held in Anaheim. He was at the podium to accept the Ninth Circuit's John Frank Award based on his personal attributes, excellence as an attorney, and lifetime of service to the federal courts.
Harvey I. Saferstein, who served as president of the State Bar of California in 1992-93, has died at the age of 77.
An announcement of his death, on Thursday night, was made Friday by the Ninth U.S. Circuit Court of Appeals. Saferstein had served from 2011 to this year on the Ninth Circuit Advisory Board, a group of experienced attorneys who advise the Judicial Council of the Ninth Circuit on court governance matters.
On July 23, 2018, during the opening session of that year's Ninth Circuit Judicial Conference, he was presented the John Frank Award. That award recognizes a lawyer who has "demonstrated outstanding character and integrity; dedication to the rule of law; proficiency as a trial and appellate lawyer; success in promoting collegiality among members of the bench and bar; and a lifetime of service to the federal courts of the Ninth Circuit."
Saferstein's immediate successor as State Bar president was Margaret M. Morrow, later a U.S. District Court judge and now president and CEO of Public Counsel. She said on Friday:
"Harvey was part of the fabric of the Los Angeles legal community. He was a talented lawyer who gave generously of his time to many, many bar associations and legal organizations, and who was tireless in his efforts to help the courts improve the administration of justice.
"On a personal level, he was always upbeat, positive, and full of energy for the next challenge. He genuinely cared about everyone he knew and went out of his way to help when he could. This is a great loss for his family, his friends, and our community."
Fresno attorney Donald R. Fischbach, who served as State Bar president in 1994-95, remarked:
"Not only was he a brilliant attorney, but also a very gracious person. We knew him as the president of the State Bar of California but more importantly loved being with Harvey and [his wife] Peggy whenever we could. He was a real giant of lawyers and will be greatly missed."
Former Court of Appeal Presiding Justice Charles S. Vogel, who was the 1990-91 State Bar president and 1985-86 Los Angeles County Bar Association ("LACBA") president, offered these thoughts:
"Harvey was a very special person and an excellent lawyer. We had many occasions to work together in both the L.A. County Bar and the State Bar, and Harvey was always enthusiastic. He had proposals and ideas for improving the profession and willingly contributed his time and talent to those issues.
"He was a good friend who always provided encouragement and humor to everyone who had the privilege of working with him."
Patricia Phillips's Memories
LACBA's 1984-85 president, Patricia Phillips of Phillips Jessner LLP, commented:
"Harvey and I served on the Board of Governors of the State Bar and the Board of Trustees of the Los Angeles County Bar Association together. He was sharp, intelligent and thoughtful. Harvey had good sense and rational answers to every question and even some wild and outlandish answers. He was serious yet so much fun. There was never a question he would not try to answer nor an issue he would duck.
"Most of all, he was fun to be with; when walking down the street together, when lifting a glass in a bar, when dancing on a table, when debating a subject in a meeting, when meeting unexpectedly in the smallest little bar in the world in Cabo, when dancing with dear Peggy, when dancing on tables in sleazy little bars in Mexico. He will be missed by scores and scores of people probably even animals. Harvey Saferstein was nice, fun, smart, thinking, caring, sensitive. In a word, he was a mensch. I hope he and Peggy remember me as his buddy."
Patrick M. Kelly—the 2012-13 State Bar president, LACBA's president in 1990-91, and now a mediator/arbitrator—hailed Saferstein as a "great attorney, a committed bar leader and an exceptional community servant."
Lawyer Jokes
Saferstein received international attention, as State Bar president, in calling for a moratorium on lawyer jokes. In the aftermath of a gunman opening fire at a San Francisco law firm on July 1, 1983, killing eight persons, including three attorneys, Saferstein held a press conference both in San Francisco and Century City at which he urged a "cease-fire on lawyer-bashing."
Negative reaction included ribbing from Jay Leno, then host of NBC's Tonight Show, and a demeaning Paul Conrad cartoon in the Los Angeles Times.
A Miller Beer television commercial that Saferstein criticized—depicting a cowboy lassoing a divorce lawyer at a rodeo—was temporarily withdrawn by the brewing company.
Saferstein received his law degree, magna cum laude, from Harvard in 1968. He had been executive editor of the Harvard Law Review.
He was a partner with Irell & Manella in Los Angeles for 15 years, with Mintz Levin for 14 years, and with Munger Tolles & Olson for 10 years. In recent years, he was a solo practitioner, specializing in antitrust and intellectual property counseling and litigation, and complex commercial and business litigation.
Copyright 2020, Metropolitan News Company