Wednesday, September 30, 2020
Page 3
Hathaway, Hong, Moriarity Named 2020 'Persons of the Year'
By a MetNews Staff Writer
Former Los Angeles County Bar Association President Harry L. Hathaway, Nowland C. Hong, a founder of the Southern California Chinese Lawyers Association, and veteran San Fernando Valley trial lawyer John L. Moriarity have been named by the Metropolitan News-Enterprise as 2020 "Persons of the Year."
| | | |
| --- | --- | --- |
| | | |
| NOWLAND HONG | HARRY L. HATHAWAY. | JOHN L. MORIARTY |
For the 32 years, the award recipients were honored at a lavish dinner. In light of the current pandemic, however, there is no plan to stage a public event, which ordinarily would be held on the last Friday night in January, Co-Publisher Jo-Ann W. Grace said yesterday. She expressed the hope that the 2020 honorees will be feted on Jan. 28, 2022, along with the 2021 "persons of the year."
For the first five years that the award was conferred—starting in 1983 when Court of Appeal Presiding Justice Mildred L. Lillie, now deceased, was the honoree—no dinner was held, Grace noted.
Hathaway's, Hong's Achievements
2020 has been a year in which a project guided by Hong and Hathaway came to fruition. It was Hathaway's idea that a sequel to the 1959 book, "Lawyers of Los Angeles," published by LACBA, be produced, and Hong headed the committee overseeing the endeavor. Hathaway took charge of the fundraising.
The book, by former Deputy District Attorney Kathleen Tuttle, is now in print. Its title is "Lawyers of Los Angeles, 1950-2020."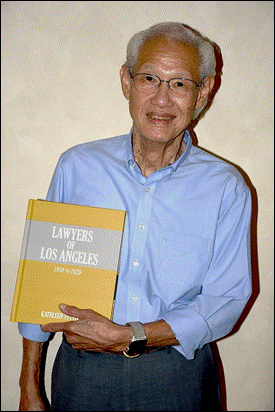 Hong holds copy of book, "Lawyers of Los Angeles, 1950-2020," a project he and Hathaway brought to fruition.
Grace said:
"Harry and Nowland worked tirelessly to get the project approved and funded, which was not easily accomplished."
"This was one of a plethora of attainment by these two outstanding attorneys."
Hong is of counsel with Best Best & Krieger LLP and Hathaway recently retired from his practice at Fulbright & Jaworski LLP.
Prominent Lawyer
Moriarity, she said, is the "dean of San Fernando Valley practitioners," a well-known and respected trial attorney.
He has been involved with various organizations, Grace noted, including heading the Footprinters, comprised of attorneys and judges of the criminal courts.
Counting Moriarity, Hong and Hathaway, there have been 66 "Persons of the Year." After honoring Lillie, the next four honorees—each being the respective year's single designee—were Court of Appeal Justice Lynn Compton, Court of Appeal Presiding Justice Lester Wm. Roth, Los Angeles Superior Court Judge Kathleen Parker (all deceased), and then-Los Angeles Superior Court Judge Billy G. Mills (now retired).
The annual dinners were launched in 1988. That year, Los Angeles Superior Court Executive Officer Frank Zolin was the honoree and the emcee was former Los Angeles Superior Court Presiding Judge (and television judge) Joseph Wapner (both deceased).
Subsequent Emcees
Zolin emceed some of the dinners after that; one year, he had laryngitis and City Council President John Ferraro (now deceased) filled in.
Former Los Angeles District Attorney Robert H. Philibosian, now of counsel to Sheppard Mullin, was emcee for 25 out of the past 26 years, with then-Los Angeles Superior Court Judge Lawrence Crispo assuming that role in January, 2008 when Philibosian was honored as a 2007 "person of the year."
"Persons of the year" have included two California chief justices, four Court of Appeal presiding justices (and three future presiding justices), six Los Angeles Superior Court presiding judges, three assistant presiding judges of that court, two U.S. District Court judges, four State Bar presidents (and one future president of that group), five Los Angeles County Bar Association presidents, two district attorneys, two law school deans, two sheriffs, two county supervisors, a state attorney general, a county public defender, and a Los Angeles city attorney.
Copyright 2020, Metropolitan News Company