Page 1
Ninth Circuit:
Husband-Slayer Acts Too Late in Seeking Leave to File Second Habeas Petition
By Sandra Hong, Staff Writer
The Ninth U.S. Circuit Court of Appeals has denied a request to file a second petition for writ of habeas corpus by an Orange County woman who was convicted in 1993 for killing her husband and cooking his dismembered remains.
Omaima Aree Nelson was found guilty in Orange Superior Court of second-degree murder for the gruesome killing of William E. Nelson in their Costa Mesa apartment and sentenced to 27 years to life to life in prison.
In a memorandum opinion filed Thursday, a three-judge panel determined that Nelson's request is time-barred by a one-year statute of limitations under the Antiterrorism and Effective Death Penalty Act ("AEDPA").
The deciding panel was comprised of Senior Judges J. Clifford Wallace and Carlos T. Bea and Judge Mark J. Bennett.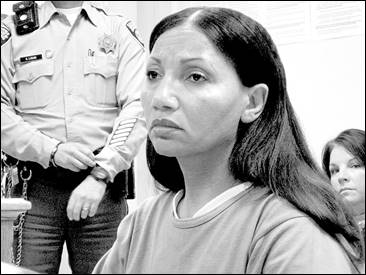 In this file photo, Omaima Nelson provides letters of support to the parole board during her parole hearing at the Central California Women's Facility in Chowchilla. —AP
Nelson requested authorization to file a new habeas petition by arguing a new basis for relief under a 2018 U.S. Supreme Court case. In McCoy v. Louisiana, the high court recognized a Sixth Amendment violation where a defendant's counsel conceded guilt at trial against the client's wishes.
Her latest request was filed with the Ninth Circuit under the AEDPA, which conditions the filing of a second or successive habeas petition on the federal appellate court consenting to it.
Nelson first petitioned for federal habeas relief in 2002, arguing ineffective assistance of counsel for failing to provide a defense of not guilty by reason of insanity. The Central District of California dismissed the petition for failing to meet the statute of limitations.
Without deciding on the merits of Nelson's petition, the panel rejected her request after finding it missed the statute of limitations deadline by six months. AEDPA's limitations period begins running on the date the constitutional right is first recognized by the Supreme Court, as provided under 28 USC sec. 2244(d)(1)(C), the panel noted.
McCoy was decided on May 14, 2018. Nelson filed her federal application on Nov. 26, 2019.
While the limitations period may be tolled if the prisoner files for post-conviction relief from state court, it must be done by the same deadline, the panel said. Nelson argued her habeas petition with the California Supreme Court should toll the limitations period, but the panel noted it wasn't filed until July 31, 2019.
"Nelson may not take advantage of AEDPA's tolling provisions because the limitations period had already expired by the time she filed her petition with the state," the panel determined, adding:
"Having failed to apply for authorization by the May 14, 2019 deadline or toll the period of limitations, the statute bars Nelson's application from consideration."
Nelson was denied parole in 2011 after a four-hour hearing at Central California Women's Facility in Chowchilla, at which the heinous acts she committed on Thanksgiving weekend in 1991 were recounted.
Although news reports during her trial said she had eaten parts of her victim's corpse, she insisted at the hearing:
"I swear to God I did not eat any part of him. I am not a monster."
Nelson claimed she acted in self-defense and then became "temporarily insane."
Prosecutors, however, said Nelson had a history of violence against men, has never shown any remorse for her crimes, and has not made any efforts to rehabilitate while in prison. 
The case is Nelson v. Hill, 19-73020.
Copyright 2020, Metropolitan News Company