Page 1
C.A. Reaffirms Order Axing $8.2 Million Default Judgment
Following a Rehearing, Panel Sticks to View That Lawyer/Plaintiff Breached Ethics; Rejects New Contention That Defendant Was Guilty of Unclean Hands by Making Misrepresentations to Superior Court Judge
By a MetNews Staff Writer
The Court of Appeal on Friday stuck by its earlier decision affirming the setting aside of an attorney's $8.2 million default judgment against a former client of his, Russian singer Lena Katina, declaring, its opinion following a rehearing and a second round of oral arguments, that the defendant was not guilty of unclean hands.
Beverly Hills attorney Tristram Buckley contends, in his Los Angeles Superior Court fraud action, that Katina fired him as her manager in order to cheat him out of his contractually agreed upon share of her earnings. The case is presently before Judge Holly E. Kendig, with a status conference set for Jan. 26.
But the case should not be on active status, Buckley insists, arguing that Kendig on Sept. 9, 2016, abused her discretion in vacating his default judgment. Div. Seven of the Court of Appeal for this district, in a Sept. 2 unpublished opinion by Los Angeles Superior Court Judge Timothy P. Dillon, sitting on assignment, rejected his contention.
Buckley had given the summons and complaint to Katina's wardrobe designer to give to Katina, who did not open the envelope. Dillon said that Buckley knew the defendant was represented by counsel and breached an ethical duty by failing to notify him of the entry of a default and of the subsequent default judgment.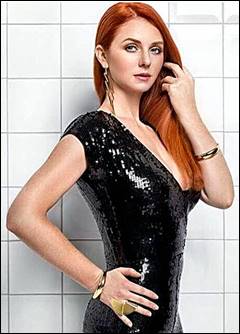 LENA KATINA
Singer
'No Further Briefing'
The appeals panel on Sept, 25 granted Buckley's petition for rehearing, specifying: "No further briefing is permitted."
Nonetheless, Buckley on Nov. 6, one day after oral argument was held, filed "Appellant's brief in re unclean hands and fraud upon the court"; Katina's attorney filed an objection; Buckley filed a notice withdrawing the brief, but then filed a request for leave to file a supplemental brief—which was granted—and a "motion re denial of right to closing argument," which was denied.
Responding to the motion, the court said in a Nov. 12 order:
"Appellant Tristram Buckley requested a total of 30 minutes for oral argument, as permitted by California Rules of Court, rule 8.256(c), and requested it be divided 20 minutes for opening and 10 minutes for reply/rebuttal. After 20 minutes of argument concerning the unclean hands doctrine, the Presiding Justice advised Mr. Buckley he had used his initial estimated time and cautioned that, if he wanted to continue to discuss the merits, "it will intrude into the 10 minutes you reserved for your rebuttal." Mr. Buckley stated he wanted to continue. He was then allowed to address the court for an additional 15 minutes. In view of the fact that Mr. Buckley was expressly warned that he was using his rebuttal time and that he was given a total of 35 minutes for oral argument, the motion regarding denial of right to closing argument, filed November 9, 2020, is DENIED."
Unclean Hands
In Friday's opinion, Dillon said:
"[B]ecause Buckley failed to raise the doctrine of unclean hands in the trial court, Buckley forfeited the argument….
"Even if Buckley had not forfeited the unclean hands argument, the evidence does not support applying it here…Buckley has not shown any false representations."
Buckley insisted that Katina's lawyer lied to Kendig in representing that retired Superior Court Judge Josh M. Fredricks, had not authorized him to file supplemental opposition to the motion to set aside the default and $8,175,788.01 default judgment. Dillon wrote:
"However, the trial court did not grant Buckley leave to file supplemental opposition."
On June 8, 2016, Fredricks merely granted an ex parte application for a continuance of the hearing on Katina's motion, and Buckley had not even sought leave to file supplemental opposition, the pro tem justice pointed out.
Fredricks had been sitting in Department 40 in the Stanley Mosk Courthouse in downtown Los Angeles at the time he signed the order. The case was subsequently shifted to Department 42, where Kendig sits.
On Dec. 1 of that year, Buckley tracked Fredricks down in Long Beach where he was presiding over a criminal court and secured his signature on an order saying:
"The Plaintiff's June 8, 2016 ex parte application seeking leave to file supplemental briefs was granted at that lime. The Defense was also granted leave to file responsive supplemental briefs."
Kendig disregarded that order, saying that Fredricks "has no jurisdiction over this case and no ex parte jurisdiction."
The case is Buckley v. Katina, B278362.
Buckley represented himself. Acting for Katina were Kimberly A. Wright of Revolve Law Group in Irvine and Michael D. Kuznetsky of Kuznetsky Law Group in Burbank.
Buckley faces a recommended two-year suspension of his State Bar license, followed by a two-year probation, for his conduct related to a 2015 lawsuit filed against him alleging assault and battery, slander, and elder abuse. He also is charged, in a pending matter, with withdrawing client trust account funds for personal use between 2017 and 2018.
Copyright 2020, Metropolitan News Company