Page 1
Appeals Court Affirms Order to Probationer to Sell Home
Action Came After Man Pled Guilty to Municipal Code Violations, Was Placed on Probation, Continued to Store Rubble in His Front Yard, Offending Neighbors; Order to Put House on Market Not 'Punishment,' Opinion Says
By a MetNews Staff Writer
An order to a man to sell his home—the yard of which was littered with junk, creating an "eyesore"—was not an unlawful "punishment" by a court but was a valid condition of probation imposed after a guilty plea to Municipal Code violations and the continual failure of the probationer to bring the property into compliance with legal requirements, Div. One of the Fourth District Court of Appeal held yesterday.
The opinion by Justice Cynthia Aaron affirms an order by San Diego Superior Court Judge Frederick Maguire, who imposed the must-sell requirement on George Gonzalez, a general contractor. Gonzales pled guilty in 2014 to two misdemeanor counts of using his premises without a permit or variance and one count of maintaining an unauthorized encroachment, in violation of the San Diego Municipal Code.
Although he faced a possible sentence of a year-and-a-half in jail, he was let off on probation, a condition of which was that he bring the property up to code standards. There were continuing violations.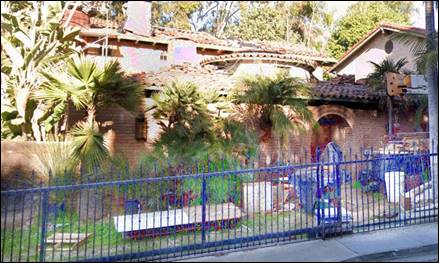 Above is home owned by George Gonzales. Div. One of the Fourth District Court of Appeal yesterday upheld a condition of probation requiring Gonzales to sell the home after repeated efforts to induce him to stop littering the yard.
'Bunch of Items'
One city employee testified at a probation violation hearing that these items were in Gonzalez's yard:
"A portable toilet porta potty, refrigerator, microwave, large spool of rubber hose or some stuff like that. Metal fencing, old sinks, vacuum cleaner, a bunch of items that are non-incidental to the property."
A video depicted what a neighbor described as "debris and old building materials," an "unfinished deck," "rusted containers," and an "old abandoned bike."
At the fourth hearing on probation violations, Maguire instructed Gonzales that the "property has got to be put in order I think so the neighbors don't look at it as an eyesore."
At that hearing, Gonzales agreed to the probationary period being extended beyond the initial three years.
At a fifth hearing on persisting violations, Maguire issued the order to sell the property.
Appellate Division Opinion
Last January, the Appellate Division of the San Diego Superior Court reversed that order, saying:
"An order to sell the property was not contemplated by the legislature as a punishment for such petty misdemeanor offenses. Sale of the property is not mandated by the statute enacted [by] the San Diego City Council nor is it provided for as a remedy for violations of the Land Development Code. Here, the plea bargain purported to authorize the court to exercise a power it does not have under California's sentencing provisions or under the comprehensive statutory scheme regarding eminent domain. The order to sell the real estate, as a condition of probation, was contrary to the law."
It added that the order "constitutes a taking of private property by a government entity and therefore must be pursuant to the eminent domain statutes and not by a court order in a criminal misdemeanor action."
Aaron's Opinion
The Court of Appeal transferred the case to itself, reaching a contrary determination. Aaron wrote:
"Gonzalez argues that the court's order directing the sale of the Aldine Property is invalid because an order directing the sale of real property is not among the 'variety of penalties for code enforcement violations' specified in the San Diego Municipal Code. This argument fails for the fundamental reason that the trial court's order to sell the property was not a legislatively mandated punishment, but rather, was a condition of probation."
She added that a condition of probation is not invalid based on a lack of specific legislative authorization for it, but is infirm only if it fails to meet the test of reasonableness or is unconstitutionally overbroad.
Facial Invalidly
Because Gonzales failed to raise a constitutional argument in the trial court, Aaron said, he is restricted on appeal to challenging the condition of probation based on facial invalidity. Gonzales insisted that the condition is facially invalid, asserting that there is a taking of his property without observation of the requisites and procedures spelled out in California law governing the exercise of eminent domain.
Aaron responded:
"As the People point out in their brief, judicial action may result in a person ceasing to own private property for any number of lawful reasons entirely outside of the eminent domain law. For example, marital dissolution proceedings, judgment enforcement actions, nuisance abatement proceedings, and forfeiture proceedings all may result in divesting a person of his or her private property. None of these proceedings involve eminent domain law. As the proponent of the constitutional violation, it is Gonzalez's burden to demonstrate that a probation condition mandating the sale of real property is not lawful. Gonzalez's contention that the divestiture of private property did not occur pursuant to the eminent domain law fails to make such a showing."
The jurist added:
"Gonzalez failed to present any authority pursuant to which a court has found a taking under similar circumstances. That is, Gonzalez has presented no case in which an order to sell property for full market value has been found to constitute a taking, particularly where the order was entered pursuant to a condition to which the owner expressly agreed."
Even if an order to sell a home might, in some circumstance, amount to a "taking," Aaron said, a facial challenge will fail unless it is demonstrated "that a probation order requiring a probationer to sell real property for fair market value is invalid in every instance," which, she observed, Gonzalez has not done.
In his reply brief, Aaron noted, Gonzales cited the 1975 California Supreme Court decision in People v. Lent. There, Justice Stanley Mosk (now deceased) wrote that "a condition of probation which requires or forbids conduct which is not itself criminal is valid if that conduct is reasonably related to the crime of which the defendant was convicted or to future criminality."
Aaron said that "[i]t is well established that a defendant may not raise a Lent challenge for the first time on appeal."
Gonzales is estopped from challenging on appeal the extension of the period of probation in light of his assent to it in the trial; court, she declared.
The case is People v. Gonzales, D077208.
Copyright 2020, Metropolitan News Company