Page 1
Ninth Circuit:
Woman Entitled to Pursue Claims Based on Firing by U.S. Over Trip to Russia for IVF
By a MetNews Staff Writer
The Ninth U.S. Circuit Court of Appeals has reinstated a lawsuit by a Russian emigrant, a medical doctor in her home country, who was fired by the U.S. Department of Veterans Affairs as a medical instrument technician because she returned to Russia in 2017, without obtaining a leave, in hopes of getting pregnant through in vitro fertilization, and having the embryo frozen and implanted in a surrogate mother.
As a citizen of Russia, plaintiff Tatyana Evgenievna Drevaleva was entitled to have the IVF procedure performed there at no cost.
A three-judge panel on Wednesday reversed the dismissal, without leave to amend, of Drevaleva's action to the extent of permitting her claims for gender discrimination and failure-to accommodate to proceed.
District Court Judge William Alsup of the Northern District of California on Dec. 3, 2018, had ordered dismissal of the pro se plaintiff's various causes of action, and on July 11, 2019, denied a motion for leave to amend.
Job Abandonment
In the 2019 order, he said with respect to gender discrimination:
"This order finds that the proposed amendment to plaintiff's gender and pregnancy discrimination claims is futile because plaintiff fails to provide factual allegations that support a plausible inference that she was terminated on account of her sex and desire to get pregnant. She went absent without leave. That is why she was terminated. She failed to obtain permission to leave her job. The reason she wanted to go to Russia was not the cause of her termination. Rather, it was her failure to obtain approval. There is no law that allows employees to decide on their own when they can abandon their jobs in order to undergo discretionary medical procedures."
As to the alleged failure of the employer to make a reasonable accommodation, Alsup wrote:
"At bottom, plaintiff's amended complaint fails to plausibly allege that she was denied reasonable accommodation. She concedes that she never requested paid leave, and does not sufficiently allege that she had enough sick leave to support her trip, nor that such a request was denied. Instead, plaintiff details two instances in which she was informed of the procedure for requesting leave without pay. Accordingly, the motion for leave to amend the disability discrimination and failure to accommodate claims is DENIED."
Ninth Circuit Opinion
In reversing the dismissal of Drevaleva's claim of gender discrimination, in violation of Title VII of the Civil Rights Act of 1964, the Ninth Circuit panel—on which Chief Judge Sidney Thomas, Judge William A. Fletcher, and Senior Judge A. Wallace Tashima sat—said:
"Drevaleva alleged that her supervisors fraudulently concealed available leave options when she requested time off to travel to Russia to continue her in vitro fertilization procedures in Russia, imposed additional requirements on her application for leave without pay that were inconsistent with the agency's policies, and failed to provide a full explanation of the reason for her leave to the medical staff responsible for approving the leave request. At this early stage in the proceedings, these allegations are sufficient to warrant proceeding to summary judgment."
The panel also said it was error to dismiss Drevaleva's claim that under the Rehabilitation Act, the employer was obliged to accommodate her disability, "reproductive functioning." It set forth:
"…Drevaleva alleged that she was denied leave for her alleged disability and terminated even though she made a proper request that was approved by her supervisor. Liberally construed, these allegations, in conjunction with those discussed above with respect to Drevaleva's Title VI claim, are sufficient to warrant proceeding to summary judgment."
The case is Drevaleva v. Department of Veterans Affairs, 19-16395.
In a memorandum opinion also filed on Wednesday, the same panel affirmed the dismissal, with prejudice, of Drevaleva's action against the United States based on the Veteran's Administration in 2018 withdrawing a tentative offer of employment to her after a background check revealed the termination of her employment in 2017 based on going off to Russia without being placed on leave. She had not disclosed that fact in applying.
The dismissal by Alsup of that action was on the ground that the Civil Service Reform Act of 1978 precludes a judicial review of such employment decisions.
The Ninth Circuit panel confirmed that "Drevaleva's action… is precluded by the Civil Service Reform Act."
That case is Drevaleva v. United States, 19-17286.
Drevaleva has represented herself in various other actions in federal courts. In an Aug. 19 petition for certiorari in the U.S. Supreme Court, contesting a requirement by the U.S. Court of Federal Claims that she pay a filing fee, she claims she "doesn't have money at all."
Asks for Donations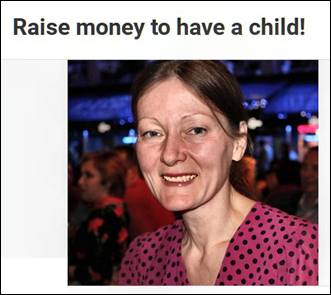 Above is a screenshot from Drevaleva's request for monetary contributions from members of the public.
On a fundraising webpage, Drevaleva is seeking donations—of which, so far, she has received none.
Her pitch begins:
"My name is Tatyana. I came to the USA from Russia, and I became a U.S. citizen in 2013.
"I am asking you for money to assist me to achieve my goal to have a child.
"I am 51 years old. I was married twice but both husbands didn't give me children. I dated some boyfriends but with the same result—those guys were unable to give me a child.
"I tried to perform in-utero inseminations and in-vitro fertilizations. Currently, I have an embryo which is frozen and stored at the clinic named "Avicenna" in Novosibirsk, Russia. However, I don't have money for the surrogate Mom.
"My profession in the United States is a Caregiver and an EKG/Monitor Technician performing stress tests and observing cardiac monitors in hospitals. However, for those professions the salary rates are pretty much low which doesn't allow me to afford another IVF attempt and to hire a surrogate Mom. At my age 51yo, I don't believe that I will be able to carry my precious embryo myself."
Copyright 2020, Metropolitan News Company