Page 1
Superior Court Judge Victor Chavez Dies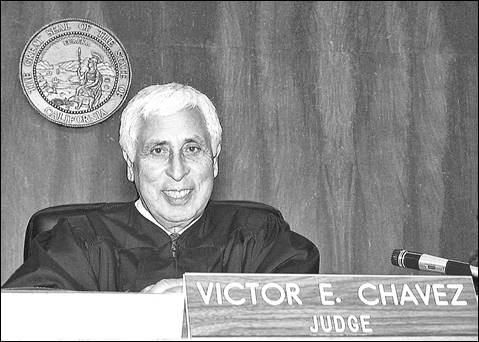 VICTOR E CHAVEZ
1930-2020
By a MetNews Staff Writer
Los Angeles Superior Court Judge Victor Chavez, a former presiding judge of his court, died Friday, at age 90.
News of his passing came shortly after this newspaper's deadline on Friday, precluding the assembling of words of tribute.
Chavez was appointed to the Superior Court by then-Gov George Deukmejian in 1990. He served as presiding judge in in 1999 and 2000, guiding the court during the challenging period of unification under which municipal courts were merged into his court.
He received his law degree from Loyola in 1959.
An avid horseback rider, he was a founder of the Cowboy Lawyers.
According to scant information available late Friday, he and his wife, psychologist Marlene Chavez, were visiting friends a few nights earlier when the friends' large dog jumped on him, excited to see him. He fell and broke his pelvis and elbow.
He died on the operating table from an embolism.
In addition to his wife, he is survived by four children—including Court of Appeal Justice Victoria Chavez—and 16 grandchildren.
Copyright 2020, Metropolitan News Company