Thursday, April 25, 2019
Page 1
Ninth Circuit:
Disney's Film 'Zootopia' Doesn't Infringe Plaintiff's 'Zootopia'
Three-Judge Panel Says Title Is the Same, but Works Aren't Substantially Similar
By a MetNews Staff Writer
Walt Disney Company and related entities are not liable to a corporation owned by a writer/producer who brought the studio his concept for a movie depicting an animal metropolis which he dubbed "Zootopia," the Ninth U.S. Court of Appeals held yesterday, declaring that Disney's animated film bearing that title was substantially different from what was presented to it.
The memorandum opinion by a three-judge panel affirms District Court Judge Michael W. Fitzgerald's Nov. 8, 2017 dismissal, without leave to amend, of a copyright infringement action brought by Esplanade, owned by Gary L. Goldman. Fitzgerald, of the Central District of California—had earlier dismissed the action, but with leave to amend.
According to the Aug. 3, 2017 first amended complaint, Disney "copied Gary L. Goldman's Zootopia."
Esplanade's Allegations
The pleading alleges:
"Twice—in 2000 and 2009—Goldman, on behalf of Esplanade, pitched Defendants his Zootopia franchise, which included a live-action component called Looney and an animated component called Zootopia. He provided a treatment, a synopsis, character descriptions, character illustrations, and other materials. He even provided a title for the franchise: 'Zootopia.' Instead of lawfully acquiring Instead of lawfully acquiring Goldman's work, Defendants said they were not interested in producing it and sent him on his way. Thereafter, consistent with their culture of unauthorized copying, Defendants copied Goldman's work. They copied Goldman's characters, dialogue, themes, settings, plot, sequences of events, and even his title, "Zootopia." They also copied Goldman's character designs and artwork…."
The complaint contains a comparison of Goldman's Zootopia characters and those drawn by Disney artists (appearing on Page 3).
Goldman's Zootopia contains the line: "If you want to be an elephant, you can be an elephant." The Disney film includes this advice, rendered by the main character: "You want to be an elephant when you grow up, you be an elephant."
Disney's Contentions
In moving for dismissal with prejudice, Disney, represented by attorney Daniel M. Petrocelli, said that what Goldman had presented was an idea for a "raunchy live-action movie" called "Looney," containing an "animated story-within-a-story" about a zootopia. He noted that the presentation included drawings of characters in the form of animals.
Disney insisted that neither the live-action or animated segment was "remotely similar" to the Disney film—which was released in 2016, grossed more than $1 billion at box offices, and won an Academy Award.
The motion asked that the court exercise supplemental jurisdiction over Esplanade's state-law claims, and dismiss them, as well as the federal claims, arguing:
"Absent dismissal, Plaintiff will re-file these claims, which would require a state court to undertake the same analysis as this Court and force Defendants to incur additional fees (without the benefit of the federal fee-shifting statute…."
District Court's Ruling
In dismissing the federal claims, without leave to amend, Fitzgerald cited the Ninth Circuit's 2006 opinion in Funky Films, Inc. v. Time Warner Entertainment Co., L.P. which set forth that the "substantial-similarity" test for copyright infringement "contains an extrinsic and intrinsic component," saying of the former element:
"The extrinsic test focuses on articulable similarities between the plot, themes, dialogue, mood, setting, pace, characters, and sequence of events in the two works. In applying the extrinsic test, this court compares, not the basic plot ideas for stories, but the actual concrete elements that make up the total sequence of events and the relationships between the major characters."
With respect to Esplanade's action, Fitzgerald said:
"The Court has now had the opportunity to review Goldman's work and compare it to Zootopia. Applying the 'extrinsic' portion of the Ninth Circuit's 'substantial similarity' test, the Court concludes that the plots, themes, dialogue, moods, settings, pace, characters, and sequence of events in Zootopia and Goldman's work are not sufficiently similar for Esplanade to proceed beyond the 'extrinsic' portion of the test. Esplanade is thus not entitled to have a jury determine whether the works are intrinsically similar."
Fitzgerald dismissed the state claims "without prejudice to Esplanades asserting those claims in Superior Court."
Ninth Circuit Opinion
In yesterday's opinion, a Ninth Circuit panel—composed of Circuit Judges Jay S. Bybee and Susan P. Graber, along with District Court Judge Janet Bond Arterton of the District of Connecticut, sitting by designation—agreed with Fitzgerald. It said that in considering the protectable elements set forth in Funky Films "plus the selection, combination, and arrangement of unprotectable elements, there is little similarity between the works."
The opinion observes:
"The titles are identical, but a title is unprotected as a matter of federal law….And the single common line of dialogue about becoming an elephant is insufficiently significant to constitute protected expression….Other than those attributes, the works share similarities only at a very high level of generality or in ways common to many works. Defendants may have copied the idea of a zoo Utopia, but their expression of that idea bears almost no resemblance to Plaintiff's expression. Plaintiff therefore has not shown unlawful appropriation."
The case is Esplanade Productions, Inc. v. The Walt Disney Company, 17-56775.
Esplanade on Feb. 13, 2018 filed an action against Disney in the Los Angeles Superior Court alleging breach of implied-in-fact contract, breach of confidentiality, and unfair competition. Los Angeles Superior Court Judge Dalia C. Lyon is presiding over the matter and trial is set for March 2, 2020.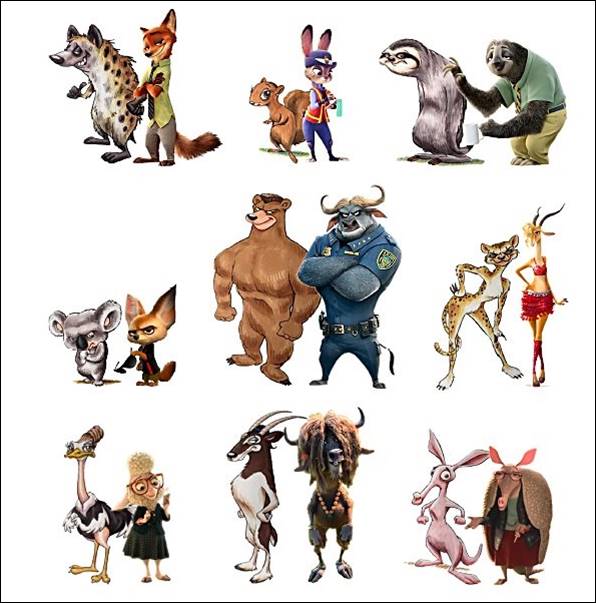 Above are drawings which plaintiff Esplanade claimed in a copyright infringement action shows copying by the Walt Disney Company from a proposal for a film presented to it by writer/producer Gary L. Goldman. Goldman's "Zootopia" characters are at left of characters appearing in the 2016 Disney film, "Zootopia."
Copyright 2019, Metropolitan News Company