Friday, July 26, 2019
Page 1
California Supreme Court:
Death Sentence Must Fall Because Prosecutor Accentuated Defendant's Neo-Nazi Beliefs
By a MetNews Staff Writer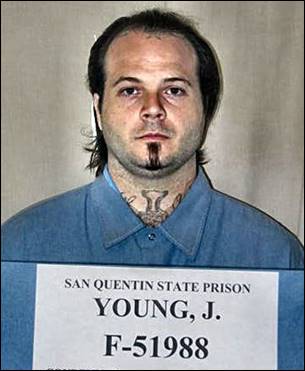 The California Supreme Court yesterday unanimously reversed the death sentence of Jeffrey Scott Young who fatally shot two persons in 1999. Justice Leondra R. Kruger said the jury that recommended the death sentence could have been swayed by the evidence and argument that highlighted his belief in white supremacy.
The California Supreme Court yesterday reversed a death sentence and ordered a resentencing based on the prosecutor accentuating the defendant's neo-Nazi views in argument before a jury and in her evidentiary presentation.
"[T]he prosecutor openly and repeatedly invited the jury to do precisely what the law does not allow: to weigh the offensive and reprehensible nature of defendant's abstract beliefs in determining whether to impose the death penalty," Justice Leondra R. Kruger said in an opinion for a unanimous court. "We cannot ignore the possibility that the jury accepted that invitation in returning its verdict on the penalty retrial."
Kruger wrote that there "was an evidentiary presentation and set of arguments that focused on the nature of defendant's offensive racist beliefs for the very sake of highlighting their offensiveness, rather than what they showed about defendant's propensity for violence or any other matter relevant to the jury's penalty judgment," adding:
"With the trial court's permission, the prosecution detailed, at some length, the controversial tenets of defendant's religious views and racial ideology."
The jury that in 2005 found white supremacist Jeffrey Scott Young guilty of a double murder and other offenses was deadlocked 11-1 in favor of recommending a death sentence. Another jury in 2006 did ask the judge to impose such a sentence, and San Diego Superior Court Judge John M. Thompson obliged.
An expert witness on skinheads testified that the number "14" refers to a 14-word white supremacist manta; "88" means "Heil Hitler"' and a Celtic cross is the "most common white supremacist and neo-Nazi symbol." In argument, San Diego Deputy District Attorney Elizabeth McClutchey said:
"How does he talk to his grandmother in these letters? Well, he signs off with the 'love, Jeff, 14,' celtic cross, '88.' We know what that is. He's writing to his grandma, and he's putting these offensive racial symbols in his letters to her.
"Is he a good family man? Good grandson? This is what he's doing. He's saying 'heil Hitler' to his grandma."
"Odinism" was defined by the expert as the religion of the skinheads. McClutchey remarked:
"You heard from his own mother that he is raising his son in a racist household, that he has not abandoned these beliefs.
"It was of some interest that he even named his child Odin. You heard from the mother that the kids are being raised in a home where a Nazi flag is being flown."
She also said:
"He espouses all kinds of hateful views on his own body. He continues to add to those. Many of these tattoos came after September of 1999. He is a walking billboard of hate."
Jury Instruction
Thompson—who allowed evidence of Young's bad character to be introduced after the defendant's grandmother testified as to his good character—instructed jurors:
"Certain evidence was admitted during the course of the trial with regard to the defendant's beliefs, allegiance, and tattoos. This was done in rebuttal to the presentation by the defense of evidence of the defendant's good character. Such beliefs, allegiance, and tattoos are constitutionally protected by the First Amendment of the United States Constitution. Such evidence may be considered by you only for the limited purpose of evaluating the credibility or strength of witnesses who were asked about the defendant's character. Such evidence cannot be considered by you as an aggravating circumstance."
That didn't suffice, Kruger said.
Limited Purpose
She wrote:
"The instruction did inform the jury that defendant's beliefs, allegiance, and tattoos are entitled to First Amendment protection. But it did not inform the jury that it was permitted to consider the evidence for certain purposes (for example, to evaluate defendant's violent propensities) and not others (to conclude defendant has bad character because he holds morally reprehensible beliefs). This omission is unsurprising, given the trial court's ruling that the prosecution was entitled to argue that defendant's White supremacist beliefs in themselves undermined his claim to be 'a good person'—which is precisely what the prosecution argued to the jury in its closing. There was nothing, in short, that would have alerted the jury that it was forbidden from considering evidence of defendant's beliefs for this very purpose,
"Because the First Amendment prohibits the introduction of this evidence for the purpose for which it was used at the penalty retrial, we find error. And because we cannot say the error was harmless beyond a reasonable doubt, we must reverse the penalty judgment."
Conviction Affirmed
Any error in connection with the conviction, she found, was harmless in light of the strength of the evidence of guilt.
Young in 1999 fatally shot two persons in a parking lot near San Diego International Airport. According to evidence, he then wore red shoe laces which, according to skinhead tradition, signifies accomplishment.
Yesterday's reversal of the sentence comes at a time when Gov. Gavin Newsom has declared a moratorium on executions while he is in office.
The case is People v. Young, 2019 S.O.S. 3552.
Copyright 2019, Metropolitan News Company