Wednesday, August 21, 2019
Page 1
Non-Beneficiary Had Standing to Contest Widow's Probate Petition, C.A. Holds
It Suffices, Opinion Says, That Objector's Father, in His Late 90s, Has an Interest, and Objector Might Inherit From Him
By a MetNews Staff Writer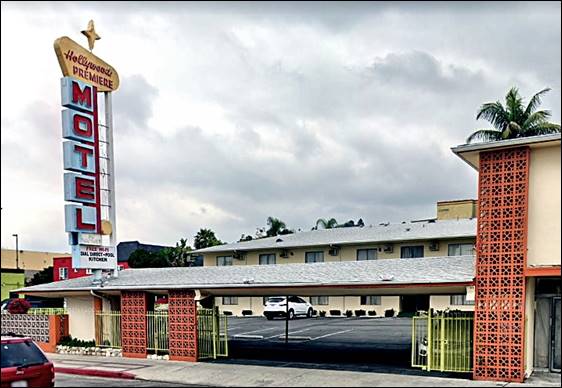 At issue in a case decided by the Court of Appeal is ownership of the Hollywood Premiere Motel on Hollywood Boulevard. The opinion, by Presiding Justice Nora Manella of this district's Div. Four, affirms a Superior Court determination that the decedent's father has a half interest in it, rejecting the widow's contention that although it was purchased by her husband before marriage, she was, at the time, a putative spouse. The appeals court held that the decedent's brother had standing to assert the father's interest. 
A man who had no immediate interest in an estate nonetheless had standing to contest a spousal property petition filed by the decedent's widow because his father, who is in his late 90s, did have a possible interest and the objector had the prospect of inheriting from him, the Court of Appeal for this district has held in a case featuring an uncommon fact situation.
Presiding Justice Nora Manella of Div. Four wrote the opinion which was filed Monday and not certified for publication, although the key issue was apparently one of first impression given that no cases were cited as authority for according the objector standing. The opinion affirms an order by Los Angeles Superior Court Judge Clifford L. Klein.
The decedent was Yang Hua Xi, who died intestate in 2011. He and Buwei Shi Xi were wed in 1988.
Marriage Proclaimed
They became engaged to be married while in their native China in 1982; Yang Xi came to the United States in 1983 and Buwei Xi arrived the following year; he picked her up at the airport and took her to a motel where he lived and worked, put a ring on her finger, and announced they were married, assuring her he had taken the steps required by law; according to her testimony, she believed him. Their wedding ceremony took place after an immigration attorney advised the cohabitants of the legal requirements for a marriage.
Buwei Xi made claim to the Hollywood Premiere Motel—appraised in 2012 as being worth $3.3 million—as a community asset. Yang Xi had purchased the motel, located on Hollywood Boulevard east of Western Avenue, in 1985, listing it in his name, alone, identifying himself as "a single man."
The widow asserted that from 1984-88, she was the decedent's putative wife.
Decedent's Father
The objector was Gong Hua Xi, brother of the decedent, who disputed his sister-in-law's status in 1985 as having been that of a putative spouse. The parties agreed that if her claim to that status were rejected, the widow would hold a half interest in the motel and, under intestate succession, Yu Lin Xi, the decedent's father, who remains in China and is a widower, also would be a half-owner.
A March 6, 2017 joint trial statement listed his age at the time to be 95.
Klein rejected the claim that the motel is a community asset.
In a post-trial brief, the widow challenged her brother-in-law's standing. Klein responded by appointing the objector as guardian ad litem for his father.
'Interested Person'
An issue on appeal was whether the decedent's brother had standing as an "interested person," entitled, under Probate Code §1043(a), to appear. Sec. 48 of that code provides that an "interested person" includes "[a]n heir, devisee, child, spouse, creditor, beneficiary, and any other person having a property right in or claim against a trust estate or the estate of a decedent which may be affected by the proceeding."
Manella wrote:
"We find no abuse of discretion in the court's implicit finding that Gong Hua was an 'interested person' within the meaning of Probate Code section 48. As Buwei acknowledged, Gong Hua had a contingent interest in Yang Hua's estate which 'may' have been affected by the proceeding. As she argued in her posttrial brief, if Buwei were found not to be a putative spouse, 50 percent of the Motel 'will go to Yanghua's 90+ year-old and infirm father...and, upon his death, to Yanghua's siblings' (of which Gong Hua was one). Gong Hua's interest was thus both evident and acknowledged."
The presiding justice went on to say:
"Here, Gong Hua had a clear interest that might have been impaired, defeated, or benefited by the resolution of Buwei's Petition. As Buwei repeatedly recognized, Gong Hua stood to inherit at least part of Father's portion of the Motel, should the Petition be denied."
Probate Code Provisions
The opinion cites Probate Code §6401(c)(2)(B) and §6402(b) of that code.
The former provision says that a surviving spouse will inherit, under intestate succession, one half of the deceased spouse's separate property and that the other half will go, if the couple had no children, to "a parent or parents or their issue or the issue of either of them." The latter section provides that in that circumstance, half of the separate property will be awarded "to the decedent's parent or parents equally."
Neither section declares that if half of a decedent's separate property is awarded a parent or parents, that the property will necessarily be passed on to the siblings of the decedent upon the death of the parents. Manella's opinion does not point to evidence that Gong Hua Xi is a named beneficiary of his father's will or trust.
'Incapacitated Person'
Aside from the objector having been an "interested person," Manella said, Klein properly accorded him status as his father's guardian ad litem. She pointed to Probate Code §1003 which authorizes such an appointment of someone to represent the interests of an "incapacitated person."
The jurist said:
"In the parties' Joint Trial Statement, Buwei acknowledged that Father was 'age 95...resides in China and due to his age is unable to travel.' Moreover, in Buwei's posttrial brief, she referred to Father as '90+ year-old and infirm....' The trial court reasonably could have inferred from these admissions that Father was an incapacitated person."
Manella did not proceed to explain how Klein's posttrial designation of Gong Hua Xi as a guardian ad litem afforded him that status retroactively, but did set forth in a footnote:
"Even had we not found that Gong Hua had standing both as an 'interested person' and as Father's guardian ad litem, we would find Buwei estopped from challenging Gong Hua's standing, because until her posttrial brief, she treated Gong Hua as a proper party, entering into a stipulation with him, representing to the trial court that he was the 'family representative,' and insisting he was a 'party witness.' "
Manella said the widow's evidence that she believed in 1985 that she was married "was both contradicted and impeached, and left room for a judicial determination that it was insufficient to demonstrate she was a putative spouse."
The case is Estate of Xi, B286213.
Warren O. Hodges Jr of the Pasadena firm of Ritt, Tai, Thvedt & Hodges and. West Los Angeles attorney Kathryn M. Stanton represented the widow. James M. Lee, Alexander H. Hu, Timothy S. Fox and Blake Guerrero of LTL Attorneys located in downtown Los Angeles.
Copyright 2019, Metropolitan News Company