Monday, September 23, 2019
Page 1
Court of Appeal Denies Habeas Relief to Van Houten
Majority: 'Some Evidence' Supports Then-Gov. Jerry Brown's Veto of 2017 Parole
Dissent: No Evidence Suggests Killer, 50 Years Ago, Would Be Threat if Released
By a MetNews Staff Writer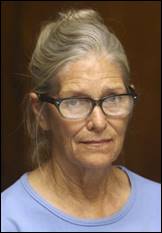 —AP
This 2017 file photo shows Leslie Van Houten at her parole hearing at the California Institution for Women in Corona.
The Court of Appeal for this district on Friday, in a 2-1 decision, denied a writ of habeas corpus to Leslie Van Houten, a Manson cult member who took part in the 1969 slaying of Rosemary and Leno La Bianca, and is now contesting then-Gov. Jerry Brown's reversal in 2018 of her 2017 parole.
Justice Helen Bendix wrote the majority opinion for Div. One, in which Presiding Justice Frances Rothschild joined. Justice Victoria Chaney dissented.
Van Houten, now 70, stabbed Rosemary La Bianca between 14 and 16 times in the bedroom of the couple's Los Feliz home while her husband was being repeatedly bludgeoned in another room.
The Board of Parole Hearings has granted her a parole three times, with Brown vetoing two of the grants, and Gov. Gavin Newsom on June 3 countermanding the third grant.
Brown's Reasons
Brown's second reversal—on Jan. 19, 2018—was the one at issue before the appeals court. He acknowledged her "laudable strides in self-improvement in prison" and "evidence that she had been the victim of intimate partner battering at the hands of [cult leader Charles] Manson" and other circumstances in favor of a parole, but said these considerations are "outweighed by negative factors that demonstrate she remains unsuitable for parole."
Alluding to an Oct. 6, 2016 decision by Los Angeles Superior Court Judge William C. Ryan denying habeas relief (following the first veto of parole), Brown declared:
"As the Los Angeles Superior Court found last year, Van Houten's recent statements, 'specifically her inability to discuss her role in the Manson Family and LaBianca murders without imputing some responsibility to her drug use and her danger of falling prey to the influence of other people because of her dependent personality,' have demonstrated a lack of insight into her crimes."
He remarked:
"[E]ven today, almost five decades later, Van Houten has not wholly accepted responsibility for her role in the violent and brutal deaths of Mr. and Mrs. LaBianca."
Again last year, Ryan denied a petition for a writ of habeas corpus—stemming from Brown's second veto of parole—and an original proceeding was brought in the Court of Appeal.
Bendix's Opinion
Bendix recited, in an opinion that was not certified for publication, that the governor's decision may not be disturbed if there is "some evidence" in support of it. She wrote:
"We conclude that the deferential standard governing our review of Van Houten's petition is dispositive: The Governor's determination that Van Houten has not taken full responsibility for her role in the crimes, and continues to pose a risk to the public, is supported by some evidence in the record. Accordingly, we deny the petition."
Bendix went on to say:
"As the Governor recognized, Van Houten has shown some willingness to accept responsibility. Her inability, however, to discuss that responsibility except through the lens of Manson's influence reasonably could suggest to the Governor that Van Houten has not accepted full moral culpability for her actions, that is, that she considers herself less blameworthy because she committed her crimes at Manson's behest. This in turn creates concern that Van Houten presents a current danger, because in emphasizing Manson's influence, she minimizes the fact that she chose, indeed enthusiastically, to murder the La Biancas. Without fully understanding her pivotal role in these crimes, the Governor could fairly conclude that she still presented a danger if she rejoined society."
Chaney's Dissent
Chaney said in her dissent:
"[T]here is not a modicum of evidence to support the conclusion that, if released, Van Houten would pose an unreasonable risk of danger to society….Nor is there a rational nexus between the handful of statements the Governor's decision cites, excerpted from the 310-page parole hearing transcript and isolated from their context, and any current danger Van Houten poses to society. To the contrary, the evidence supports the Board's conclusion that Van Houten is remorseful, understands her crimes and what led her to commit them, and is no longer dangerous. Because the record contains no evidence that rationally supports the Governor's decision reversing the Board's grant of parole, I would hold that the reversal violated Van Houten's due process rights and would grant her petition and reinstate the Board's September 6, 2017 grant of parole."
The jurist pointed to various statement evidencing that Van Houten does take responsibility for her deeds.
'Catch 22'
She commented:
"Van Houten's contention that the Governor's decision has placed her in a Catch-22 has merit. Van Houten explains that if she 'fails to recognize the true facts [of] how Manson controlled the cult, she has no insight and remains a risk of danger because someone else might control her upon release. If she does testify to that control, she shifts some blame to Manson and does not take full responsibility and is denied parole for that reason.'
"I agree."
Chaney faulted Brown for failing to take into account Van Houten's youth at the time of her offenses and her senior citizen status now.
De Facto LWOP
She also made this point:
"Van Houten's crimes were indisputably heinous. Yet even heinous crimes are subject to the rules directing that parole shall be granted unless there is lawful reason to the contrary….The Governor's repeated reversals of the Board based on facts and circumstances Van Houten cannot change have effectively converted Van Houten's seven-years-to-life sentence to life without parole. This violates due process."
Bendix's majority opinion contains this rejoinder:
"As for the contention that we or the Governor have taken Van Houten's statements out of context or placed her in a Catch—22…, we have reviewed the record in full, and while arguably more than one inference may be drawn from Van Houten's statements and the context in which they were made, we respectfully disagree that the inferences drawn by the Governor were unreasonable.
The case is In re Van Houten, B291024.
Copyright 2019, Metropolitan News Company