Wednesday, April 24, 2019
Page 1
Ninth Circuit:
UPS's 'Next Day Air' Service Does Not Connote Air Transport
Panel Says No Cause of Action Exists Based on Company's Use of Trucks
By a MetNews Staff Writer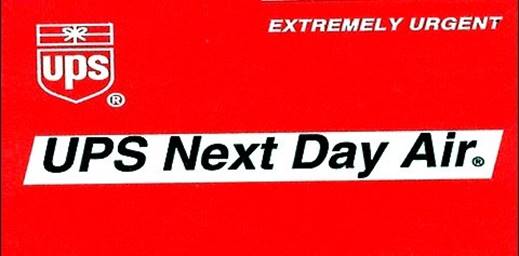 United Parcel Service, in providing a "Next Day Air" service, does not represent that the package of a customer paying for that high-priced service will actually be shipped by air, the Ninth U.S. Circuit Court of Appeals said yesterday.
No liability attaches to United Parcel Service in charging customers extra for "Next Day Air" when packages are actually transported by truck, the Ninth U.S. Circuit Court of Appeals held yesterday in a pair of memorandum decisions.
The opinions in both cases declare that "the word 'Air' was not an affirmative representation that UPS would use a particular mode of transportation."
One of the two decisions comes in Pocino Foods Company v. UPS, 16-55918. That action, brought by companies in three states, including California, concerns both UPS's "Next Day Air" and "2nd Day Air" services. The two plaintiffs in Flores v. UPS, 16-56021, Lisa Flores and Mary Lee, sent all of their packages by "Next Day Air."
The opinion affirms the action of District Court Judge George Wu of the Central District of California in dismissing the claims in both cases without leave to amend.
Breach of Contract
The panel—composed of Circuit Judges Jay S. Bybee and Susan P. Graber, joined by District Court Judge Janet Bond Arterton of the District of Connecticut, sitting by designation—in both cases rejected breach-of-contract claims. The plaintiffs in Pocino Foods had shipping contracts with UPS while the opinion in Flores indicates uncertainty as to whether the documents attached to the complaint constituted a contract, but for sake of discussion, assumed they did.
In Flores, the judges said:
"Although plaintiffs contend that the word 'Air' in UPS's trademarked service names was a contractual promise by UPS to provide airplane transportation, plaintiffs' subjective understanding of this single word, isolated from its context as part of a service name, cannot plausibly be read to 'constitute[] an enforceable promise' by UPS, especially in light of other provisions that do 'contain explicit promissory language.' "
Contractual Language
In Pocino Foods, the opinion points to language in shipping contracts that "UPS reserves the right in its sole discretion to use any mode of transportation whatsoever to provide the services selected by the shipper." It declares that the plaintiffs fail in seeking "to inject ambiguity into these clear contract provisions" because they "cannot override the clear contract terms."
The opinion says Wu was correct in dismissing claims of the plaintiffs in Pocino that UPS committed a contractual breach by imposing an "aviation fuel surcharge," rather than one based on the cost of diesel fuel. The judges reasoned that "the contracts plainly link the fuel surcharges to UPS's service levels, not to particular modes of transportation."
Charging for air transport and for airplane fuel while UPS shipped by trucks breached the implied covenant of good faith and fair dealing, the plaintiffs in both cases maintained. The court said in Flores that "plaintiffs' purported contract documents do not specify a particular mode of transportation or index for calculating fuel surcharges."
It responded in Pocino that "the implied covenant cannot 'vary express terms' of the contract" which vested discretion in UPS as to the mode of transport.
RICO Claims
Flores and Lee, as well as one of the plaintiffs in Pocino Foods, Arapahoe Hyundai, LLC, alleged violations of the Racketeer Influenced and Corrupt Organizations Act ("RICO") in the form of mail and wire fraud. The opinions say that "a scheme to defraud" was not adequately pled.
In support of the RICO claims, the plaintiffs in Flores and Arapahoe argued that use of the word "Air" was a "half-truth" because this deludes the user into thinking "that they would receive something beyond Ground service" when they would not. Both opinions say that the argument "conflates UPS's service levels with modes of transportation," explaining that the fact that " 'Next Day Air' packages were transported by truck does not mean" that the customer "received 'Ground' service."
The plaintiffs in Flores also accused UPS of "concealment" for not disclosing that their packages would be carried by trucks. The opinion quotes from the Ninth Circuit's 2015 decision in Eller v. EquiTrust Life Ins. Co. which said:
"Absent an independent duty, such as a fiduciary duty or an explicit statutory duty, failure to disclose cannot be the basis of a RICO fraudulent scheme."
Yesterday's opinion sets forth:
"And here, plaintiffs do not allege that UPS had an independent duty to disclose the particular mode of transportation that would be used to transport their packages."
Oral Argument
Stephen C. Neal of Cooley LLP, representing the plaintiffs, told the judges at oral argument in Pasadena on April 9 that if where customers opt for "Next Day Air" in sending packages to a destination within 1,000 miles, "those customers pay two to three times as much as people who are getting exactly the same service" by choosing "Ground" service.
Graber remarked:
"Well, it isn't exactly the same service because they have different guarantees of delivery times."
She said UPS refers to "Ground," "2nd Day Air" and "Next Day Air" but could just as well have chosen the terms "Fast," "Faster" and "Fastest," or "A," "B" and "C."
The judge told Neal:
"It seems to me that you're really just hanging your hat on the title that they've given to this service and so I just have a lot of difficulty with that."
Pasadena to L.A.
Graber said that if she wanted to get a package from Pasadena to Los Angeles "as fast as possible," she might choose the most expensive option," but added:
"It would never occur to me that even if it's called "Air," that someone's going to fly it from here to Los Angeles."
Neal said it was not merely a matter of "Air" being in the title of the service; it was also used throughout the shipping contracts. Bybee made note that the contracts afford UPS the option of choosing the mode of transport.
The lawyer said of the position taken by UPS and the ruling by Wu:
"Their view is that 'air' is unambiguous. It doesn't mean air."
If he said he had come to the hearing by "air," he contended, it would readily understood that he came by airplane.
Copyright 2019, Metropolitan News Company