Wednesday, August 28, 2019
Page 1
Court of Appeal:
Sanction Under CCP §128.5 Requires Showing of Subjective Bad Faith
Decision Declaring Objective Standard to Pertain Was Legislatively Abrogated, Opinion Says
By a MetNews Staff Writer
The First District Court of Appeal, in upholding a $2,000 sanction against a lawyer, has declared that it is certifying its opinion for publication to underscore that the Legislature has abrogated a 2016 decision by another panel which said that imposition of a monetary penalty under Code of Civil Procedure §128.5 requires a finding that conduct was objectively unreasonable.
Justice Kathleen M. Banke of the First District's Div. One said in an opinion filed Monday:
"We publish this opinion to make explicit that no vestige remains of the holdings in San Diegans for Open Government v. City of San Diego…concerning the requirements of section 128.5. Among other things, San Diegans held that an objective standard applies when determining whether a party's or an attorney's conduct is sanctionable under section 128.5, as it does under section 128.7….[S]ection 128.5 has since been amended to specifically overrule San Diegans on this point.
"The law concerning the kind of conduct sanctionable under sections 128.5 and 128.7 has, thus, largely returned to its pre-San Diegans state—with a more stringent standard requiring subjective bad faith applicable to section 128.5, and a lesser standard, requiring only objective bad faith, applicable to section 128.7."
Enacted, Discarded, Revived
Sec. 128.5 was enacted in 1981; under a 1994 sunset provision, its application was restricted cases filed on or before Dec. 31 of that year; it was supplanted by §128.7 which includes a "safe harbor" provision giving an attorney a chance to correct what was wrong; §128.5 was resurrected by 2014 legislation effective Jan. 1, 2015, to exist conterminously with §128.7.
The decision in San Diegans came on June 7, 2016. Justice Alex C. McDonald (now deceased) wrote the opinion, in which he said:
"Section 128.5 is…silent on whether an objective or subjective standard applies. The question presented is whether the Legislature intended section 128.5 to be interpreted similarly to former section 128.5. Our review of the legislative history shows one purpose of section 128.5 was to eliminate the subjective standard and impose an objective standard."
Urgency Legislation
Urgency legislation was enacted on Aug. 7, 2017 to override San Diegans. Sec. 128.5 now provides:
"A trial court may order a party, the party's attorney, or both, to pay the reasonable expenses, including attorney's fees, incurred by another party as a result of actions or tactics, made in bad faith, that are frivolous or solely intended to cause unnecessary delay."
Banke noted that legislative analysis in the Assembly said:
"[T]his bill makes a technical correction to clarify that sanctions...under Section 128.5 must be made in subjective bad faith—like it has always been interpreted."
Placer County Attorney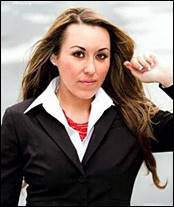 MICHELLE TRIGGER
Sanctioned Attorney
Banke wrote that the evidence does show subjective bad faith on the part of appellant Michelle Trigger, a Placer County attorney.
Both she and opposing counsel in a marital dissolution case contacted the clerk in an Alameda Superior Court courtroom on Jan. 27, 2017, announcing readiness for trial on the scheduled date of Feb. 7, and asking to be excused from a Jan. 30 readiness conference. Trigger advised opposing counsel on Feb. 6 that she was stuck in a criminal trial and asked for agreement to a continuance, which was denied; she did not show up on Feb. 7; instead, a lawyer made an appearance for her, seeking a continuance.
Then-Superior Court Judge Alice Vilardi (now retired) continued the trial for three days. It took place on Feb. 10 and when it concluded, she granted a motion by the other side for imposition of sanctions.
Vilardi not only sanctioned Trigger—in the amount of $2,000—but ordered her client, Hamid Taeb, to pay $1,575.
Misses the Point
"Trigger maintains, as she did in her objections to the trial court's proposed statement of decision, that she was sanctioned because of circumstances beyond her control, i.e., that she found herself caught in a trial running longer than anticipated, a circumstance that could befall any lawyer," Banke wrote. "What Trigger has continually failed to acknowledge, however, is that the trial court did not impose sanctions because Trigger unexpectedly found herself still in trial in another case."
She continued:
"Rather, the court imposed sanctions against Trigger for actions within her control. Trigger affirmatively misrepresented to the court she was ready to proceed on the scheduled trial date and asked to be excused from the pretrial conference, when, in fact, she knew her client in the Sacramento case had unexpectedly decided to testify, knew that the Sacramento trial had not concluded when she had anticipated it would, and knew it was exceedingly unlikely she would be able to appear on the scheduled trial date in the instant case. And even though 10 days remained prior to trial, she thereafter made no attempt to apprise the court of her looming trial conflict and correct what she had previously represented. Not until the afternoon before trial in the instant case did she even tell opposing counsel she was still in trial in Sacramento. And she made no effort to let the trial court know."
'No Difficulty'
Banke went on to say:
"Given the established case law, we have no difficulty concluding Trigger's conduct can support sanctions under section 128.5. Her misrepresentation to the court about her readiness for trial, and her failure to correct that misrepresentation at any point during the 10 days before trial, were, by any measure, unjustifiable derelictions in her obligations to the court, as well as to opposing counsel, and thus constituted "frivolous" conduct. This record is also sufficient to support a finding that Trigger engaged in this misconduct for an improper motive—to manipulate the court and to manipulate and harass the opposing party—and thus acted in subjective bad faith."
Div. Seven of this district's Court of Appeal on Jan. 31, 2018, held in Nutrition Distribution, LLC v. Southern SARMs, Inc. that under the 2017 urgency legislation, §128.5 now incorporates §128.7's safe harbor provision. Trigger protested that she was not afforded that benefit.
"[G]iven the nature of the conduct on which the sanctions were based—Trigger's misrepresentation to the court that she was ready to proceed to trial, when she was, in fact, not ready, her failure to ever correct the court's misapprehension as to her readiness, and her delay in seeking a continuance until after the case was called for trial—the "safe harbor" provisions are not applicable," Banke responded.
The jurist observed that the client had no culpability, relieving him of the sanction.
Trigger Comments
Trigger said yesterday:
"I am very saddened by the court's decision. I feel it shows a misunderstanding of what it is like to be a trial attorney, in court daily, doing your best to schedule matters that are often unpredictable. It is much easier to criticize an attorney's decisions after-the-fact than it is to be on the ground actually making those decisions as things are unfolding.
"I have also learned a valuable lesson in that you should place absolutely everything in writing, as the record is the only thing the court will review. I would encourage other attorneys to never rely upon oral assurances of an opposing counsel, unless you explicitly trust them. Do not assume they will extend you the same courtesies that you extend to them.
"This has proven to be a very controversial and timely issue, which I feel has the possibility of affecting many other trial lawyers. The decision whether we will appeal further has not been made yet."
The case is Marriage of Sahafzadeh-Taeb & Taeb, 2019 S.O.S. 2201.
Copyright 2019, Metropolitan News Company