Tuesday, September 10, 2019
Page 1
Ninth Circuit:
Daughter-in-Law Has No Control Over John Steinbeck's Works
Defendants' Liability for Compensatory Damages of $5.25 Million Affirmed but Punitive Damages Pared by $5.9 Million; Exasperation Expressed Over Efforts to Relitigate Decided Matters
By a MetNews Staff Writer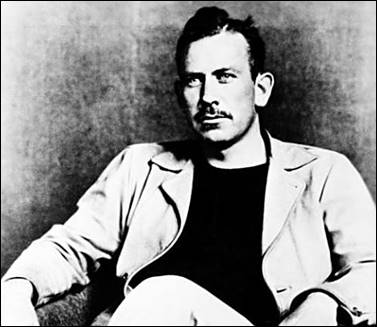 —AP
This undated file photo shows American author John Steinbeck, winner of the 1940 Pulitzer Prize for his novel "The Grapes of Wrath." Steinbeck died in 1968.
The estate of John Steinbeck's widow will be able to hold onto a $5.25 million award of compensatory damages against the author's daughter-in-law and others, under a decision yesterday by the Ninth U.S. Circuit Court of Appeals, but is stripped of a $5.9 million chunk of a $7.9 million punitive-damage award.
Circuit Judge Richard C. Tallman wrote the opinion, in which he expressed exasperation over the prolonged litigation in which Steinbeck's son Thomas Steinbeck, and Blake Smyle, granddaughter by a deceased son, unremittingly sought to establish rights to their progenitor's later literary works in contravention of a 1983 settlement agreement. The battle was carried on by Thomas Steinbeck's widow, Gail Knight Steinbeck.
Under the agreement—which settled a 1981 lawsuit brought by the sons against their stepmother, Elaine Steinbeck—the sons each had a one-third interest in royalties from later works, but the widow had control over all of the works.
Litigation resumed in 2004, with decisions adverse to the plaintiffs being rendered by the District Court for the Southern District of New York and affirmed by the Second U.S. Circuit Court of Appeals. An action filed in the District Court for the Central District of California was dismissed in 2015 by Judge Terry J. Hatter Jr. on the ground of collateral estoppel, with the Ninth Circuit affirming in 2017.
Countersuit Brought
In 2014, Waverly Kaffaga, as executrix of the estate of John Steinbeck's widow, Elaine Steinbeck, brought a countersuit, claiming that Hollywood producers broke off negotiations for rights to dramatize works such as "The Grapes of Wrath" and "East of Eden" based on disputes over ownership of the rights.
Hatter granted summary judgment on Kaffaga's breach of contract and slander of title claims and barred some defenses to the claim for tortious interference with economic advantage. The jury found in favor of Kaffaga.
The defendants were Gail Knight Steinbeck, the Estate of Thomas Steinbeck (who died in 2016), and the Palladin Group, Inc. (which Gail and Thomas Steinbeck formed, and which she owns).
Tallman's Opinion
In an opinion sprinkled with quotes from John Steinbeck, Tallman wrote:
"[W]e affirm the orders granting summary judgment and striking Defendants' defenses to tortious interference on grounds of collateral estoppel. It follows that the district court's decisions to exclude evidence related to Defendants' different understanding of the 1983 Agreement or the validity of prior court decisions were not abuses of the trial court's discretion. In any event, the record indicates that the district court allowed Gail to testify about her understanding of the 1983 Agreement and the Copyright Act at trial.
"Defendants must now stop attempting to relitigate the validity and enforceability of the 1983 Agreement, including whether it is an 'agreement to the contrary,' and their understanding of the 1983 Agreement and the plethora of court decisions interpreting it. They must also stop representing to the marketplace that they have any intellectual property rights or control over John Steinbeck's works. The 1983 Agreement vests those control rights exclusively in Kaffaga, as successor to her mother Elaine, and is enforceable according to its terms. Various federal courts, including this one, have repeatedly affirmed Elaine and Kaffaga's exclusive control. This has to end. We cannot say it any clearer [sic]."
Punitive Damages
In assessing $7.9 million in punitive damages against the defendants, the jury found Gail Knight Steinbeck personally liable for $5.9 million. While "the record contains overwhelming evidence of Gail and Thom's malice to support the punitive damages award," and reflects her receipt of around $120,000 to $200,000 in royalties, there was a lack of evidence as to Gail Steinbeck's assets, requiring the the award to be stricken, Tallman said.
"This dispute is indeed over," the jurist declared. Then, reflecting that it might not be, said:
"This panel will retain jurisdiction over any subsequent appeals."
He suggested:
"The district court may wish to reconsider Kaffaga's request for an injunction to put an end to this recidivist litigation."
The case is Kaffaga v. Estate of Thomas Steinbeck, 18-55336.
Copyright 2019, Metropolitan News Company