Friday, February 1, 2019
Page 3
Ninth Circuit
Soda Pop Ordinance Breaches Commercial-Speech Rights
En Banc Decision Declares Preliminary Injunction Should Have Been Issued Blocking San Francisco Requirement That Ads Warn of Health Dangers From Added Sugar
By a MetNews Staff Writer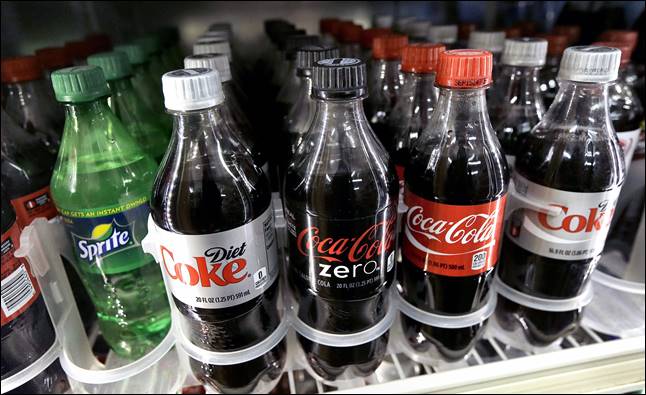 In this 2014 file photo, soft drinks are displayed for sale at a market in San Francisco. The Ninth U.S. Circuit Court of Appeals yesterday blocked a San Francisco ordinance requiring health warnings on advertisements for soda and other sugary drinks in a victory for beverage and retail groups that sued to block the ordinance. It said in a unanimous decision that the law violates constitutionally-protected commercial speech.
The Ninth U.S. Circuit Court of Appeals, in an en banc opinion, yesterday reversed the denial of a preliminary injunction sought by trade associations to block a San Francisco ordinance mandating a health warning on advertisements for soda and other sugary drinks.
"Because Plaintiffs have a colorable First Amendment claim, they have demonstrated that they likely will suffer irreparable harm if the Ordinance takes effect," the opinion by Circuit Judge Susan Graber declares.
It says the plaintiffs—the American Beverage Association and others—have shown a likelihood of prevailing on the merits" and that "other factors" weigh in favor of granting relief.
Text of Warning
The 2015 ordinance—which has been on hold pending appellate review—requires this warning on advertisements for drinks with added sugar:
"WARNING: Drinking beverages with added sugar(s) contributes to obesity, diabetes, and tooth decay. This is a message from the City and County of San Francisco."
The ordinance provides that the warning, in a black box, comprise at least 20 percent of the ad's space.
The requirements do not apply to packaging, television commercials, or menus.
Graber noted than an expert testified that the objective of the ordinance could be achieved with a warning that takes up only 10 percent of the space. She specified:
"To be clear, we do not hold that a warning occupying 10% of product labels or advertisements necessarily is valid, nor do we hold that a warning occupying more than 10% of product labels or advertisements necessarily is invalid….Rather, we hold only that, on this record, Defendant has not carried its burden lo demonstrate that the Ordinance's requirement is not 'unjustified or unduly burdensome.'…The required warnings therefore offend Plaintiffs' First Amendment rights by chilling protected speech."
Three-Judge Panel
A three-judge panel in 2017 likewise held that that District Court Judge Edward M. Chen of the Northern District of California abused his discretion in denying the motion for a preliminary injunction. (He did grant a motion for an injunction pending appeal.)
"[T]he warning requirement in this case unduly burdens and chills protected commercial speech," Circuit Judge Sandra Ikuta wrote.
She noted that "the black box warning overwhelms other visual elements in the advertisement" and that this "is analogous to other requirements that courts have struck down as imposing an undue burden on commercial speech."
In an opinion broader than Graber's, she said "the factual accuracy of the warning is, at a minimum, controversial, the warning "is required exclusively on advertisements for sugar-sweetened beverages, and not on advertisements for other products with equal or greater amounts of added sugars and calories" and "the warning requires the Associations to convey San Francisco's disputed policy views."
By vote of the judges in January of last year, rehearing before the full court was granted. All 11 participating judges joined in yesterday's opinion.
Ikuta and Circuit Judges Morgan Christen and Jacqueline H. Nguyen wrote concurring opinions.
The case is American Beverage Association v. City and County of San Francisco, 16-16073.
Copyright 2019, Metropolitan News Company