Wednesday, September 4, 2019
Page 1
Services Set for George P. Schiavelli, 71, Retired Federal, State Judge
He is Remembered for Intellect, Wit, and Gentlemanliness, as Well As Pride in His Italian Heritage and Dedication to the IALA
By a MetNews Staff Writer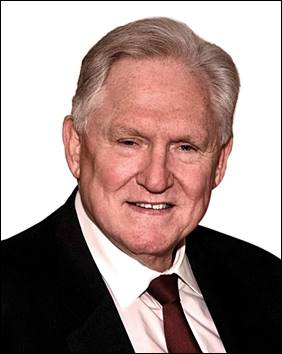 GEORGE SCHIAVELLI
1948-2019
A memorial service will be held on Friday for George P. Schiavelli, 71, a retired judge of the Los Angeles Superior Court and the U.S. District Court for the Central District of California, and a beloved and respected figure in the Los Angeles legal community.
Schiavelli, who died on the night of Aug. 31 from the after-effects of a stem cell transplant that ridded his body of cancer, was president of the Italian American Lawyers Association in 1990 and remained an active participant in the organization while sitting on the Superior Court from 1994-2000 and on the District Court from 2004-2008. The service will be held at 2 p.m. at Casa Italiana, 1050 N. Broadway, where the IALA holds its monthly meetings, at which Schiavelli, a regular attendee, would load his plate with mostaccioli and contribute to the conviviality of the occasion.
"I can't think of a location that had more memories and meaning for George," his widow, Holli Schiavelli, said Monday.
She and son Peter A. Schiavelli and daughter Olivia Schiavelli later put out a joint announcement of the memorial service, noting that Casa Italiana was "a home away from home for George," adding that "law was one of his great passions, and the IALA was an organization that he treasured throughout his career."
Supreme Court Night
Schiavelli annually emceed the IALA's "Supreme Court Night" featuring members of the high court as guests. It is always held at the Casa—except in 1996 when that venue was unavailable on the night the justices had open, and it was staged at the Biltmore Hotel.
Emceeing the event, Schiavelli quipped that, with due respect to the Biltmore's chef, "This isn't mostaccioli—it's egg noodles and ketchup!"
An inveterate movie-watcher, he later confessed that he stole the line from the 1990 film, "Goodfellas."
Chief Justice Tani G. Cantil-Sakauye said yesterday:
"Judge Schiavelli earned the respect and admiration of many lawyers and judges having served on the state and federal bench, and on Judicial Council advisory committees. He was always warm and welcoming company at the Italian American Lawyers Association's Annual Supreme Court Night. His commanding and charismatic leadership energized many Los Angeles bar associations and organizations—his big personality will be sorely missed."
Schiavelli was tall and large; his mind was sharp, his sense of humor keen.
Injured in Fall
Severely injured when he was propelled forward, falling down stairs, when an escalator at the Encino Place shopping center stopped abruptly in August 2005, he would joke of his hip and knee replacements, terming himself a "bionic man."
Although his injuries resulted in constant pain and the need for a cane, as well as massive medical expenses, a jury in February 2000 found against him in his personal injury action against Peppy LLC Management & Leasing Company, which managed the shopping center. Schiavelli's lawyer, Browne Greene, commented at the time:
"The bias against judges in today's world is just palpable."
Schiavelli, whose interest in law and his ambition to become a judge were stimulated by viewing the Perry Mason show as a child, relished his judicial posts.
He left the Superior Court in order to earn more money than a judge's salary—returning to private practice and becoming an arbitrator and mediator—with the added revenue needed for the care of his mother, who had Parkinson's disease. After her death, he gained appointment to the District Court, again retiring to increase his income for the sake of his family, given the prospect of a diminishing earning capacity in the years ahead in light of his health problems.
Friend, Mentor
Los Angeles Superior Court Judge J. Stephen Czuleger, a former presiding judge, remarked:
"I have known George and Holli since before he first went on the L.A. Superior Court. He was always a friend, mentor, and inspiration. When he was appointed to the U.S. District Court I could not have been more happy and we remained friends after he left the bench for private judging."
He said that he and his wife, novelist Rebecca Forster, are "both in shock" over Schiavelli's "untimely passing." The former presiding judge continued:
"Simply said, George was a great judge, a wonderful family man and a stellar human being with a marvelous sense of humor and intellect. He will be missed by many, especially by me."
Los Angeles Superior Court Judge Victor Chavez, a former presiding judge, recalled Schiavelli's presidency of the IALA, saying that "he capably conducted meetings with preciseness and humor."
On both the state and federal bench, he said, Schiavelli "repeatedly demonstrated his expertise and vast knowledge," mentioning, also:
"I always found him to be a personable, articulate, master of the law.  He was beloved and respected by both bench and bar."
'True Gentleman'
Los Angeles Superior Court Judge Randolph Hammock termed Schiavelli a "true gentleman and scholar," remarking:
"There are very few of them left."
Echoing that assessment, retired Los Angeles Superior Court Judge Phillip J. Argento, a founding member of the IALA, observed:
"Of George Schiavelli, it may truly be said that he was a gentleman and a scholar. Physically a big man, his aura of graciousness was greater, and his mind for law was of the first rank."
Others also mentioned Schiavelli's gentlemanliness and his scholarship.
Perspective, Wit
Los Angeles Superior Court Judge Mary Ann Murphy recalled that he and she, both having practiced only civil law, were given their first Superior Court assignments in what was then the "Criminal Courts Building," now the Clara Shortridge Foltz Criminal Justice Center. She brought to mind:
"George's intelligence, perspective and wit helped the many new judges navigate the challenges of learning how to be a judge and learning criminal at the same time."
Los Angeles Superior Court Judge Malcolm Mackey had this to say:
"George was an outstanding judge and patriot. He will be extremely missed for his contribution to the legal community. The superior and federal courts lost one of its great judges."
Anthony Mohr, also a judge of the Los Angeles Superior Court, was in upstate New York yesterday. He commented:
"George was one in a million. A true friend, always there, caring, and generous to a fault. Many times he gave me advice, and he always was right. His sense of humor was unstoppable."
Mohr's wife, Betty Page, related:
"George and Holli put up a Herculean effort for him to survive. So sad to lose him after all they have been through."
Retired Judges' Reflections
Retired Los Angeles Superior Court Judge Isabel  R. Cohen expressed the view that Schiavelli "served with honor and esteem as a state and federal judge, but for all his dignity and brainpower, he was personally warm with a sweet streak."
Retired Los Angeles Superior Court Judge Lawrence Crispo—an IALA past president who was appointed to the bench the same day as Schiavelli—stated:
"Judge Schiavelli was a friend and colleague with whom I spent many enjoyable hours.
"He was a joy to be with and to discuss serious and lighthearted matters. His very presence in a room commanded one's attention."
Retired Los Angeles Superior Court Judge Arthur Lew recounted:
"I first met George in the '90s when we spent a short while as court partners at the 'Criminal Courts Building.' He was an extremely kind and generous human being who always offered a hand when he thought you might need one. He was also one of the most conscientious and ethical bench officers I've ever known. His passing is an immeasurable loss."
Other Jurists' Reflections
Dickran Tevrizian, now a mediator and arbitrator, was a judge of the District Court, with his tenure briefly overlapping Schiavelli's.
"He was an all around good guy and a great colleague respected by the attorneys that appeared before him for his pleasant judicial demeanor," Tevrizian commented. "I know that during the past several years he had significant health issues that affected his quality of life."
Retired Court of Appeal Presiding Justice Norman Epstein said:
"I'm saddened to learn of the death of my friend George Schiavelli. I remember being at his induction to the Central District, and working with him on a number of projects, especially those devoted to helping new admittees.
"We had a sort of running coincidence. It seemed that whenever and wherever I had lunch downtown, away from the Ronald Reagan Building, somehow George was there. Always with a smile, always affable, and always a pleasure to see. Whether it was private practice, state court, federal court, or private judging George always was outstanding, and deservedly admired. The next time I'm downtown I'll probably be looking for him, and be saddened not to be able to find him."
IALA Past Presidents
Appellate lawyer Douglas Collodel, senior counsel at Clyde & Co US LLP, is a former president of the IALA. He said of Schiavelli:
"He was the embodiment of a legal giant. Jurisprudentially astute and physically commanding, absolutely. But George's true stature flowed from his inner being. Personally, we connected on many levels—our Italian heritage, our focus on appellate law, our love of football, to name a few.
"Even deeper, George welcomed me as a new attorney into the fold of the Italian American Lawyers Association, guided me through the organization's hierarchy, and mentored me in my appellate practice. But my favorite memories were sharing fellowship with George during meals with friends and colleagues, at bar association functions, and between breaks during mediation sessions."
Another IALA past president, Steve Mesi, said:
"Judge Schiavelli was a proud Italian American who was already a legend when I first met him at IALA in 1994. I will miss his quick wit and always remember his kindness, larger than life persona and intellect.
"His star will forever shine brightly!"
Italian Community 'Pillar'
Gene Casagrande is a past president of the California State Board of Dentistry and the Los Angeles Dental Society. It was not in that capacity, however, that he knew Schiavelli; it was the Italian connection.
Casagrande, a former vice president of the National Italian American Foundation for the western states, hailed Schiavelli as "a pillar of the Los Angeles Italian American Community for many years," adding:
"He was a friend, an honorable gentleman, and an accomplished jurist who brought pride to our community for his accomplishments. California and especially Los Angeles has lost a great man."
Appellate Law Practice
Schiavelli was a member of the appellate law firm of Horvitz & Levy from 1986–94 and was of counsel to Reed Smith's Los Angeles Appellate Group from 2000–04.
Lisa Perrochet, a partner at Horvitz & Levy, shared these thoughts:
"I remember starting work at H&L as a first year associate in the 1980s, and finding George at first to be such an imposing figure—the only one who wore three-piece suits to the office, while I could hardly wait to swap out my heels for fuzzy socks to pad around the office in comfort so long as clients weren't coming in. But George didn't judge me too harshly, and turned out to be a big teddy bear towards us newbies, quick with both jokes and teachable moments in appellate practice. It just doesn't seem that long ago.
"After he left our firm for a career in judging, I was glad we were able to stay in touch, such as through work with the Monroe High Law & Government magnet program, to which he was so generous in donating his time. I also saw him over the years at various bar functions, where he seemed to know everybody in attendance. His passing is surely a loss for the legal community, and my heart goes out to his dear family."
Rosalyn Zakheim, a former research attorney for the Court of Appeal for this district, was an associate at Horvitz & Levy when Schiavelli was a partner there.
" George was larger than life, with a booming voice and a great sense of humor," she said. "He, Lisa and I used to meet for lunch at what is now the Doubletree in Little Tokyo long after I worked at the firm. What a loss to the legal community."
David M. Axelrad, also of Horvitz & Levy, knew Schiavelli for more than 30 years. He characterized his former partner as "one of the smartest and most capable lawyers and judges I have known in my career, adding:
"I admired his keen intellect and quick sense of humor. I will always remember the times I spent with him over lunch or dinner, learning from him and enjoying his company. I will miss him, as will the legal community he so ably served."
Other Appellate Lawyers
Appellate lawyer Roy G. Weatherup of Lewis Brisbois told of his contact with Schiavelli in his judicial role as well as that of a fellow appellate practitioner and fellow member of the IALA. Weatherup, program chair for the Senior Lawyers Section of the County Bar Association, remembers Schiavelli serving as a panelist for a Senior Lawyers program on football.
"He was a great lawyer and a great human being," the lawyer opined.
Sherman Oaks appellate lawyer Norman Pine saw Schiavelli as "a very special type of judge and friend," elaborating: He possessed an endless wellspring of good faith, compassion, and humanity. He was certainly one of the most loyal friends I have ever known—and I am sure that statement will resonate with all who really got to know him.
"George truly loved the law and showed it by seizing every opportunity to serve it. He volunteered endless hours coaching young lawyers and aspiring lawyers – not to mention more than a few older lawyers who often sought his wisdom and good judgment."
Schiavelli's interest in appellate law and his judicial assignment did coalesce when he was the presiding judge of the Los Angeles Superior Court's Appellate Division, at the end of his tenure on the state bench, and when he served on assignment to the state Court of Appeal and the Ninth U.S. Circuit Court of Appeals.
'Admired Judicial Officer'
Former Los Angeles County District Attorney Steve Cooley said:
"I knew George in two contexts—he was an admired judicial officer and I was personally acquainted with him through our wives' charitable work. A real gentleman with a genuine sense of humor!"
Another former district attorney for Los Angeles, Robert H. Philibosian, now of counsel to Sheppard Mullin, offered these words:
"George was a true friend, an outstanding judge, a brilliant lawyer and always a real gentleman—all of this wrapped with a wonderful sense of humor and personal magnetism."
Lee Kanon Alpert, a former president of the San Fernando Valley Bar Association, had this praise for Schiavelli:
"From his great competitive days at Stanford on the football field (while I was at SC), through the recent times of his illness, George possessed great integrity, true grit, a tremendous sense of humor, a devotion to his family and friends and an incomparable zest for life. Having known and worked both competitively opposite him and cooperatively with him, I can easily say that he was one of the nicest, most humble and unchangeable by his success in law, men I have ever known.
"There will be a wonderful piece of everyone he has touched and a good part of our world missing, now that he has passed on.  May George rest in peace knowing how much we all loved him and may there be diet Coke wherever he is in  heaven."
Lacking Detractors
John Moriarity, a veteran plaintiffs' trial attorney, described Schiavelli as one of his "very dearest friends." He declared:
"You could spend a lot of time looking, but I doubt that you can find anyone who has an unkind word to say about George. As a Superior Court judge, a federal court judge and as an arbitrator, there was no one finer."
He said Schiavelli was in a class with William J. Rea, a U.S. District Court judge for the Central District of California who died in 2005, Los Angeles Superior Court Judge Victor Chavez, Los Angeles Superior Court Judge Margaret L. Oldendorf, "and a few other fine trial judges" whom attorneys for both sides in a personal injury case would be pleased to have presiding.
Moriarity said he recently had a federal case ordered to arbitration. His friendship with Schiavelli was known to the defense lawyer, he related, but that lawyer "stipulated to having George hear the case because his integrity and honesty has always been beyond reproach."
The attorney said of Schiavelli:
"With a smile on his face and maybe even a joke, he was the greatest!"
His jokes—often self-deprecating—were almost invariably one-liners. He once said of a Los Angeles Superior Court judge who is frequently reversed:
"She ought to sue her law school for breach of contract."
Private Judge
Schiavelli's services as a private judge were obtainable exclusively through ADR Services, Inc. Lucie Barron, president of that firm, credited him with being "the consummate professional," providing this assessment:
"Judge Schiavelli was a force of nature. He was brilliant, he was powerful and he was strong. He had incredible energy and vigor. He had an amazing mind and a phenomenal understanding of the law and was wise in his decision making.
"Yet, he was kind, sympathetic and benevolent.
"And he loved his family beyond anything else. His incredible work ethic, tenacity, motivation and drive was dedicated to his family. He was committed to doing everything he could to make their lives better, to make any and every sacrifice he could, to take care of his family."
Loyal Bruin
Schiavelli was dedicated to the law school at UCLA, where he was elected to the Order of the Coif and from which he graduated in 1974, first in a class of about 300. He served on the UCLA LAW Alumni Association Board of Directors and was a recipient of the Alumni Award for Academic Distinction.
A classmate of Schiavelli at UCLA, Century City attorney Paul Beechen, reminisced:
"My first recollection of him was how big he was.  Not fat,  mind you, but tall and very muscular.  I learned that he had played professional football before going to law school. The next thing I realized was how nice he was.  Always ready to help figure things out. And last, but not least, he was really smart. So we figured out that if you wanted to do well in law school, the best thing you could do was have George in your study group.
"Over the years I would see George and he was always friendly, still big, and still very smart."
Schiavelli played semi-professional football for a team in the San Fernando Valley.
Although he was allergic to fish, Schiavelli's haunt, for years, was McCormick & Schmick's downtown Los Angeles fish house (no longer there) where he had a booth reserved for him, with his photo hanging by it on the wall. He was routinely served a large bowl of pasta drenched in olive oil—and one diet coke after another was brought to him.
His family has advised:
"Donations in George's name can be made to City of Hope Comprehensive Cancer Center. We are profoundly grateful for all that they did for George, and continue to do for so many others."
___________________________________________
George Schiavelli: a 'Teddy Bear' Who Brought a Milk Shake
By ALAN SKOBIN
(The writer is vice president and general counsel of Galpin Motors, Inc.)
I had the honor of knowing George Schiavelli on many levels, starting when he represented our company in a successful appeal many years ago and I got my first glimpse of his stunning brilliance.
But even more meaningful, I got to know the wonderful, caring, loving, selfless and giving man who I dare equate at times to a teddy bear. Just one of the many examples occurred some years ago a scant few minutes after I was wheeled from the recovery room following surgery for thyroid cancer. As I opened my eyes, a bigger-than-life figure stood in front of me with two milk shakes in hand. That figure was George Schiavelli, who was there simply to be a friend and to comfort me. George saw how much the shake comforted my burning throat, handed me the second shake after I finished the first, and insisted that I also drink it.
That day and in the ensuing years, George never admitted that it was his intent for us to enjoy the shakes together, but I know it meant more to him that my pain was temporarily soothed. With George, there was never a hidden agenda, just pure humanity and sincere friendship. He always put others before himself, and never sought anything in return.
Earlier this year when I underwent surgery for another melanoma, George both tried to encourage me and also shared his medical condition. George started off by commenting that "it appears you have a pretty damn good won/lost record against the big 'C' and there is no apparent reason to anticipate that you will not add yet another 'notch' to your string of victories." He then told me the following:
"I am a rookie member of the Cancer 'club.' I have been diagnosed with Acute Myelogaous Leukemia ('AML'). Like you, I have the support of family, friends, and a great medical team to insure that I beat this."
George succeeded in beating AML, but sadly the road to get there took too heavy a toll on his body.
He led a good and righteous life and fought the good fight. He was taken too soon, made a difference in many ways and to many people, and will be missed.
Rest In Peace George. I wish I could give you a big hug, continue to discuss with you the many things that we mutually care about, have the dinner with you and Holli that Romi and were so looking forward to, and enjoy the many more milk shakes we talked about drinking together. But be patient, my friend, as that day will eventually come.
Copyright 2019, Metropolitan News Company