Wednesday, September 18, 2019
Page 1
Ninth Circuit:
Samsung's Pronouncement That Consumers Must Arbitrate Disputes Is Ineffective
By a MetNews Staff Writer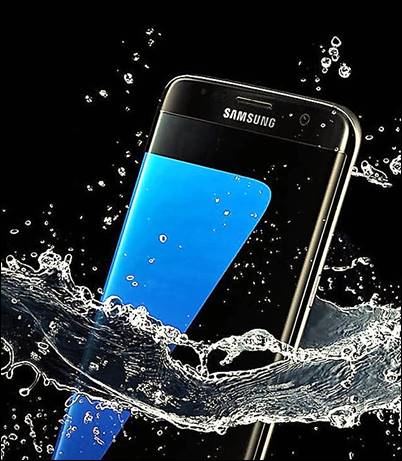 Samsung depicts its Galaxy S7 cell phone as being waterproof. In a putative class action in the U.S. District Court for the Central District of California, a plaintiff claims it isn't. The Ninth U.S. Circuit Court of Appeals held yesterday that an arbitration clause in a booklet Samsung inserts in packages containing its cell phones is ineffective under California law.
An arbitration clause which the electronics giant Samsung includes in material inside the boxes containing its cell phones is not binding on the consumer under California law, the Ninth U.S. Circuit Court of Appeals held yesterday in two unrelated cases.
One case stems from a putative class action claiming that Samsung falsely claims a particular cell phone model is waterproof and the other case is based on a personal injury action alleging that a phone caused the user to suffer severe burns.
In each case, Samsung Electronics America, Inc., and Samsung Electronics Company, Ltd. sought unsuccessfully to compel arbitration based on a notice on packages that indicated that a product safety and warranty brochure was inside and that the purchase was "subject to additional Samsung terms and conditions." The brochure declares:
"ALL DISPUTES WITH SAMSUNG ARISING IN ANY WAY FROM THIS LIMITED WARRANTY OR THE SALE, CONDITION OR PERFORMANCE OF THE PRODUCTS SHALL BE RESOLVED EXCLUSIVELY THROUGH FINAL AND BINDING ARBITRATION, AND NOT BY A COURT OR JURY."
It spells out that the user may opt out of the arbitration agreement, but must do so within 30 days. Neither plaintiff did so.
Waterproof Claim
The complaint in the putative class action, brought by Dulce Alondra Velasquez-Reyes, in the U.S. District Court, alleges:
"In a nationwide advertising campaign. Samsung portrays people dunking Galaxy S7 phones in fish tanks, spraying Galaxy S7 phones with jets of water and dousing them with champagne, and holding the phones while kayaking through river rapids and surfing in the ocean. Such depictions of water resistance permeate Samsung's advertisements of the Galaxy S7 phones, and the claimed water-resistant feature distinguishes these phones from similar products marketed and sold by Samsung's competitors. Samsung's advertisements regarding water resistance, however, are misleading and false."
The complaint says she purchased a Galaxy S7 phone on May 1, 2016, and on "or around July 20, 2016. Ms. Reyes inadvertently dropped her phone in a toilet," retrieved it "after approximately 10 seconds of submersion," and it died.
Gee's Decision
Judge Dolly M. Gee of the Central District of California on Sept. 13, 2017, denied Samsung's motion to compel arbitration. She wrote:
"It is undisputed that Velasquez-Reyes did not expressly agree to Samsung's arbitration provision, and there is no indication that her silence and failure to opt out of the arbitration procedures were intended to be taken as assent.
"Additionally, the disclaimer on the box does not expressly provide that opening the box or using the phone constitutes consent to terms contained inside the Warranty Guide, which itself is inside the box."
Gee declared:
"Samsung has not met its burden of proving that the parties' conduct would lead a reasonable person to believe that Velasquez-Reyes assented to the agreement to arbitrate."
On March 8, 2018, she granted Samsung's motion to stay proceedings pending resolution of its appeal from the denial of its motion.
Personal Injury Action
Samsung also sought, in the U.S. District Court for the Eastern District of California. to compel arbitration of Daniel Ramirez's products liability action against it. That action is pending in the Los Angeles Superior Court.
Ramirez purchased the allegedly faulty product—a S7 Edge cell phone—on March 11, 2016, in California; the harm he assertedly suffered occurred on May 30, when he was in Ohio. Samsung brought an action in a U.S. District Court in Ohio to compel arbitration and it was transferred to California.
Ramirez sued for his injuries here (after first suing in New Jersey under the erroneous belief that Samsung had its corporate headquarters there, and dismissing that action).
His Los Angeles Superior Court complaint alleges that he placed the cell phone in his front right pant pocket. It sets forth:
"Shortly thereafter, Ramirez heard a whistling and screeching sound and noticed his pocket vibrating and moving around, as well as thick smoke ascending from his front right pocket. Ramirez reached into his right pants pocket to try to grab the S7 Edge and immediately felt his fingers burn from the searing heat. Suddenly and without warning, the S7 Edge's battery exploded, causing the S7 Edge cell phone to catch fire in Ramirez's pants. The S7 Edge then burned directly through Ramirez's boxer briefs and pants and engulfed his right leg in flames."
Ramirez alleges that he suffered severe burns.
Memorandum Opinions
It does not matter that the plaintiffs did not opt out of the purported arbitration agreement, each of the opinions says. Each opinion explains:
"Under California law, silence or inaction generally does not constitute acceptance of a contract….An offeree may demonstrate acceptance through conduct, but not where, as here, the contractual provisions are 'inconspicuous' and 'contained in a document whose contractual nature is not obvious.'…We conclude that the inaptly titled booklet containing the terms and conditions and the smartphone packaging's vague reference to terms and conditions are insufficient to put a reasonable consumer (or a reasonably prudent smartphone user) on notice of the arbitration provision that Samsung seeks to enforce."
The cases are Velasquez-Reyes v. Samsung Electronics America, 17-56556, and Samsung Electronics America v. Ramirez, 18-16094.
Each decision was rendered a panel comprised of Circuit Judges Jay S. Bybee and M. Margaret McKeown, joined by District Court Judge Fernando J. Gaitan Jr. of the Western District of Missouri, sitting by designation.
Copyright 2019, Metropolitan News Company