Tuesday, September 3, 2019
Page 1
Court of Appeal:
DNA Evidence Entitles Man, Convicted Of Murder in 1986, to Habeas Relief
By a MetNews Staff Writer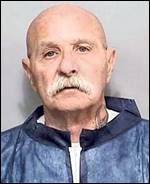 JACK SAGIN
Inmate
A man who was convicted of the 1985 fatal stabbing of a woman in her home and has been in prison for more than 30 years is entitled to habeas corpus relief based on DNA evidence and must be retried or freed, the Sixth District Court of Appeal held Friday.
The petitioner, Jack Sagin, had been convicted in 1986 largely on the testimony of two "jailhouse snitches" who swore that Sagin confessed the crime to them. He was sentenced to life imprisonment without possibility He has been seeking habeas relief since 2010 when it was determined that no DNA found on objects taken from the murder scene matches his—and in particular, DNA under the fingernails of the victim was that of a male other than he.
Justice Adrienne Grover wrote the opinion, which notes that there is a lowered evidentiary burden for habeas relief under 2016 legislation. Penal Code §1473(b)(3)(A) calls for relief when new evidence is uncovered "that is credible, material, presented without substantial delay, and of such decisive force and value that it would have more likely than not changed the outcome at trial."
                        Grover's Opinion
Grover said:
"The DNA under the victim's fingernails does not, standing alone, prove someone other than Sagin committed the crime. Under the former standard requiring that new evidence point unerringly to innocence, he would not be entitled to relief. But under the revised standard––requiring only that the new evidence would likely have changed the trial outcome––he is."
She continued:
"The jury would have considered the DNA results in the context of the rest of the evidence, including the testimony of four alibi witnesses that, if credited, establishes Sagin is not the perpetrator. Learning that there was DNA from an unidentified male under the fingernails of a victim whose hands almost certainly came into contact with her assailant, together with no DNA results matching Sagin, would have caused the jury to view more favorably the testimony of the witnesses who swore Sagin was nowhere near the crime scene. Under those circumstances, it is more likely than not that at least one juror would have maintained a reasonable doubt regarding guilt….Sagin is entitled to relief."
Pre-2016 Standard
At a hearing in 2015, Monterey County Superior Court Judge Julie Culver denied relief. Applying the then-existing evidentiary standard, she found the DNA evidence inadquate, explaining that Sagin "must show that this evidence points unerringly to his innocence, which it does not."
DNA of five men other than Sagan was found on murder scene objects.
Sagin was sentenced by Judge Harkjoon Paik (now deceased). Prior ton the sentencing, Sagin wrote to the judge, saying:
"Please believe me, I did not do this crazy thing. The county jail and investigators for the case have framed me….[Y]ou have a killer out there walking around and no one seems to care."
The case is In re Sagin, H044767.
Championing Sagin's cause for more than a decade has been the Northern California Innocence Project at Santa Clara University School of Law. The law firm of Shearman & Sterling LLP joined the effort in 2011.
Copyright 2019, Metropolitan News Company