Tuesday, December 31, 2019
Page 1
Philip M. Saeta, 88, Retired Judge Of L.A. Superior Court, Dies
By a MetNews Staff Writer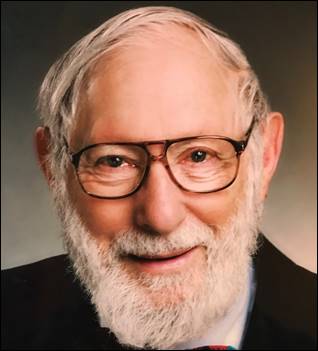 PHILIP M. SAETA
1931-2019
Philip M. Saeta, who served as a judge of the Los Angeles Superior Court from 1975-91 and attained distinction as a drafter of proposed legislation and a mentor to colleagues, has died at the age of 88.
Born in Hollywood, he was the son of lawyers—Maurice Saeta, admitted to practice in 1921, and Elizabeth Jacobs Saeta, who gained her bar card in 1942—and gained admission himself in 1958. At the time he left the Superior Court after a total of 26 years on the bench, starting with service on the Municipal Court, he speculated that the only assignments he had not had were in probate and juvenile courts.
Since leaving the Superior Court, he has served on numerous committees, written, taught, and traveled—journeying to two-thirds of the world's nations. Until last year, he was a private judge.
Saeta succumbed Saturday after a four-year battle with mesothelioma.
Byrne's Tribute
Retired Los Angeles Superior Court Judge Richard P. Byrne, a former presiding judge of the court, said yesterday of Saeta:
"He was an outstanding judge. I met him many years ago, when we were relatively young lawyers and he was an associate at Beardsley, Hufstedler & Kemble. We worked together on the Superior Court and served together as arbitrators a few years ago on an important case, where he was the presider.
"He was intelligent, open minded, humble and non-judgmental, wonderful qualities for a judge. He cared about the people who appeared before him and did his best to apply the law and arrive at a just decision."
Gold's Recollections
Retired Los Angeles Superior Court Judge Arnold Gold, now a private judge, recalled:
"Phil was a graduate of Stanford University and Stanford Law School. He and I were undergraduates together and close friends."
Saeta received his undergraduate degree from Stanford in 1953 and his law degree from there in 1957. He was on the law review editorial board for two years.
"He took some time off from his studies for service in the armed forces," Gold recites.
His service in the U.S. Army was from 1953-55.
Weds 'College Sweetheart'
Gold noted that Saeta "was married to his college sweetheart, Jo Saeta."
The former Joanne E. Hixson received both her bachelor's and master's degree from Stanford. She and Saeta were wed Aug. 29, 1954.
The Saetas had a large vacation house in Lake Arrowhead. Gold said that he and his then-wife and attorney Leonard Goldman and his wife "liked the idea so much that after a few years I and my former wife and the Goldmans bought a nearby house in Lake Arrowhead; and our families enjoyed many pleasant occasions together."
The couple had four children, one of whom, a son, died in his late 20s.
Joanne Saeta died April 5, 2011, at age 79, from a fall she suffered at the vacation home.
Saeta "eventually married Judith Addison Enright (my former partner), who, many, many years before, had been his law clerk," Gold relates, noting:
"Judy is a founding partner in Enright & Ogletree, in Sherman Oaks."
Municipal Court Appointment
Saeta's first judicial post was that of a judge of the Los Angeles Municipal Court. On Dec. 11, 1964, then-Gov. Jerry Brown elevated Los Angeles Municipal Judge Goscoe O. Farley to a Los Angeles Superior Court vacancy, and chose Saeta, an attorney, to replace Farley.
"As I recall," Gold said, Saeta "was one of the youngest ever appointed to the bench in California." He was 33.
Gold recounted that Saeta "sat in Lincoln Heights," which "was a 'drunk court' at the time."
A Municipal Court division was located in the Lincoln Heights Jail.
Election Controversy
Farley resigned from the Municipal Court on Dec. 17, 1964, upon taking office as a member of the upper trial bench, and Saeta was sworn in as a judge on Dec. 31. A controversy arose in 1966 as to whether Saeta and five other Municipal Court judges, all appointed in 1964, had to face voters that year.
Brown had appointed each to fill out the remainder of his predecessor's term, which expired on Jan. 4, 1965—then appointed each to a new six-year term. The judges sought a writ of mandate in the California Supreme Court to block Los Angeles Registrar of Voters Ben Hite from including their names on the ballot.
Justice Stanley Mosk wrote for a unanimous court in finding that Saeta and three of the others were entitled to full six-year terms because their predecessors, based on the timing of their resignations, had gained election to new terms, and the next election scheduled for the offices was in 1970. The predecessors to two of the other 1964 appointees had resigned before the election process had been completed and their names had to go on the 1966 ballot, under Mosk's decision.
Representing the judges was the law firm of which Saeta had been a member, Beardsley, Hufstedler & Kemble. The lawyers on the case were name partners Charles E. Beardsley and Seth M. Hufstedler, as well as John Sobieski.
Hufstedler's Comment
Hustedler, now of counsel to Morrison & Foerster, said yesterday:
"Phil was cut out to be a judge, brilliant, gentle and considerate. He was the second lawyer Chuck Beardsley and I hired for Beardsley, Hufstedler and Kemble. The first was Harry Hupp, another great talent…."
Hupp, who died in 2004, was a judge of the U.S. District Court for the Central District of California.
"We are losing a lot of that generation," Hufstedler, a former State Bar president, remarked.
Veteran Los Angeles Superior Court Judge Malcolm Mackey provided these thoughts:
"Phil was a giant amongst judges. He was a great mentor to me. I first met him in Division 7 of Los Angeles Municipal Court. He had a great sense of humor and a brilliant mind.
"He handled all the law and motion for Los Angeles Municipal Court Division 7. He guided young attorneys to greater legal ability."
Gilbert's Reflections
Court of Appeal Presiding Justice Arthur Gilbert reflected:
"I was first exposed to judge Phil Saeta in the mid 1960s when I was a young (euphemism for callow) lawyer. Judge Saeta was one of the reigning intellectuals of the Municipal Court. He had a beard that hung like a whisk broom from his stern chin. It called to mind photographs I had seen of Rasputin. But as I got to know him I saw him as a wise Rabbi dispensing wisdom through example to me, a fledgling acolyte. Maybe Judge Saeta would prefer the word 'student' to acolyte.
"There was a story about Judge Saeta which is perhaps apocryphal, but was repeated so often it gained the imprimatur of authenticity. I don't think my friend and colleague Phil would mind if I repeat it. When he was in traffic court it was rumored that his wife appeared before him on a traffic ticket. He threw the book at her, figuratively the Vehicle Code. He imposed the maximum fine accompanied by a lecture on traffic safety. If he and his wife held their funds as community property, he would have fined himself. Not sure what the rules about conflicts of interest were in those days. And I cannot attest to whether he slept on the couch at home during the next month.
"On the Superior Court, Phil was a certifiable scholar whose scholarship, integrity earned him the admiration and respect of the bar and his colleagues. He taught me how to be a better judge and I am still learning. He was the example of Socrates' list of attributes of the perfect judge. Phil we will miss you but what you taught us lives on."
Invitational Ceremony
Saeta's daughter, Sandy McDaniel, said yesterday that there will be a celebration of Saeta's life on Jan. 26 from 2-4 p.m., by invitation. She advised:
"Remembrances may be emailed to RememberingPhilSaeta@gmail.com and those who wish to be invited to the Celebration of Life will be able to request an invitation."
In addition to being survived by his widow and his daughter, Saeta leaves behind two sons, a sister, and eight grandsons.
Copyright 2019, Metropolitan News Company